By Erin Pittman
Sponsored by Keep Prince William Beautiful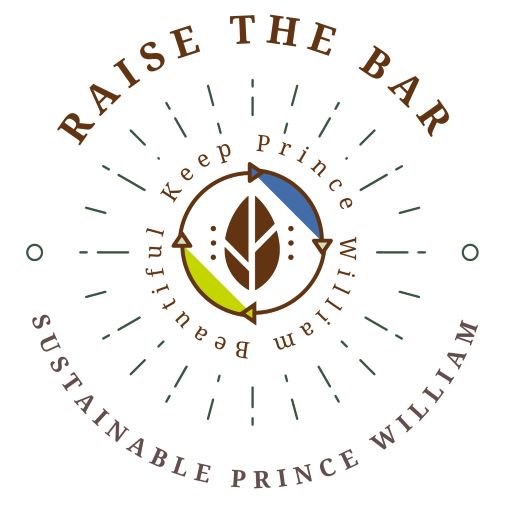 Keep Prince William Beautiful has launched a new campaign to encourage sustainable living in Prince William — Raise The Bar. County residents can take the pledge to support the environment and be rewarded for their commitment with monthly prizes donated by REI.
"We're excited to introduce Raise The Bar into the Prince William County community," said Aleta Daniels, Executive Director of Keep Prince William Beautiful. "This is a fun way for families to introduce a sustainable mindset into their daily lives. With this campaign, we encourage people to have fun with the activities- finding creative ways to reuse items that might otherwise be thrown out; taking part in a neighborhood litter pickup; and sharing sustainability actions in social media. The campaign is sponsored by Dominion Energy and prizes were sponsored by REI, so we really have some great support for this campaign."
Get Started
County residents can register for the program by taking the Sustainable Lifestyle Pledge located on their website. Once committed, participating in sustainable activities earns you points through Dec. 31, 2021. Some examples of sustainable living activities that earn points are:
Recycling a variety of materials
Minimizing water usage
Biking or walking to work
Using refillable water bottles
Composting
Repairing and reusing items, rather than throwing them away
Purchasing items made from recycled materials
After registering, participants receive program details by email, along with plenty of ideas for earning points — and most importantly, helping our environment. Feel like organizing a neighborhood litter clean-up or adopting a spot with your family or community organization? How about sharing important recycling tips with neighbors and friends? The options for making a difference are endless. You can even join Keep Prince William Beautiful and pitch in on their regularly scheduled clean-ups. This month, the community clean-up is on July 17 from 10:00 a.m. to 1:00 p.m. on Route 234 beginning at the Woodbridge Shopping Center, located at 13414 Dumfries Rd. in Manassas. All supplies will be provided, but be sure to bring your refillable water bottle to stay hydrated.
Remember, participants have through the end of the year to rack up points, so there's no need to feel overwhelmed. You can add in small habits each month that will together amount to you making a big impact on our environment.
"Raise The Bar opens a doorway into allowing sustainability to advance into our lives," said Daniels. "Whether it's participating in a neighborhood litter cleanup, learning how to recycle properly and sharing that information with friends and neighbors, or finding creative ways to reuse items, there are myriad ways to incorporate a more sustainable mindset in our lives. We don't have to do everything all at once- we can slowly increase our sustainable activities until it becomes second nature."
Learn More
Want to learn more about adopting a more sustainable lifestyle? Keep Prince William Beautiful provides a variety of educational resources to support you. Take their Sustainability Quiz to test your current knowledge and find more ways to go green. Visit their blog to discover information on sustainable living, zero waste, fun gardening ideas and more. And learn all you need to be a master at recycling.
Spread the Word
As you adopt sustainable practices, KPWB encourages you not to keep all that important information or your accomplishments to yourself. Spread the word on social media and tag them! Want to see what fellow community members are up to with Raise The Bar? Search #LitterFreePWC, #RaiseTheBar and #SustainablePWC to discover posts on your favorite social media channel. And don't forget to use them in your own posts!
Ready to take the challenge? Visit the Raise The Bar campaign website to get started.
Erin Pittman is Prince William Living's Editor-in-Chief.