By Amy Falkofske
Sponsored by Ratified Title Group
Ratified Title Group (RTG) is a real estate settlement company located in Northern Virginia that handles the closing transaction and escrow hold for properties bought and sold throughout Virginia, Maryland and D.C.  They first opened their doors in February 2018 and have experienced tremendous growth since.
Successful From the Start
Two years ago, RTG was ranked #15 in Washington Business Journal's DC Metro Top Title Companies. Currently, it is ranked number #11 and is projected to be #6 this year. Owner and CEO John Wood attributes that success to RTG's customer service focus.
"We are expanding, and a lot of that has to do with how we help agents and how we look out for them and their clients in promoting them and making sure that the transaction goes smoothly. That's everybody's happy, kind of like a Chick-Fil-A mentality," he said.
A Passion for Customer Service
Customer service has been Wood's goal from the start since opening RTG. In fact, it was the passion that inspired him to start the company.
"The goal was to keep developing relationships and provide excellent customer service in the real estate settlement industry," said Wood.
"For me personally, I like to give people opportunities, to help them and their families. I've got a very strong customer service-oriented mentality. I'll use Chick-Fil-A again because they say 'my pleasure,' and I'm very much like that. As far as business goes, if you don't take care of your customers, you won't be in business long, or if you are, you're not going to grow. And so a customer focus is mostly our real estate agents, but also the clients as well," he said.
Tremendous Growth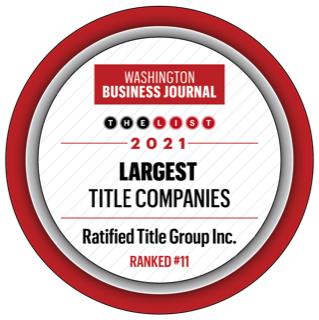 RTG started with just one office in Manassas and just three employees. It now has four offices and over 30 satellite offices and has grown to 27 employees.
Besides Wood himself, who is very involved in the day-to-day operation of the business, RTG has a COO, a Processing Manager, processors, a Post Closing Manager, and a post-closing division which includes binder and policy typists. It also employs attorneys, administrative staff and a Business Development division.
RTG's four offices are in Manassas at 10550 Linden Lake Plaza #101, the headquarters located conveniently off of I-66. The Lansdowne office at 19415 Deerfield Ave. #316 services western Fairfax County. The office in Stafford at 85 Mine Rd., Suite 103 services the Fredericksburg area. The Woodbridge office at 12781 Darby Brook Ct,. Suite-A services eastern Prince William County. Additionally, RTG has over 30 satellite offices in Northern Virginia, Maryland and D.C.
Wood says he is looking to open offices in Arlington, McLean, Alexandria, Bethesda, Upper Marlboro and the District of Columbia in the future. He's even hoping to branch out to other states, like Florida, eventually.
Services for Real Estate Agents and Their Clients
Wood said that his focus is on the real estate agent as that is who drives the lending industry.
"A big focus is taking care of the agent and making sure that we help promote them and get them exposure and make sure that their clients are happy, so they continue to gain referrals," he said.
RTG uses Qualia, a digital real estate platform that Wood says is user-friendly for both the client and the agent. The software enables reminders that help the settlement file in a timely manner and makes sure closing happens on time.
Additionally, RTG handles Earnest Money Deposits (EMD) through their escrow account, which is convenient and secure.
RTG provides closing services either in one of their main offices, satellite offices or at the property's location.
Finally, RTG does promotional videos for real estate agents on social media to help them gain exposure and remind potential clients that agents are a great resource to reach out to if you're looking to buy or sell a home.
If you are a real estate agent or a home buyer or seller looking for settlement services, you can call RTG's main office at 571-234-5589. You can also email john@ratifiedtitle.com or use the Contact Form on RTG's website.