Like this article? Support us by subscribing here. Your donation will help us continue to provide quality-of-life news and make local impact possible.
By Dawn Klavon
Prince William has no shortage of great dining establishments, and our readers shared with us some of their most beloved. Whether it's Mexican, French, Italian or American cuisine you're after, check out this variety of Prince William spots are sure to become new favorites! Here are our readers' top picks:
Hector's Authentic Mexican Food
12846 Fitzwater Drive, Nokesville • 703-594-2031
hectorsofnokesville.com
Diners rave about not only the food at Hector's, but also the service. Prince William resident Sherry Hancock and family have been dining there since it opened, and they are fiercely loyal. Though they prefer to dine at the restaurant, during COVID they intentionally ordered takeout to keep the business going.
"Everyone we've taken to Hector's has liked it and gone back," she said. Though the taquitos are her favorite meal on the menu, Hancock admits: "I have been known — rough day — to go by Hector's and get chips and queso to take home."
Specialties at the restaurant include tantalizing combinations of traditional Mexican fare, like burritos, tamales, and enchiladas, vegetarian dishes, salads, chile verde, chiles rellenos, and fajitas. Quesadillas, nachos, and queso dip are staples on the menu as well. Kids can find a special menu designed just for them, and it's a sure thing no one will go home hungry.
Hancock said the staff really seems to care about customers, and the owners are very hands-on with guests.
"You get greeted at the door," she said. "You really feel like you're welcome — that they're happy that you're there."
epiQ Food Hall
14067 Noblewood Plaza, Woodbridge
epiqfoodhall.com
Transforming the dining and entertainment scene in Northern Virginia, epiQ Food Hall in Woodbridge features 14 distinctive cuisines and seating for 400 guests spread out over 13,000 square feet on two floors.
"Great variety of restaurants to choose from," said diner Amanda Motl. "Fun things to do during the week, awesome entertainment."
Anchored by the Q Bar Lounge, Sweet Bakehouse Café, and private party rooms, epiQ Food Hall's Culinary Partners offer a diverse array of artisanal, fast-casual cuisines to get excited about. The full line-up of culinary partners includes Audrey's Fish & Chips, Bon Mange Cajun Cuisine (coming soon), Japomen Sushi, Japomen Ramen & Rice Bowls, Little Firebird Nashville Chicken, Little Miner Taco, NuVegan Café, Pho Harmony & Grill, Southern Flare Soul Food, Southern BBQ (coming soon), Stacks Signature Sandwiches, and SweetVegan Ice Cream.
"Our overarching goal is to provide a warm and welcoming social destination where the community can come together to meet and relax while enjoying great food and drink," said co-owner Michael Kim. "Friends and families will no longer have to agree on where to eat. epiQ Food Hall is visually appealing, with enticing aromas and inviting spaces, all against the backdrop of live music, other entertainment, videos, and the buzz of guests having a great time."
To complement guests' culinary experience, epiQ Food Hall also delivers an engaging atmosphere with ongoing entertainment programs throughout the week such as live music, DJ's, theme nights, bar bingo, karaoke, trivia, sports, and movie showings on their giant 12 foot by 8 foot video wall and 16 large screen
TV's. epiQ Food Hall's two-levels have been designed with social distancing in mind, with COVID-era seating, safe operating protocols, touchless ordering technology, and contactless curbside pickup and home delivery.
epiQ Food Hall is on the leading edge of a powerful movement in the restaurant industry. Exploding in popularity, food halls naturally resonate with diners seeking new experiences, diversity of culinary offerings, value, and convenience.
"We are incredibly appreciative, as we believe that our guests are obviously the most important part of epiQ Food Hall," said Kim. "Our fans are the reason we are here and growing!"
Battle Street Bistro Rooftop Restaurant and Bar
9402 Battle Street, Manassas • 703-369-7501
battlestreetbistro.com
According to owners Sarah and David Devights, while Battle Street Bistro's menu is French themed, (crafted with love) it has an American flair. They do their best to make it as authentically French as possible. The restaurant's French cuisine style stays close to Sarah's family roots, since her father is French, and she not only grew up eating lots of French food, but she also learned how to cook it at a young age. Call it job training, since now she is Battle Street Bistro's head chef.
Battle Street Bistro skillfully serves lunch, dinner, and breakfast/brunch. Diners enjoy authenticity and every aspect of the meal made in-house, from sauces to desserts. Breakfasts consist of delights like French Toast Suzette to Quiche Lorraine, steak and eggs to vegetable crepes. Appetizers include four unique kinds of fries, pecan crusted brie, and corn fritters. Salads, sandwiches, and a wide variety of entrees round out the menu. Add to that a kids menu, vegan selections, and compelling desserts for a crowd pleasing offering.
The restaurant is open Monday through Thursday from 10 a.m. to 9 p.m., Friday 10 a.m. to 10 p.m., Saturday 9 a.m. to 10 p.m., and Sunday 9 a.m. to 7 p.m. To make reservations, which are especially
recommended on weekends, call 703-369-7501. Breakfast/brunch is served Monday through Friday from 10 a.m. to noon, Saturday from 9 a.m. to 1 p.m., and Sunday from 9 a.m. to 2 p.m.
Carmello's of Old Town Manassas
9108 Center Street, Manassas • 703-368-5522,
carmellos.com
Carmello's of Old Town Manassas was established in 1987 and is owned and operated by Portuguese immigrant Alice Pires. The family owned restaurant offers fine dining, serving contemporary American cuisine with Portuguese and Mediterranean influence.
In 2011, its sister restaurant, Monza, was created, offering bistro fare. Carmello's earned the Award of Excellence by Wine Spectator magazine for 10 consecutive years and has been voted Best Fine Dining Restaurant by Prince William Today since 2013. Their seasonal menus are complemented by fresh produce from the restaurant's garden.
"The food has consistently been fabulous for over three decades," said diner Lori Pierce. "The service is exceptional and the atmosphere is great — what a fine dining jewel for this area."
Carmello's offers intriguing options, like an appetizer of fresh strawberry bruschetta accompanied by lemon crème fraîche, toasted almonds, basil, and balsamic reduction. Healthy fare is appealing, like the 'Salada de Betteraba', which features brick oven roasted red and gold heirloom beets, pistachios, fennel, green apples, and clementine sections all in a medley with citrus vinaigrette. Entrees run the gamut from seafood to filet mignon and lamb to duck. Pastas and paelha tempt diners with fresh herbs, wine, and homegrown produce.
Carmello's is open for dinner Wednesday through Sunday, 5 to 10 p.m. For more information, visit Carmello's on Facebook or call 703-368-5522.
Red House Tavern
15001 Washington Street, Haymarket • 571-486-5570
redhousehaymarket.com
The Red House Tavern describes itself as a cultural landmark — a polished, Virginia-centric eatery. Red House Tavern pays homage to the 200-year-old legacy that weaves itself through the land where the original tavern once stood — with a sophisticated take on classic favorites, featuring locally-sourced ingredients and warm hospitality.
"The menu is unique, and the food is top-notch," said diner Lauren Fabrizio. "It's all locally sourced and made in-house."
Located in the new Hilton Garden Inn in Haymarket, Red House Tavern shows promise to quickly become a neighborhood favorite.
"The community and our local guests have embraced Red House Tavern and its vision of a place to gather and enjoy a new dining experience," said Clarice Lelle, Director of Events for the Hilton Garden Inn. "The success and rave reviews are humbling, and we are truly grateful."
Why not make it your weekend brunch spot? You can sip, savor, and indulge in a refined brunch that's designed to be the highlight of your weekend. Take your pick from Red Hat's selection of handcrafted cocktails, pair it with a fabulous breakfast entrée, and relax.
"Experience cuisine and craft cocktails like they're meant to be —vibrant flavors, artistic composition and true talent exposed while making memories and 'breaking bread' with family and friends alike," Lelle said.
Try the pecan cinnamon bun, the fried chicken and biscuits, or the house-smoked salmon with soft scrambled eggs. Or, come back for dinner to experience the house-made squid ink spaghetti, the P.E.I. mussels, the oil soaked Arctic sea bass, or the roasted bone marrow. The menu changes, since the
ingredients are locally sourced and seasonal.
"My favorite dish on the entire menu is the pain perdu, which is a version of French toast, but unlike any French toast you've ever had," Fabrizio said. "The flavors are awesome; it's my favorite thing to get."
Located in the heart of historic Haymarket, Red House Tavern brings vibrant, unique flavors of the region to the forefront in its inspired menus. The restaurant celebrates the fine food traditions of Virginia by elevating traditional dishes featuring local makers and producers in an environment that makes guests
feel welcome.
Reservations are accepted on the Red House Tavern website redhousehaymarket.com.
Zandra's (2 locations)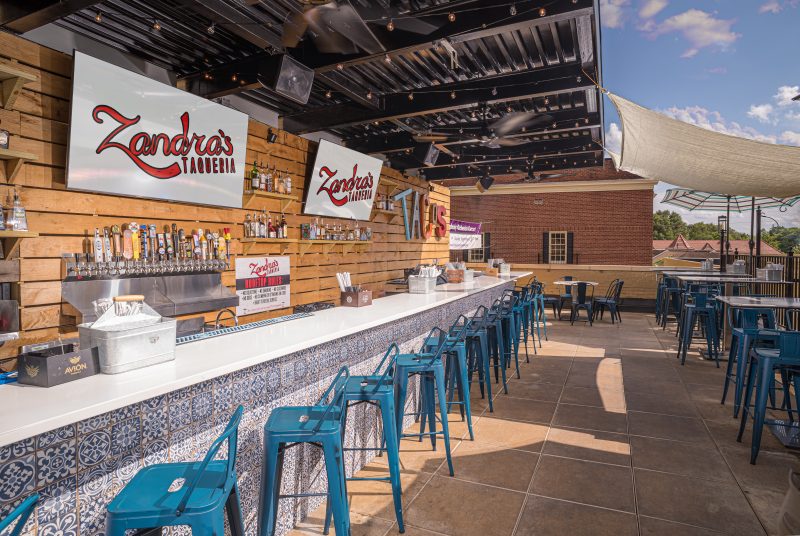 9114 Center Street, Manassas • 571-359-6767, ext. 2
14600 Washington Street, Suite 146, Haymarket 571-359-6767, ext. 4
Next time you're in Old Town Manassas, check out Zandra's, a specialty taco hub that puts a new spin on a well-loved classic.
Prepare yourself for an elevated experience indulging in Zandra's tacos — a little bit authentic taqueria, a little bit haute cuisine, and a whole lotta great taste.
Owner Miguel Pires told PWL, "When my wife and I opened our first location a few years ago, we wanted something based on all the great tacos we enjoyed during our travels. You see the a la carte taco concept in a lot of places like LA, New York, and Charleston, but it's something that wasn't really in this area."
Pires and his wife love tacos, and since he grew up in the restaurant business, Zandra's is their way of expressing their shared passion. "We got inspired by the places we traveled to, and all the different
types of tacos we experienced," the Prince William native said.
Zandra's specializes in tacos that might not be what you're used to seeing. Try their Cuban tacos, complete with pork, mustard sauce and house-made pickles, or falafel tacos, with lettuce and cotija cheese. Ever had a drunken Thai shrimp taco with a soy ginger glaze? Now's your chance. Zandra's is the spot for supreme taco-tasting.
"We're constantly working on new and creative ideas, and we try to refresh our menu every three to four months," Pires said.
Zandra's in Manassas is open Sunday through Thursday, 10 a.m. to 10 p.m. and Friday through Saturday, 10 a.m. to midnight. Zandra's in Haymarket is open Monday through Thursday, 11 a.m. to 9 p.m., Fridays, 11 a.m. to 10 p.m., Saturdays, 10 a.m. to 10 p.m., and Sundays, 10 a.m. to 9 p.m.
Dawn Klavon is a journalist, author, media director and recent transplant to NOVA. She thrives on juggling multiple projects, discovering local hot spots, consuming blue crab and conquering sudoku puzzles. Dawn can be reached at dklavon@princewilliamliving.com.