Provided by Prince William County Schools (PWCS)
International Literacy Day is celebrated every year on Sept. 8 to highlight the importance of literacy to individuals, communities and societies. Across PWCS, teachers are engaging students with lessons and activities that develop literacy and build vital skills and ensure thriving futures for all.
Article of the Week is an independent reading routine for students that helps them unpack complex text. It also ties other lessons into Language Arts. See how Article of the Week is incorporated at Ellis Elementary School in this video.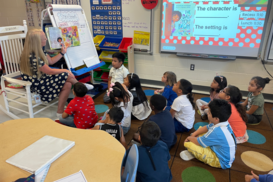 At Yorkshire Elementary School, students in kindergarten through fifth grade participated in a "One School, One Read," activity with the book, "The Day You Begin" by Jacqueline Woodson, to celebrate International Literacy Day. Through the chosen book and corresponding activities, students demonstrated learning reading skills, thinking critically about texts, and understanding themes. Yorkshire Elementary's participation as a school reinforces the importance of students gaining these valuable skills that are not guaranteed in school systems in other countries across the globe, and how literacy can be a catalyst for success in education and future careers.