By Olivia Overman
Sponsored by Action In Community Through Service ('ACTS')
On Wednesday, Aug. 14, 2019, Action in Community Through Service ('ACTS') will officially launch its Food Rescue Hero App. Just a year after it started working with the Pittsburgh based 412 Food Rescue non-profit, ACTS own food rescue program is ramping up a level. With ACTS Development Director Aaron Tolson as the driving force behind the program development, food waste and food insecurity in the Prince William region are being met head-on.
The Food Rescue Hero App and How It Works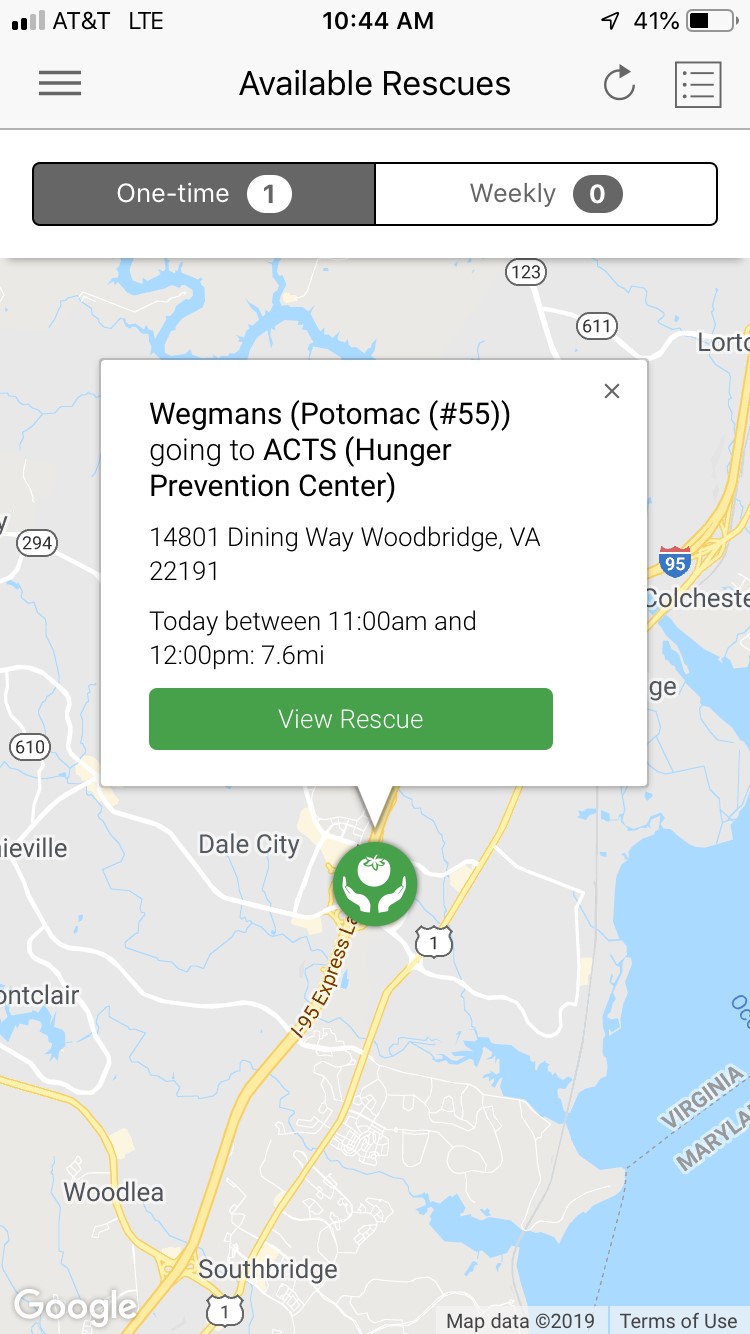 In a nutshell, the Food Rescue Hero App connects volunteers who can transport perishable food from donor organizations, such as grocery stores and restaurants and caterers, to non-profit partners, such as ACTS Hunger Prevention Center, SERVE, Haymarket Regional Food Pantry, and more.
It's simple to use! Download the Prince William Food Rescue Hero App, register and start volunteering. It's as easy as 1-2-3. For the regular person going about their everyday lives, the App allows you to receive pop-up notifications on where real-time food rescues are available and gives details, such as estimated time and the distance from pick-up to drop-off. Regular scheduled food rescues can also be committed to by volunteers. "The average time it will take a volunteer is twenty minutes, driving approximately 5 miles," said Tolson.
For the past number of weeks, Food Rescue Heroes have been testing the Food Rescue Hero App. Working with partners such as Wegmans Potomac, two Food Lion locations and Cox Farm, ACTS has been perfecting the food rescue process from donor organization to non-profit partners.  Perishable food was collected by Food Heroes and delivered to ACTS Hunger Prevention Center, Dar Al Noor's Food Pantry and The House, Inc. Student Leadership Center. From there, food was distributed to food insecure families as well as to before and after school kids in need of sustenance.
The Importance of Food Rescue
Today, 40 percent of food produced is wasted, while 1 in 7 people are going hungry. Here in Prince William, Manassas and Manassas Park seven percent of the population is food insecure, with 13 percent of those being children. ACTS is partnering with non-profit partners in the community such as SERVE, Dar Al Noor, The House, Inc. and other non-profit charities with its Food Rescue Hero App to help combat this issue. Important relationships with the Capital Area Food Bank, Prince William County Schools as well as Manassas Park Schools are also being developed to that end.
The launch of the Food Rescue Hero App in the Prince William region will help fulfill ACTS vision of:
reducing the 40 percent of food wasted globally today
reducing the number of those who are food insecure in the community
reducing greenhouse gases created by food dumped in landfills.
The direct implications between food rescue on hunger and the environment is a matter of fact. However, as noted by Tolson, there is another benefit the Food Rescue Hero App will bring to the Prince William region, and that is cross communication and cross-cultural improvements. "Dropping food in areas where a person doesn't normally visit will help the common purpose," said Tolson.
The Future Looks Bright for the Food Hero Rescue App
To date, the 412 Food Rescue program is in use in Cleveland, Philadelphia and LA in addition to Pittsburgh, PA. Data from the use of the App in Pittsburgh has shown that over six million pounds of surplus food has been rescued since 2014. As of Aug. 14th, Prince William will be the first county to implement the Food Rescue Hero App technology.
Supported on the ground by a team of two, Claire Duncan, Food Rescue Coordinator, and Heaven Jordan, Food Rescue Program Manager, the launch of the App is a win-win for the food insecure in the county, the donor organizations that can reduce both their food waste costs and their carbon footprint all while helping the environment.
Speaking about the future of the program, Tolson said "the desire is to expand the program into other counties in the future. We plan on growing slowly, as quickly as possible!"
Additional information about Prince William Food Rescue and the Prince William Food Rescue Hero App can be found on Facebook, Instagram, and Twitter: @pwfoodrescue.
With a mission to instill hope, provide relief and to promote self-sufficiency for our neighbors in crisis in the Greater Prince William area, ACTS is working towards creating a community where no one goes without or suffers alone. Through the services and programs we offer, we believe while people may come to us in crisis, they will leave filled with hope, concrete relief and the tools to succeed without us.
Olivia Overman (ooverman@princewilliamliving.com) is a freelance writer for both online and print organizations. She earned a M.A. in Journalism and Public Affairs from American University, Washington DC.