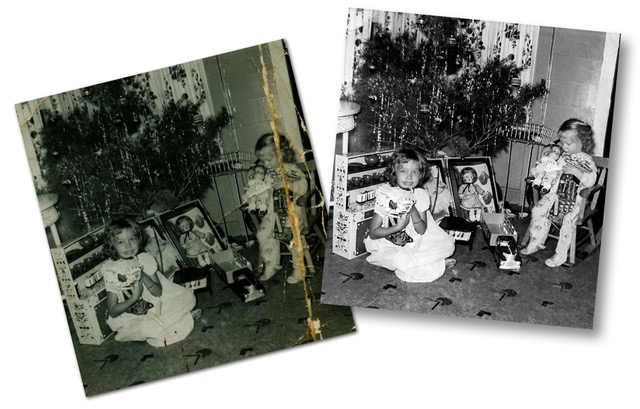 So, the holidays are over, and the new year is underway. As I walk up the stairs to my bedroom every evening, I pass by old photos of relatives, I think, "this is the foundation my life was built upon." Then I recall the photographs my father and mother left me when they passed away. I can still smell the dust, old film boxes, and prints I acquired from my parents several years ago. Prints, negatives, and slides, oh, so many slides. It took me almost a year to organize them into binders with archival pages. As I looked through some of the old photos of me when we lived on a farm, memories came back of days gone by, like when my parents bought me my first bicycle. I don't have a photo of that candy apple red three-speed Schwinn Stingray, but just thinking about the farm and looking at other photos of myself brings that memory back.
Family History
That is what my clients must go through when they say things like: "I want my grandchildren to see what it was like when I was their age," as they lay several pieces of a black & white print before me in my studio. "Mr. Gilvey, this is the only print I have of my family and me all together at the same time," one client said as he handed me a 2×2 black and white polaroid print that had the emulsion torn and peeling up—it's enough to make your heart sink!
Our family history becomes essential when we slow down long enough to let it sink in. Each of us has a feeling of life and events of days gone by that should be shared with other family members before our timeline ends. That little voice is our connection to the past. As families, this connection binds us together—even if we have hard feelings toward one another. We recall the good times: "Remember the day dad bought you the cedar wood coin chest, and he asked to see your chest, so you lifted your shirt?" and the not-so-good times: "Remember when some boys tied you up on a football field?" That's an exciting story—one for another time.
Family Photos
The photos might not be of those events, but they remind us of those events. Let's face it, most of us take snapshots of our families. We're not photojournalists seeking the exact peak of action as much as we try. Back then, having a camera on you all the time was not something everyone had access to or wanted. But those photos bring back many fond memories (and, well, we'll call the others interesting experiences). Your story is happening—when do you think you will start sharing it with your family? When will you pick up where your parents may have left off?
January is a good time to remember. Family photos always make great gifts for the holidays, but we become overwhelmed with other things during that period. Early in the year is a great time to look back, seek out those old photos and see what kind of treasures are in that old box.
Restoring Photos
Sure, you could write a book about it; I've had a client and distant relative who did just that. But let's start with something smaller, a print on your wall that needs to come out of a musty old box. Let's start there and see what memories come along with it.
When I take on a new client, I always ask them to tell me about the photo. When was it taken? What do you know about it? Do you know who took the photo? What were the circumstances around it? I'm trying to get them to bring more meaning to the image so they can connect with their past and share it with others. When the image is restored from decay and is ready to be framed, it has more meaning to the owner than just an old photo on the wall—and now they can share that with their family, friends, and colleagues.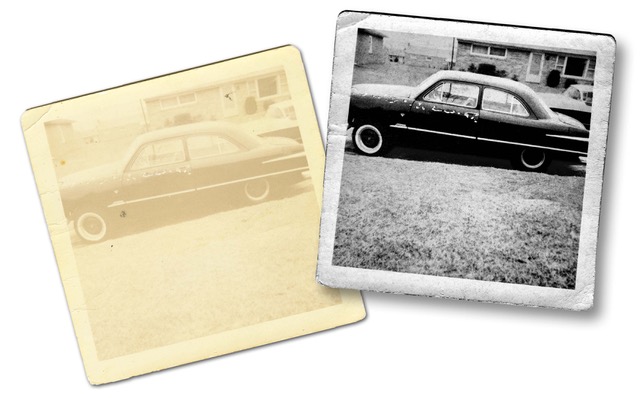 For 20 years, I have restored all kinds of photographs, including photos of a "dads'" race car, an Air Force flight crew, a railway camp in the 1800s, a King from Ghana, photos of an industrial-architectural project, and much more.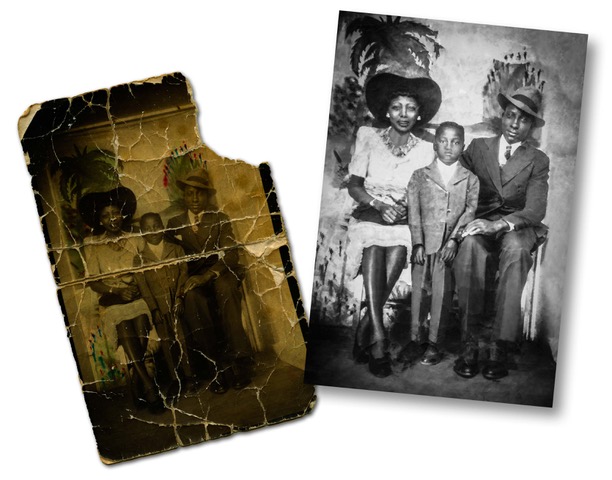 One client had pieces of photos from when he was a child in the early 1900s; it was a black and white print that had changed color so much and darkened. It must have taken me four hours to bring it back to life.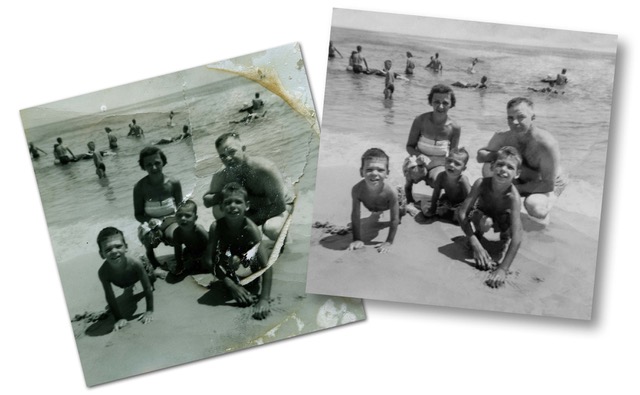 Another client only had one photo of his family on a Polaroid that was nearly destroyed. The emulsion had cracked and peeled up, and there were many tiny cracks and gashes. All of these people now have a conversation piece for their wall.
Photo restoration is partly about stopping the aging process and making it look the way it should, given the period in which it was captured. It's not about making it look brand new, even though we can try to get close. It's about bringing back memories to give us and future generations a sense of who we are.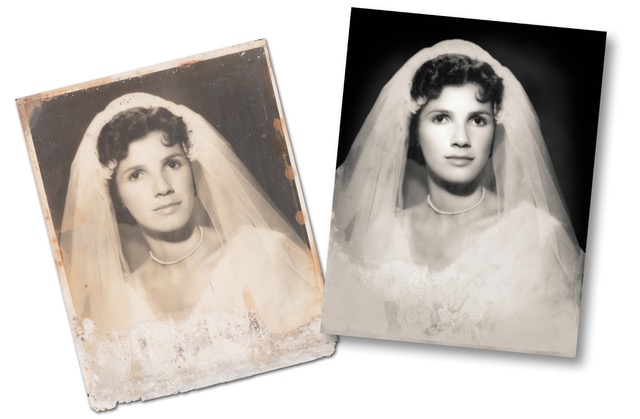 One Photographer's Process
Some people have asked why I do photo restoration, but I don't photograph weddings, families, and fuzzy friends. I hear you; as a commercial photographer, one who works business to business photographing products, services, architecture, and business events, it might seem odd that I would shoot that and not shoot more "family" events. Weddings take a very different skillset which I would instead leave to other wedding photographer friends.
I have been working in Photoshop since 1995 on an intensive basis. I had created photo composites even before there was Photoshop; on film—you might say it's in my DNA. As a retouching application, Photoshop has always been my favorite to work in. I just enjoy manipulating images or cleaning them up, whether it be surreal photographic art or something that needs repair. In some ways, it's my way of helping people preserve their history—it's not the biggest moment in the family experience; it's the rest of the moments.
Mark Gilvey is a commercial photographer based in Woodbridge, Virginia. He does product photography, corporate headshots, photography of your services, architecture, and corporate events, and he does photo restoration. Learn more about his work at mgcre8v.com or call 571-249-5566.