By Helena Tavares Kennedy
When Chef Mike Cordero sees an opportunity, he takes it. You may have heard of him from one of his other
restaurants in Fairfax, Arlington or Alexandria, but now Chef Cordero is in our region with an American comfort food restaurant that adds a modern twist called Rockwood. Opened in May 2018, Rockwood is located in Gainesville's popular Atlas Walk area in the Virginia Gateway Shopping Center.
Rockwood is a restaurant and bar that has a modern and comfortable indoor space with two outdoor seating areas that go beyond tables and chairs. One outdoor area of the restaurant has cornhole and bocce games for customers to enjoy on nice days, as well as several patio tables where they can dine in the sunshine. The other outdoor area of the restaurant has al fresco windows that open up to a second seating area where a double-sided bar offers customers a fun and easy way to order their drinks.
If you visit during nice weather on the weekends, keep an eye and ear out for their live reggae bands on Friday evenings. Frozen drink machines and a special patio menu, which includes fresh squeezed orange crushes, sangrias, and more, are also brought out for the summer time.
As for the inside, Rockwood features a bar with over 30 high-definition TVs to watch sporting events. The modern décor gives Rockwood a sports bar vibe with a trendy twist making it comfortable for anyone who visits.
Why PWC?
So what made Chef Cordero come to Prince William after much success in other Northern Virginia areas? His bookkeeper. Cordero's bookkeeper lives in Gainesville and used to frequent the Ruby Tuesday in Atlas Walk with her family, but once Cordero heard the chain restaurant was closing there, he jumped at the opportunity to open a restaurant.
"We noticed a lot of corporate franchises out here, and we wanted to bring a family-owned restaurant to this area and offer people living here a family-friendly and fun new place to have delicious food," said Anthony Cordero, Chef Cordero's son and owner of Rockwood.
With its modern age sports bar atmosphere, one might think it attracts only the sports crowd, but in fact, "everyone enjoys Rockwood. From business lunches to family dinners, we cater to everyone," said Anthony Cordero.
Beyond Bar Food
Chef Cordero experiments with new recipes to come up with the unique menu that is inspired from his Italian and Puerto Rican background. Growing up in South Bronx, Chef Cordero grew up learning how to cook the family recipes from his mother. He now brings new concepts to traditional recipes to offer a different taste for people to enjoy. "We have a lot of pride in our food and presentation," Anthony Cordero said.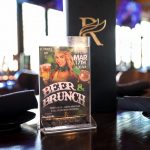 The Sunday "all you can eat" brunch is a big hit among locals, often causing a line around the corner on Sunday mornings just to get in (reservations are taken all other times). From the dessert station complete with a chocolate fountain to biscuits and ribs, the brunch offers something for everyone. There are several other stations, including an omelet station, pasta station, fiesta station with tacos and nachos, and more. The $3 flavored Mimosas and a DIY Bloody Mary station are also big hits among customers.
Rockwood offers a diverse lunch and dinner menu as well. The menu includes fresh house-made items from soups to sauces. Even the ranch salad dressing is made in-house. The prime rib dinner is a huge seller for weekend dinners. "We often roast two whole prime ribs and go through them in one night," Anthony
Cordero said.
"We've been told our fajitas are better than any Mexican restaurant's fajitas," said Anthony Cordero. "The Jamaican jerk chicken and short rib tacos are also very popular."
The Cuban sandwich includes pork that is slow roasted for eight hours. Empanadas are hand made with a house-made dough and fillings, and are popular during happy hour. Even the pigs in a blanket aren't frozen but hand made with fresh dough and hot dogs they cut up in the kitchen. "Everything is made ourselves,"
Anthony Cordero said.
And don't forget about the drinks! The full-service bar offers 12 beers on tap in addition to signature cocktails and a full wine list.
In a Rush?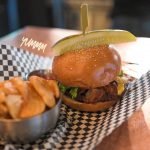 If you are hungry and in a rush, Rockwood can still be an option for your next meal thanks to the take-out option. "We actually have a lot of take-out business here because of commuters and people wanting to grab dinner on their way home from work," Anthony Cordero said.
Rockwood's expanded kitchen allows catering options as well like box lunches, buffets and plated meals for private and business clients. They also host parties there, like baby showers, wedding rehearsal dinners, and birthday parties. "We can make a menu that fits your budget and preferences for your special event," said Anthony Cordero.
Want more information about Rockwood? Visit at 7505 Iron Bar Lane in Gainesville, call 703-743-5172 or check out the menu and more information online at rockwoodva.com.
Helena Tavares Kennedy (hkennedy@princewilliamliving.com), a longtime Prince William County resident, is a freelance writer, editor, and communications consultant.