Provided by Rockwood Sports Bar
Celebrate the best of fall with all-you-can-eat oysters at Rockwood's Oyster Fest 2019! On Saturday, Oct. 26, Rockwood's chef and owner Mike Cordero will serve up classic seaside favorites – oysters, chilled wine, cocktails, and beer. Guests are invited to taste samples of the restaurant's locally caught oysters, down drinks from the bar and play games on the turf-covered patio from 12:00 to 4:00 p.m.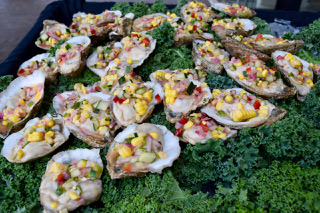 Afternoon highlights include live music from local favorites the Dave Thong Band. An oyster buffet and open bar will be set up on the patio between 12:00 and 4:00 p.m. Rockwood's dog-friendly patio is furnished with artificial turf and features long beer-hall style tables with outdoor games like corn hole, giant Jenga and giant Connect Four.
Rockwood's oyster menu features raw oysters harvested from Northern Virginia. Rockwood is serving all-you-can-eat fresh shucked oysters, grilled oysters, oyster fritters, po' boy oyster sliders, oysters Rockefeller, gourmet salad, potato salad and hush puppies.
Rockwood's Oyster Fest 2019 is open to all age groups (21+ will be given wristbands and drink tickets). Tickets are $49 a person and can be purchased prior to the event here. The event will be held weather permitting.