Provided by Trillium Center
On top of typical day to day matters, the extreme polarization of American politics and lingering COVID-19 pandemic can give way to smothering mental health stress. As with the recent death of former Miss USA Chelsie Kryst, more people than ever are turning to suicide as the answer. Feelings of hopelessness and loneliness are more widespread than ever. Nearly every day we hear about someone who has taken his or her own life.
Hope Awakened has been created by the Trillium Center Team to help save lives. This book is uniquely written from the perspectives of courageous individuals who have attempted and considered suicide or merely wished the pain to end. Now they are thriving, and they want to offer a worthwhile lifeline through the sharing of their experiences. They want to save those who may be overwhelmed and silently suffering.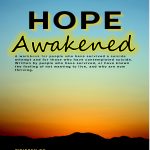 Trillium Center, Inc.'s release of Hope Awakened is so timely and important. Trillium is a shining light in the community. The hope is that through their experiences, people may learn coping skills which will impact them greatly.
Suicide is the 10th leading cause of death in the U.S. In 2019, 47,511 Americans died by suicide, with 1.38 million attempts (afsp.com). Increasing mental health resources, more specifically, related to suicide prevention is critical. If you or someone you know is struggling with mental illness, suicidal thoughts, or trauma, please reach out to a health care provider and/or the national suicide prevention hotline at (800) 273-8255.
About Trillium Center, Inc.
Trillium Center, Inc., established in 2007, is an award-winning 501(c)(3) non-profit which offers
mental health peer support to people living with serious mental illness in Prince William County. The
Trillium team has over 70 years of combined experience of helping people.