Like this article? Support us by subscribing here. Your donation will help us continue to provide quality of life news and make local impact possible.
By Dawn Klavon / Photos by Mark Gilvey
Looks can be deceiving. When approaching Semifreddo Italian Cuisine in Manassas — in a shopping center full of pizza spots, casual dining, and a 7-11, one might not realize the level of dining they are about to encounter. Upon entering the upscale dining establishment, guests are warmly greeted by a very professional staff and escorted to their linen-topped table.
"What a happy surprise to find this spot with its calming ambiance and delicious food in a strip mall," said diner Pat Toth.
Chef Franklin Hernandez opened Semifreddo's in May of 2020, a tough time for anyone in the hospitality industry. Since he had spent his career building a loyal following, his fans told him, "Open the restaurant — we'll order food to go." And that's how his restaurant began. Today, diners embrace the ambiance, the service, and especially the cuisine.
"This is your family restaurant," Hernandez said. "It's a new restaurant — a fine dining restaurant — and the people love it; I'm so proud."
First, Pizza
Though he has worked at 12 restaurants over his almost 30-year career, Hernandez's first food gig was working in an Old Town Alexandria pizza shop at age 17. Originally from El Salvador, this is where he discovered his passion for — and skill creating — Italian cuisine. Over the next few decades, Hernandez honed his craft at renowned D.C. restaurants and was even chosen to prepare meals for the 2002 Italian Olympic Team in Salt Lake City, Utah. In 2017, he and a partner opened Italian restaurant Tortino Mare in Manassas Park, which saw great success. Fast forward a few years to Semifreddo's — a lifelong dream of Hernandez's.
"I feel very excited," Hernandez said, "because now it's my own restaurant and I don't follow orders from somebody else — whatever I do, I do with my own ideas and I put it together."
He works the kitchen, while his wife Zaira runs the front of the house, making sure the service is as good as the cuisine.
Must Try Dishes
Calamari is a popular dish on many Italian restaurant menus, but Semifreddo's is the gold standard. Hernandez adds jalapenos to the light crunch of the tender squid, and the beautifully-presented dish is accompanied by a zesty marinara for dipping.
If you are a salad person, give the Grilled Romana Salad a try. The dynamic of charred romaine, parmesan shavings, and not-overwhelming dose of dressing bring this starter to life. For pasta lovers in the house, the fettuccine alla bolognese is life-changing. Hernandez's infusion of veal in the delightful ragu sauce brings an indescribably luscious element to the dish.
Wavering on seafood or pasta? The Ravioli Polpa di Granchio — crab ravioli with indulgent lobster bisque cascading over — is a great compromise.
The Specials are Just That — Special
Don't get your heart set on a dish on the menu until you hear the daily specials. Hernandez infuses his creative genius into these dishes, based on availability and his mindset. Consider carefully your order — those specials may not be there tomorrow.
"That's how sometimes we work," Hernandez said. "For example, I should put some gnocchi on the menu, but gnocchi is just for the winter, because it's heavy — but I make my gnocchi, put it as a special, and every time I do it, the people go crazy."
The good news is that the pastas are all house-made and created to perfection, so diners will walk away duly satisfied, no matter the order.
Meat lovers might indulge in the Vitello Marsala, a richly gratifying meal. The terrifically tender scaloppini, basked in a delicious layer of marsala wine sauce and fresh herbs, makes for a memorable meal.
"My favorite dishes are linguine di mare," Hernandez said, "which is so nice and beautiful — I like the way it looks and the flavor is so fresh; people love it."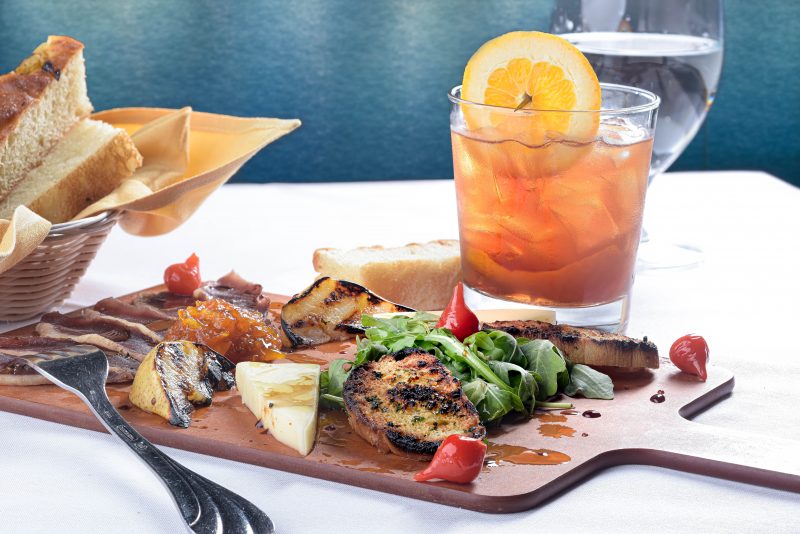 Save Room for Dessert
There's really no wrong answer with Semifreddo's dessert menu, but here are a few pointers.
Tiramisu is a beloved Italian treat, and this restaurant's version is order-worthy. The dish is skillfully presented with decorative berry coulis artfully displayed. The home run, though, is the semifreddo, so wonderful the restaurant itself was named for it. Traditionally, this is a semi-frozen mousse; this version
offers caramelized walnuts and crushed Amaretto cookies in it, providing a marvelous ending to an unforgettable meal.
"My restaurant is one of the fine restaurants in Manassas," he said. "There is no other restaurant like mine — it is a fine dining restaurant with homemade pasta, homemade sauce — I do everything by scratch. I feel like that makes the difference."
Semifreddo's Italian Cuisine, located at 8687 Sudley Rd., Manassas, is open for dine-in or take-out. Call for
reservations at 571-379-5295 or visit online at semifreddollc.com. Closed Mondays.
Dawn Klavon is a regular contributing writer for Prince William Living. Reach her at dklavon@princewilliamliving.com.