Provided by Sentara Northern Virginia Medical Center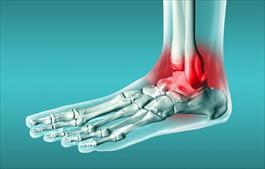 Sentara Northern Virginia Medical Center is taking the next step in advanced surgery with the launch of the Total Ankle Program. This state-of-the-art, revolutionary program from the Sentara Northern Virginia Medical Center Foot & Ankle Center of Excellence assists patients and gets them on their feet and back to their lives sooner.
"Total Ankle Replacement is a procedure to replace a damaged ankle joint, particularly those in end-stage arthritis to help reduce pain, swelling and help return the patient to a more natural stride," said Robert Toomey, III, DPM, Vice President of Potomac Podiatry Group.
Traditionally, a total ankle replacement is used for end-stage arthritis patients. Previously, this procedure was recommended for patients older than 65. Now, because of advances in the procedure and the materials used in a replacement, patients in their 30s are successfully having the procedure performed.
A Specialized Team
"Foot & Ankle specialists have increased their understanding of limb and ankle alignment, and motion,
which contributes to more efficient and anatomical ankle replacements," said Dr. Toomey. "Almost every implant is now created specifically for the individual after having a CT scan to determine the patient's limb alignment, length, and bony deformities."
The Sentara Northern Virginia Medical Center team is specialty trained to treat and care for patients before, during, and after this advanced procedure. Sentara is excited to bring this level of care and advanced ankle treatment to Prince William County and surrounding communities.
"We're excited our patients and community won't have to travel for care," said Kathie Johnson, President, Sentara Northern Virginia Medical Center. "Our specialty trained team – from physicians and nurses to surgical team technicians and therapists – is ready to help our patients through every facet of this procedure. From discharge and recovery to therapy and rehabilitation. We're here for our patients every step of the way."
Sentara Total Ankle Program
Dr. Toomey agrees. "I want to educate patients regarding their options and provide them with exceptional care should an ankle replacement be required. Total Ankle Replacements are usually only used after all conservative treatments, like physical therapy and/or injections, have failed. If conservative treatment has failed, we are more than happy to help the patient come up with appropriate treatment options, offer second opinions, and ultimately provide surgical intervention, if required."
To learn if the Sentara Total Ankle Program is right for you, call 1-855-704-FOOT (1-855-704-3668) or click here for more information.
About Sentara Northern Virginia Medical Center
Sentara Northern Virginia Medical Center is a 183-bed, not-for-profit community hospital serving Prince
William County and its surrounding communities. Our medical center combines the resources of a major
health system with the compassionate, personalized care of a community hospital. SNVMC offers quiet, private rooms and high quality care focused on safety and patient satisfaction. We offer a wide range of
medical specialties, a highly qualified medical and clinical staff and state-of-the-art technology. Our clinical
services include advanced imaging, cancer services, diabetes management, emergency care, heart and
vascular care, lab services, neurosurgery, primary care, orthopedics, urology, weight loss surgery, women's
services and more.