By Jennifer Halter
We made it through winter and now sunny spring days are here! Celebrate the new season with seven activities suited for the entire family!
Spring Sensory Bin
As we begin the transition to warmer temperatures, you can bring springtime elements indoors for sensory play. Fill a plastic bin with items such as potting soil, plastic bugs, faux flowers, small shovels and buckets. Kids will love digging and "planting." If you prefer not to use soil, you can substitute with beans or rice.
Homemade Bird Feeders
This is a great project for reusing empty cardboard toilet paper tubes. Spread peanut butter on the outside of each tube, completely covering all the entire surface. Pour birdseed on a plate. Roll the tube in the  birdseed so that it sticks to the peanut butter. Finish by threading string or yarn through the tube and creating a hanger. Place in a tree or bush and watch the birds enjoy their treat!
Plant an Indoor Garden
There are lots of seeds that sprout and grow quickly, which can be helpful if you are dealing with impatient
little ones! Use clear plastic cups and fill halfway with soil. The clear plastic cups will allow children to see
growing roots forming. A few examples of quick-growing vegetables and herbs include radishes, lettuce
and basil. Zinnias, cosmos, marigolds and sunflowers are some flowers that can begin to sprout within three to seven days. As plants continue to grow, you can transplant to larger pots or replant outdoors in your own garden.
Bird Watching
Spring is the perfect time to welcome back our feathered friends! Get outdoors and go on a bird hunt. For preschool-age children, you can have them look for birds that are certain colors or identify if they are  sitting, walking or flying. For older children, have them search for signs of birds, such as nesting materials, feathers and food. Have children document what they see by taking photos or drawing pictures.
Nature Paintbrushes
It's always fun to paint with items of different textures than traditional paintbrushes. Nature paintbrushes
are simple to assemble. Grab several sturdy sticks, approximately one foot or less in length. Gather a variety of flowers, leaves or small twigs and attach to the end of your sticks using rubber bands or string. Use your brushes to paint just as you would with standard paintbrushes, but take note of how the different textures create interesting patterns and designs.
Sidewalk Chalk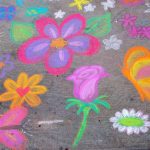 Kids will have hours of fun playing with an outdoor favorite … sidewalk chalk! You can draw a hopscotch board or a four-square frame to get some physical activity in and help get the wiggles out. You can also grab some stencils (plastic stencils work best for this activity) for creating mini masterpieces. You can also make your own sidewalk chalk paint using this easy recipe:
• Mix 1 cup of water and 1 cup of cornstarch. Stir until the mixture is smooth and in a liquid state.
• Pour mixture into muffin tin. For full-size muffin cups, you will need to double the recipe.
• Add a few drops of food coloring to each muffin tin cavity, and use a toothpick to stir until color is well
blended.
• Take paint outside and have fun! Paint will wash away easily with water.
Have a Ball
Everyone will be ready to get outdoors, so grab some friends and host a neighborhood game of kickball,
volleyball, soccer or baseball! If you don't live in an area with enough space to host a game, head to your local park and meet some new friends. Enjoy this time of renewal, longer days and warmer weather!
Jennifer Halter is publisher of Macaroni Kid Woodbridge and Macaroni Kid Gainesville/Manassas.