Like this article? Support us by subscribing here. Your donation will help us continue to provide quality-of-life news and make local impact possible.
By Wendy Migdal
There's nothing quite like the smell of food cooking on an outdoor grill, especially when it's coming from your neighbor's backyard. Steak, hamburgers, and hotdogs are the mouthwatering staples of summer. But you can kick it up a notch without being a foodie. Here are a few ways to do it.
Inject Some International Inspiration
Sure, you could spend hours in the kitchen measuring long lists of ingredients for international cuisine, but if you'd rather spend the time enjoying good conversation in your backyard oasis, opt for a store-bought sauce instead. Many are great on their own, and some you may want to personalize.
Tandoori chicken is a traditional Indian dish grilled in a cylindrical clay oven called a tandoor. However, your outdoor grill can do the job fairly well. Combine tandoori spice paste with yogurt in a large bowl. Marinate the chicken for about half a day, or even overnight. The key is to cut deep diagonal slashes in the chicken about a ½ inch apart so the marinade can fully penetrate. Covering the grill helps to mimic the effect of the
tandoori oven, which is to smoke the meat in the fat that has dripped onto the charcoal below.
An easy side to add to your Indian dish is grilled store-bought naan. Melt some butter and brush one side of the naan. Place buttered side down on the grill. When the bottom has browned slightly, brush the top with butter and flip.
Of course, there are many other international sauces and marinades available in the store that make it easy to be a little more adventuresome in your grilling. Try peri peri sauce (a South African spicy sauce), or a Mexican carne asada or pollo asada marinade.
Speaking of Mexican, if you've never treated yourself to Mexican street corn, now is the time. The sauce is tangy and the result is unlike any other summer corn recipe. The key Mexican ingredients (crema, which is thinner than sour cream, and cotija cheese) are widely available in grocery stores. Grill the husked corn until it's charred all around. Mix up the sauce with equal parts (1/2 cup) Mexican crema, mayonnaise, and
chopped cilantro. Add 1 minced garlic clove, 2 teaspoons lime zest, two tablespoons lime juice, and ¼ teaspoon chipotle pepper. Mix well and brush onto corn, then roll in crumbled cotija cheese. Have plenty of paper towels nearby, because this one's not neat!
Make a Meal out of Appetizers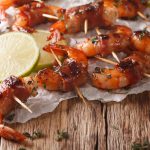 Sometimes you just want to order off the appetizer menu at a restaurant. (Well, that and the dessert menu.) Here are some tasty appetizers that have been called trios, because most of them only require three ingredients.
Bacon-wrapped shrimp. After wrapping bacon around shrimp, secure with a toothpick, then thread three bundles onto a skewer. Baste with a spicy barbecue sauce. Grill for about 4 minutes. You can also experiment with mixing more ingredients with the sauce, such as horseradish, Worcestershire, Dijon mustard, etc.
Bacon-wrapped dates. Stuff dates with goat cheese, then wrap with bacon. Secure, skewer, and grill as above. Or, try bacon-wrapped apricots stuffed with goat cheese or Havarti cheese.
How about bacon-wrapped jalapenos with cream cheese? For a vegetarian option, grill thin slices of zucchini, then spread with a filler such as cream cheese, feta, and minced olives, and roll up. The possibilities are endless . . .
Eggplant stacks. Cut an eggplant into 3/4-inch slices. Brush with oil, then grill on one side. Flip, then add a slice of mozzarella cheese. After the eggplant is done and the cheese is melted, add a slice of tomato and some fresh pepper and basil on top. For extra flavor, add a little pesto.
Loaded potato rounds. These are similar in concept to the eggplant stacks. Cut potatoes into 1-inch-thick slices. Brush with olive oil, add salt and pepper, and grill on both sides. Top with as many toppings as you like: sour cream, cheddar cheese, bacon, and chives.
Add a New Tea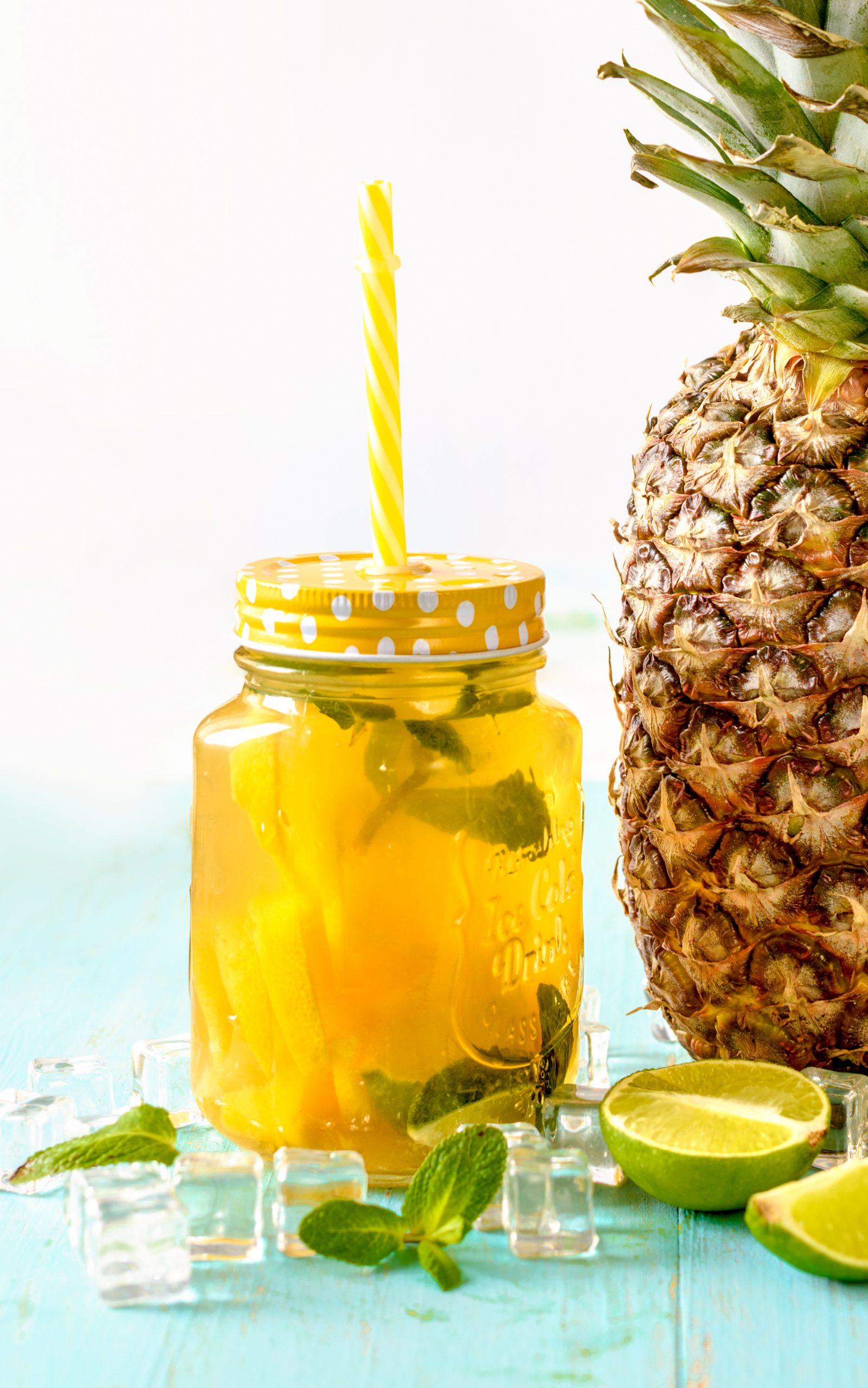 Summer is synonymous with iced tea, and a glass of tea is a great thing to have in hand while grilling up your favorite dishes. One delicious porch-sipper involves adding flavored ice cubes. They'll sink to the bottom and your drink will gradually get sweeter and almost turn into a slushie by the end. For pineapple-orange ice cubes, boil ¾ cup sugar and 1 cup water and allow to cool. Add 1 cup orange juice and 2 cups pineapple juice, mix well and pour into ice cube trays. Add two or three cubes to each glass of iced tea.
For tea with a tingle, go for a similar idea, but with gin. Find your party pitcher and add 3 cups of tea, 1 1/4 cups pineapple juice, one thinly sliced orange, a teaspoon of angostura bitters, and 2 ounces of gin. Mix well and chill before serving over ice. As a variation, use ¼ teaspoon rum extract.
Chances are, you'll find all kinds of ways to modify these ideas and branch out further, which is the great thing about cooking — there's no end to where a new idea may take you. Use your grill to get your creative juices, along with your salivary glands, going.
Wendy is a freelance writer who has lived in the Northern/Central Virginia area since 2000. She has written extensively for various publications and enjoys traveling around the area to learn about parks, restaurants, attractions, and especially history