By Mia Brabham
There are plenty of great foods out there, but we can probably all agree that soup is truly for the soul. In this final stretch of the cold winter months, there's nothing like cuddling up on the couch at the end of a long day with a warm bowl of something hot, savory and creamy.
The team at Prince William Living has compiled our favorite soups, stews and curry recipes just for you. With busy days flurrying around us as we work to meet deadlines, easy dinners are important to us around here — and so is flavor! Get out your ladles, your biggest pots and your favorite cookware — it's soup time!
PRESSURE COOKER RECIPES
Scrumptious Mexican-Style Soup
"Are you looking for a Mexican-style meal that is ready to serve in 15 minutes? [This is] from my hubby, David. If you are not in a rush, let the pressure release naturally. If hungry mouths are waiting, do a quick release. Enjoy!" – Katherine Gotthardt, Social Media Manager and Writer
Ingredients:
• (2) cans of chicken
• (1) 24-32oz. can of enchilada sauce
• (1) can of corn – optional
• (1) can of pinto beans
• (1) can of black beans
• (1) can of garbanzo beans
• (2) 12oz. cans of kidney beans
Instructions:
1. Drain your canned beans and chicken in the sink.
2. In your 8-quart pressure cooker (if you have a smaller one, only use one can of kidney beans), add all your beans and chicken. Stir in the enchilada sauce.
3. Close the pressure cooker lid and set pressure to high; cook for 3 minutes. (Place a paper towel over the lid, as some hot liquid can escape.)
4. Serve with cheddar cheese, sour cream and tortilla chips. Enjoy!
SLOW COOKER RECIPES
Tasty Thai Coconut Curry
"The first time I made this I almost fell to the floor it was so good. I didn't expect it to taste anything like the authentic deliciousness you experience at Thai restaurants around town, but it tasted pretty dang close. Now I cook it all the time! You can make it with chicken or you can keep it vegetarian. I fused a few different recipes I found online to my liking; bon appetit!" – Mia Brabham, Writer
Ingredients (approximately):
• (1-2 lbs.) your choice of chicken, optional
• (1) small bottle of red curry paste
• (1) sweet onion, sliced
• (1) red bell pepper, diced or sliced
• (1) carton of mushrooms, sliced
• (½ – 1 bag) spinach
• (2-3) cans coconut milk
• (2-3) cups chicken or vegetable stock
• (1-3 tablespoons) minced garlic
• (1) tablespoon peanut butter
• Happy helping of soy sauce
• Your favorite seasoning (mine is adobo!)
Instructions:
1. Put all of the ingredients in a slow cooker.
2. Cook on low for 8 hours. Enjoy!
STOVETOP RECIPES
Brawny Beef Stew
"Beef stew is something that I've started to do recently (if you can believe it). It's very simple to make. I  particularly love it because you can prepare lots of it and let it sit in the fridge for leftovers over the next few days, in case you are feeling lazy and don't want to cook something new every day. The tender meat
with the savory potatoes makes my mouth water just thinking about it. I usually eat it over some fluffy white rice, and if I feel like dirtying more pots and pans, with some buttery cornbread (especially with crunchy sides from the hot pan it was cooked in!) on the side. Since I don't have a slow cooker, I do it the old-fashioned way: in a large pot!" – David Lezcano, Content Marketing Administrator
Ingredients (approximately):
• (1 lb.) chuck beef/roast
• (1) yellow onion
• (1) stalk of celery stick, chopped into small pieces
• (5-8) red potatoes, cut into large chunks
• (1/3 cup) green peas
• (1/3 cup) corn
• A few tablespoons of olive oil
• A few tablespoons of minced garlic
• A few tablespoons of beef bouillon
• A handful of carrots, cut into small pieces
• Salt and pepper, to taste
Instructions:
1. Chop up your onion, celery and potatoes.
2. In a large pot, pour enough olive oil to coat the bottom. Cook your onions until translucent and slightly browned over medium-high heat, stirring every so often.
3. Add in the beef. Season it with salt, pepper and garlic to taste. Cook meat until it's more or less well done.
4. Mix a tablespoon or so of beef bouillon with about a cup of water in a separate bowl. Pour mixture into the pot. Add water to the pot until the meat is covered.
5. Cover the pot and let everything cook on medium heat for about 2 hours. In the last 30 minutes of cooking, add the potatoes, celery, peas and corn. Don't add them in too early — they get mushy! Stir well and let sit for the last 30 minutes.
6. Meat and potatoes should be tender when poked with a fork. Serve with white rice, cornbread and enjoy.
Creamy Chicken & Dumpling Soup
"I have this recipe for chicken dumplings. I like cooking it for my husband on chilly days because dumplings are his favorite. The recipe is super easy, and it's done in a snap!" – Kate Anderson, Writer
Chicken Soup Ingredients:
• (1) rotisserie chicken, cooled, skin removed, picked off bones
• (1) onion diced
• (3) carrots, peeled and chopped
• (3-4) stalks of celery, chopped
• (1/2 cup) frozen peas
• (8 cups) chicken broth
• Salt, pepper and poultry seasoning, to taste
• Cornstarch, as needed for thickening
• Fresh parsley, for garnish
Dumpling Ingredients:
• (1 and 3/4 cups) all-purpose flour, plus more for dusting
• (3/4 cup) of milk, or unflavored soy milk
• (1/3 cup) Crisco shortening
• (1/2 teaspoon) baking powder
• (1/2 teaspoon) salt
Instructions:
1. Put your carrots, celery, onion and broth in a large pot and season to taste. Bring to a boil with water.
2. Add your chicken. Cook on low until the carrots are tender.
3. Mix your dumpling ingredients together in a blender, making dough.
4. Flour your counter and roll out your dough into a rectangle that is about 1/8-inch thick. Dust the top, then cut it with a large knife into 1-inch strips, then cut the strips into 2-inch section. Basically, you want 1×2-inch dumpling strips. Don't worry too much about looks!
5. Thicken the soup with a bit of cornstarch so it becomes gravy-like.
6. Shake dumplings of excess flour and drop in a few at a time. Cook on medium heat. Stir gently to continue making room for more dumplings.
7. Once the dumplings puff a bit, add in peas. On low heat now, cook the peas. When done, remove from heat.
8. Garnish with parsley before serving.
Classic Tuscan Tortellini Soup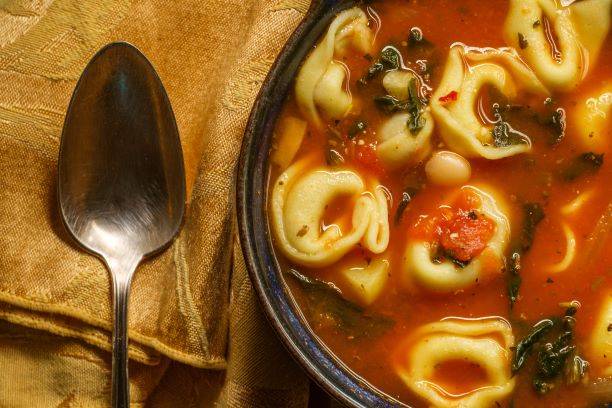 "I love to take this warm, cozy soup with me to family gatherings or letting it simmer all day for a comforting family meal during the week. It's packed with flavor and lots of healthy ingredients like spinach and white beans. The cheese tortellini makes it filling enough for a main course, too. Pair it with some crusty garlic bread, and you've got the perfect winter meal. If you make it for family and friends, have a copy of the recipe ready. I've never served it to anyone without them asking for it! – Erin Pittman, Editor in Chief
Ingredients:
• (1 lb.) cooked chicken (or turkey) sausage links, sliced into 1/2-inch-thick rounds
• (1) 28 oz. can crushed tomatoes
• (1) 15 oz. can white beans, drained
• (2) 9 oz. packages refrigerated cheese tortellini
• (1) 5 oz. bag of fresh baby spinach
• (3) garlic cloves, minced
• (1) yellow onion, chopped
• (6 cups) chicken broth
• (1 tablespoon) extra-virgin olive oil
• (1 teaspoon) crushed red pepper flakes
• Salt and pepper, to taste
• Freshly grated parmesan, for serving
Instructions:
1. In a large pot over medium heat, heat oil. Add onion and cook, stirring, until soft, about 5 minutes. Add chicken sausage and cook until golden, about 4 minutes. Add garlic and cook until fragrant, 1 minute more. Stir in crushed tomatoes, broth, and red pepper flakes. Season generously with salt and pepper.
2. Bring to a boil and add tortellini. Reduce heat to medium-low and simmer until tortellini is cooked and flavors start to meld, 18 to 20 minutes.
3. Stir in white beans and spinach and cook until spinach has wilted, 2 minutes more.
4. Serve with parmesan.
MICROWAVE RECIPES
Autumn Soup
"It may be called Autumn Soup, but we eat it year-round! The recipe was in the book that came with my microwave years ago. This soup is pretty basic and can be dressed up with whatever spices or herbs you like. We usually eat it with home-made biscuits. It's easily adaptable to cooking on the stove; just add
some olive oil when sauteing the meat, onions and celery." –Carole Keily, Online Submissions Manager
Ingredients:
• (1 lb.) ground meat, can be beef, chicken or turkey
• (1) bay leaf
• (3) tomatoes, diced
• (2 cups) white potatoes, diced
• (1 cup) onions, diced
• (1 cup) celery, diced
• (1 cup) carrots, diced
Instructions:
1. Place your ground meat, diced onions and diced celery in a microwave-safe bowl and cook on high for 5 to 7 minutes.
2. Add your diced white potatoes, diced carrots and four cups of hot water along with salt, pepper and a bay leaf. Cook for another 18 to 20 minutes.
3. Add your diced tomatoes and cook again for 8 to 10 minutes.
4. Remove the bay leaf and enjoy!
Mia Brabham is a writer, speaker and digital personality with a love for people and hearty conversation. Her debut book, Note to Self, is a collection of personal lessons and quotes that was recently released as an Amazon top seller and is in the hands of readers all over the world. Reach her at mbrabham@princewilliamliving.com.