Provided by Prince William County Schools (PWCS)
From cows to catapults, Belmont Elementary's new Science, Technology, Engineering, and Mathematics (STEM) program has something for every student. Encore Teacher Theresa Ballou incorporates fun, hands-on activities into her lesson plans, working with the classroom teachers to supplement current subject matter topics.
In the STEM lab, students are encouraged to ask questions and have fun during their lab activities. Topics already covered in the lab this year range from making catapults to turning 2D images into 3D images.
During the second week of school, students were already working to learn about the engineering needed to design catapults. Using the book "Pigeon HAS to go to School" by Mo Willems, students designed and built catapults to help 'Pigeon' get to school. Many of the catapults were successful in launching objects into the air. As a follow-up to this assignment, students will have the chance to use a trebuchet (a type of catapult that uses a swinging arm to throw a projectile) at the fall science night to do some pumpkin-chunking with plastic jack-o-lanterns.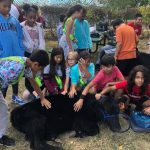 When the opportunity arose for a dairy cow and a beef cow from the Eastern Area Grounds for Learning Environmental Science (E.A.G.L.E.S.) center to come visit students at Belmont, Ballou jumped at the chance for students to have a unique science experience. For second-grade students, she used this as an opportunity to help them expand their knowledge of where food comes from – including milk and beef. For fourth- and fifth-grade students, Ballou was able to tie in the pasteurization process and how it can prevent the spread of germs and bacteria.
Speaking about her goals to grow the STEM lab program, Ballou said, "Ultimately I want to work as a collaborator and co-teacher with the classroom teachers, providing the tools and space to do big science labs and experiences. I am excited to be here, and I am passionate about working with the teachers and students – helping to teach science."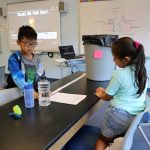 Engaging students through hands-on, interactive projects is Positively PWCS!