Stress Free Thanksgiving
By Theresa McElroy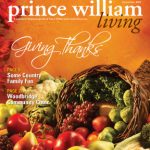 Food, Friends, Family, and football. What else could a person want in a holiday? Thanksgiving is a main event every fall, full of everything that makes a holiday special. Wouldn't it be nice to enjoy the day? With our stress-free thanksgiving guide, your holidays will be full of enjoyment and memories, rather than last–minute rushing around.
First things first: the main point to remember is to plan, plan, plan. Make sure you know the specifics about the location where you'll be celebrating the holiday, including how large the space is and how many guests it will accommodate. It's also important to know just how many folks will be joining you for dinner, and, of course, what food you'll be serving!
Be Our Guest
If you are going to be enjoying Thanksgiving at someone else's home, be sure to be open to helping out. When you make your plans to attend, ask the host what dish they'd like you to bring. On Thanksgiving daycall your host to see if they might need any last-minute items.
Woodbridge resident and mother of four Chelsea Milden gives her advice: "Even though the day may still be hectic for you getting everyone prepared to see family and friends, try your best to be on time." Milden added, "Never show up empty-handed. A bottle of wine or flowers can mean a lot." Be ready to help set the table or help in the kitchen if needed. Always keep in mind, you're a guest.
Hosting at Home
If you take on the task of hosting Thanksgiving at your home, stay calm and always wear a smile. "If you seem stressed, you can bring stress onto the guests, which is never needed" explained Rosie Fodler, a wife and grandmother of five who resides in Manassas. And remember, if one person is busy preparing the meal, be sure someone is around to welcome guests and act as a host.
The first thing to figure out as you begin planning your Thanksgiving dinner is how many guests you will have. Make sure you have extra seating available in case last-minute guests show up. Set up other seating and entertaining areas around the house with an open floorplan so guests can interact easily and comfortably with one another. And be sure you have an area for guests' jackets and any other items they might bring with them. Keep your entryway clear and be sure to have enough space in your coat closet for guests' coats, or ask guests to leave their items in an empty bedroom.
The next thing to think about is decorations. Around your house, try to keep an autumn theme alive. Independent interior decorator Olivia Mehta, of Occoquan, suggests using "warm colors such as burn orange, regular orange, reds, brown, and golds." If you want to, Mehta adds, "you can use a specific theme around the home such as pilgrims and Indians, or pumpkin patches and cornfields." Whatever theme you choose, though, be consistent throughout.
Daniella Connis, a florist at Michael's Florist in Manassas, suggests placing items like Indian corn, gourds, and pumpkins throughout your home or using them to create a centerpiece for Thanksgiving celebrations. She added, "When picking flowers to have out at the event, try to stick with deep autumn colors, or colors that match your décor." But most importantly, be creative!
Since the meal is the main focal point of the Thanksgiving holiday, the table should be a focal point as well. Check to make sure you have enough place settings for all of your guests well in advance. Thoroughly clean any dishes and serving dishes you'll be using for the event, and polish silverware or silver services if necessary. And, said Mehta, "Table settings do not have to be "matchy-matchy. Mix-andmatch settings add character to the table." Most of the plates will soon be filled with food anyway.
When setting up your table, be sure to display on it items of different heights, such as tall candlesticks as well as both raised and flat serving dishes. "Having differing heights apparent brings depth to the table," explained Mehta. If you decide to have a separate table to display foods in a buffet style, incorporate different heights there as well so everything can easily be seen.
At the dinner table, elbow space is key, so make sure people can enjoy their food without bumping into one other.
In addition to providing eye-pleasing décor for your guests, Milden said it's equally important to have plenty of napkins on hand, as well as carpet cleaner. Things can get a little messy with so much food, so it's best to always be prepared. "A stain cleaner stick would not hurt to have on hand as well," she said.
Entertaining
Entertaining is the next step in planning your Thanksgiving holiday, and it's important to  offer something for everyone both before and after the meal. Sports fans might enjoy football, while kids and teens might just be looking for a place to hang out and play or watch movies. Younger children might enjoy working on a Thanksgiving craft.
Asking guests to write down what things they are thankful for is one activity guests might enjoy. "Activities tied into the holiday remind guests why they are all gathered together and what the holiday is all about," Fodler said.
Regardless of what entertainment you provide for your guests, though, open spaces where people can move around easily but that also provide plenty of comfortable seating are important in making for a nice, relaxing environment.
The Food
Finally, let's talk food! The main event of Thanksgiving is the meal, and this is where the most planning and prep work come in. You can begin planning weeks in advance by preparing a list of dishes you'd like to serve, along with a shopping list that includes all the ingredients you'll need.
Amy Delfio, a private chef in Woodbridge, says it's fine to try a new dish at Thanksgiving, but, she suggests, "Test it by making it a week or so ahead to see how it turns out and how many it actually ends up serving."
When planning the meal, make sure to write down preparation times as well as cooking times and temperatures. This will allow you to figure out your oven space and timing situation so that everything is done on time. Also keep in mind to have extra space in your refrigerator and extra storage containers for any leftovers.
And don't be afraid to use convenience products when preparing your meal. Things like canned pie fillings, pie crusts and canned vegetables can lessen your prep time and help to make for a much less stressful Thanksgiving. "Don't feel like you're cheating your guests by buying some parts of the meal pre-made or mixed," said Delfio, "From my experience, they won't even notice."
Another way to make the big day a little easier is to make what you can ahead of time. Even if you're just mixing casseroles together the night before and baking them the day of, you are freeing up extra time that you can spend with your guests. "Making things ahead of time also helps keep your kitchen clean when guests are in your home before the meal," added Delfio.
Turkey Time!
There are so many different ways to prepare your main dish for your Thanksgiving meal. Sure, there's the classic oven-roasted or
smoked turkey and stuffing, but why not try something new to spice up your holiday, such as a Cajun seasoning or Caribbean jerk rub on your turkey. Or, serve up "turducken" for your main course–a mixture of a turkey, duck and chicken. Vegetarians and vegans might enjoy "tofurky"; the main ingredient there is tofu.
Whatever you provide for your main course, though, be sure to provide enough for everyone. Estimate that each guest will eat about a pound of turkey. And, stressed Delfio,"Give yourself plenty of time for the turkey to cook, since it is the main part of the Thanksgiving tradition."
While defrosting your turkey, keep it in the refrigerator and not at room temperature, since bacteria multiplies and spreads at room temperature. And before cooking your turkey, be sure you understand how to properly use a meat thermometer.
"The worst thing that could happen is for the turkey to be undercooked or very overcooked, so read cooking directions carefully and learn to use your thermometer," said Milden.
The main thing to remember, though, is to enjoy the holiday.
"Thanksgiving is all about being thankful for what you have, so take the time to enjoy your family and friends, said Rosie Fodler, of Manassas. "The memories that will last will be those with the ones you love, not about the food you eat or how the table is set."