By Amy Taylor
If your New Year's resolution involves incorporating exercise in your lifestyle, walking and yoga are two great ways to ease into fitness. Both are low impact and easy on joints. Walking can help improve heart health and give you stronger bones and better balance. Yoga can help you increase your flexibility, strength,
muscle tone and balance. In Prince William, you have plenty of options to support your health goals with yoga and walking all year long. Check out some local places to get your steps in and practice your favorite flow.
Walking Trails
Numerous health studies have shown the incredible health benefits of outdoor activity. A simple walk in the woods can significantly boost your mood and general well-being. This is one reason Prince William County Parks, Recreation and Tourism has partnered with Park Rx America, a non-profit that works with health care professionals to prescribe parks to their patients to help increase their health and happiness and manage chronic diseases.
Prince William has over 4,000 acres of park land, including 50+ miles of trails, greenways and water trails. "Trails topped our list as the number one priority by those who participated in our 2018 Citizen Needs Assessment," said Dianne Cabot-Wahl, spokesperson for the Prince William County Department of Parks, Recreation and Tourism.
"The paved walk/bike paths along the roadways, the 'mobility corridors' if you will, belong to the Virginia Department of Transportation or the county's Department of Transportation. However, they are included in the overall plan for the comprehensive trail system," said Cabot-Wahl. "The ultimate goal is to have the entire county connected, from the eastern side to the western side, through a trail system."
Neabsco Creek
The Neabsco Creek Boardwalk is a new trail asset, located at 15125 Blackburn Road, Woodbridge. It is 3/4 of a mile long across the Neabsco Creek, providing hikers access to the wetlands, which offer a rich habitat for myriad native fowl — great blue herons, wood ducks, mallards and red-wing blackbirds. It is part of the Neabsco Regional Park, which includes Julie J. Metz Wetlands Park, Rippon Lodge Historic Property, Kings Highway, the Neabsco Creek Boardwalk, the Potomac Heritage National Scenic Trail and Rippon Landing
Neighborhood Park.
More Trails in Manassas, Gainesville, Brentsville and Haymarket
Ben Lomond Park – Two miles of natural surface trail along the Bull Run River
Nokesville Park – Two and a half miles of natural surface, equestrian-friendly trails
James S. Long Regional Park – Four miles of natural surface, equestrian-friendly trails along Catharpin Creek
Valley View Park – Two miles of natural surface, equestrian-friendly trails along the Kettle Run River
More Trails in Woodbridge, Independent Hill, Dumfries and Dale City
Andrew Leitch Park – Three and a half miles of natural surface trails along the Neabsco Creek
Chinn Aquatics and Fitness Center – One-mile asphalt trail
George Hellwig Memorial Park – One-mile stone dust trail
Locust Shade Park – Four miles of natural surface trails
Lake Ridge Marina and Golf Course – One and a half miles of natural surface trail
Veterans Memorial Park – Less than 1 mile of natural surface trail along the wetlands of the Occoquan Bay
Potomac Mills
When the weather is bad, you don't have to forego your new walking routine. Pop by Potomac Mills Mall, where you can walk indoors.
"Walking is exceptional because it can be done almost anywhere, at any time and by most folks," said Deana L. Henry, RN-BC, OCN, CHPN and Oncology Patient Navigator at Sentara Northern Virginia Medical Center in Woodbridge. "Stop into Potomac Mills Mall in Woodbridge any morning of the week, and you'll find the dedicated rovers walking in a safe, climate-controlled environment to the rhythm of upbeat music."
Yoga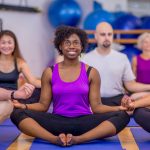 No matter what level of yoga practice you have, you can find yoga to suit you. There is gentle flow yoga for beginners, which is less intense. Ashtanga yoga helps synchronize breathing through a series of progressively more intense postures. Hatha yoga is also breathing- and pose-focused but less intense. Power yoga is for intermediate-level yogis and is a bit more intense. Many facilities also offer chair (for those with arthritis/balance issues) and family yoga.
"The benefits of yoga reach into all areas of wellness," said Henry. "Though I'm not a regular participant, it is an activity that leaves me feeling relaxed and energized at the same time."
Bedrock Yoga
Located in Historic Manassas, Bedrock Yoga offers classes suited to all levels of fitness. Owner Elizabeth Bailey said, "A friend introduced me to yoga, and I deepened my practice after a back injury. I had been dabbling until the injury. When I was trying to return to class, I was still in pain and limited, but the
instructor adapted the class to accommodate me and I walked out pain free for the first time in weeks. The poses she had used helped me to continue to manage that injury."
Yoga classes are accessible to all and tailored to each individual. "What I love about yoga is that it is a practice that is available to every individual. There is a form or style of yoga that suits everyone, based on their individual needs. My personal love that addresses my needs is the practice of turning your focus inward. The idea of focusing on the sensations and needs of your body in any given moment can be incredibly healing," Bailey said.
She added, "There are so many benefits to practicing yoga — the physical benefits of strength and flexibility as well as improving balance. The ability to reduce stress and increase the access to our parasympathetic nervous system, allowing us to return to a restful state. The simple idea of turning our gaze inward to work
on the difficult internal work to build resources allowing us to engage with a challenging, complex world."
More Yoga Studios
Discover Health Yoga Studio – Gainesville
Soaring Spirit Yoga – Occoquan
My BodYoga – Woodbridge
Bikram Hot Yoga – Woodbridge
Peace of Mind and Body – Montclair
Center Street Studios Pilates & Yoga – City of Manassas
Transform Power Yoga, LLC – Haymarket
Balans Studio – Gainesville
Chinn Aquatics & Fitness Center – Woodbridge
Rising Phoenix Holistic Center – City of Manassas
Sharron Baucom Dale City Recreation Center – Dale City
Whether it's through walking or yoga, build your strength, flexibility, balance and confidence through a consistent practice while enjoying the resources our area offers.
Amy Taylor (Ataylor@princewilliamliving.com) is a contributing writer and wellness enthusiast.