Provided by Prince William County Schools (PWCS)
Bringing Strategic Learning to the Classroom
Lumio™ has recognized Moneka Lyons, training specialist in the Office of Instructional Technology Services, as one of only 27 SMART Innovators in the U.S. and 78 worldwide. Lyons is focused on providing teachers with educational strategies using technology products from Lumio (formerly known as SMART Learning Suite Online).
"Moneka has run three cohorts and is always thinking ahead to see how our partnership with SMART can help support our teaching and learning initiatives," said Diane Harazin, supervisor of instructional technology services. "This is a very special honor that she made happen through her dedication, passion, and ownership of this project."
Once trained, PWCS educators use this collection of tools to deliver student lessons, activities, and assessments, and to build collaborative online workspaces. With this technology, when students are doing an activity, they can interact with each other, and the teacher can see that. It moves kids from passive to active learning, where they can participate and demonstrate their understanding in real time.
Last year, when the pandemic disrupted in-person teaching, PWCS looked to cloud-based software such as Lumio for virtual learning options. The School Division partnered with Lumio to develop a professional development cohort that has provided training to 112 teachers to date. These SMART Ambassadors from across all PWCS schools participated in five months of professional development, learning how to create equitable, personalized, experiences for their students. As a result, teachers were able to implement the strategies from the training into their classrooms, increasing student participation and learning.
Lyons joined PWCS in 2016 as a business education teacher in the Career and Technology Education program after a decade in the corporate world, both in the Northern Virginia area and Chicago. She explained that interwoven through all she does is mindfulness and equity. In her experience, making time for true listening can be a key challenge for educators.
"I knew working in the career field of education full-time, as opposed to corporate contracts/procurement management, was what I'm supposed to do," Lyons said. "However, a key challenge I've experienced over my 18 years working in education is that we sometimes don't practice active and reflective listening. If we can listen and approach pedagogy with a lens of seeking first to understand the whole student or whole staff member, it can shift the atmosphere in our respective classrooms and offices. I love SMART Learning! It provides such personalized, equitable learning for our students."
Pennington Teacher Thrives at Teacher Institute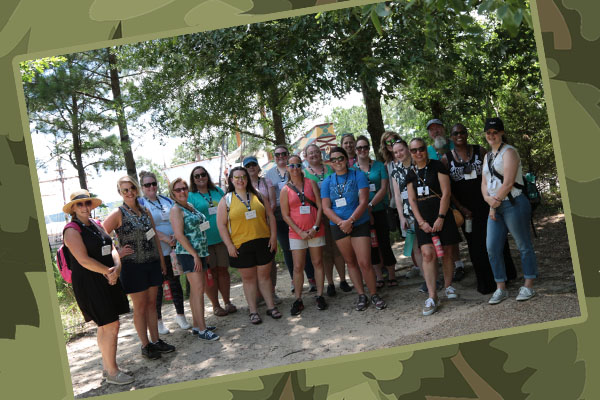 Sheri Huret, a fourth-grade teacher at Pennington Traditional School, is bringing new knowledge and experiences to her classroom this year, thanks to her involvement in the 2021 Jamestown-Yorktown Foundation Summer Teacher Institute. The program held at Jamestown Settlement, a museum of 17th-century Virginia, emphasized authentic learning activities, including interactive, inquiry-based methods of teaching American history.
"I first heard about the Jamestown-Yorktown Summer Teacher Institute from my coworker in fourth grade, Erin Hara Anderson, who participated in it many years ago and has always encouraged me to apply if I got the chance," said Huret.
A major component of the program was the opportunity for teachers to develop project-based assessments and collaborate with other teachers and history professionals. Specific activities included immersive tours of the Jamestown Settlement's exhibition galleries and outdoor living-history areas, academic presentations, and lesson development workshops.
"The extensive knowledge I gained about these three cultures, along with the interactive experiences we participated in, will forever alter and enhance the way I teach about how each culture survived and tried to maintain their own power in Virginia," said Huret. "I have many props and pictures from the Institute to show my students how each culture used different materials to essentially make the same tool."
Huret is the second Pennington Traditional School teacher to participate in the program. With outstanding reviews of the program, a third member of the teaching team is expected to apply for next summer's institute.
"I would highly recommend that not only 4th grade teachers attend, but also district curriculum developers in charge of writing the curriculum guides for 4th grade Social Studies," said Huret. "I enjoyed the program so much that I plan to apply for the Yorktown Summer Teacher Institute for the summer of 2022."
For more information about Jamestown-Yorktown Foundation education programs, please visit the program webpage.
Former Teacher Continues to "Define Legacy"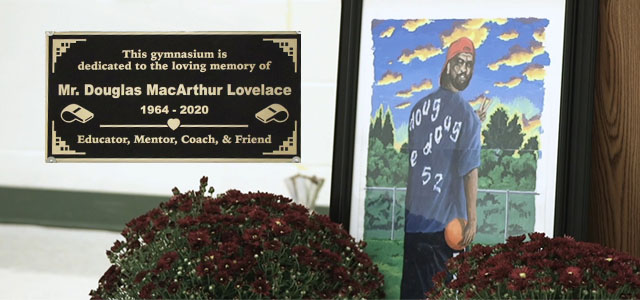 PACE West dedicated their gym in honor of Douglas MacArthur Lovelace on Sept. 24, 2021. Lovelace, or "Mr. Doug," as his students affectionately called him, was a special education teacher as well as a basketball and kickball coach at the school for over 20 years. Lovelace passed away on Sept. 25, 2020.
The dedication ceremony was attended by PACE West staff and students, Superintendent of Schools Dr. LaTanya D. McDade, Division leadership, and members of the School Board.
Tyrone Matthewson, a school psychologist and co-coach of the basketball team, shared his sentiment of his former colleague: "When I look across this room, I see many people who have been influenced by Doug. For example, his ability to mentor and lead others is what I see in Mr. Adrian; his ability to listen and be present in the moment is what I see in Mr. Jason; and in Colleen and Doug, Jr., I see the ability to love and care for others with unwavering resolve. Doug exemplified all those things, and now all those things are in all of us. That is a true definition of a legacy."
In addition to his years as a teacher and coach at PACE West, Lovelace was also a healthcare supervisor at NOVA Training Center for 15 years.