Story and photos by Rachel Nohe
Have you ever put balsamic vinegar on your ice cream?  If not, now is the time to try it!  Manassas Olive Oil Company has taken olive oil and vinegar to a whole new level.
For six years, Manassas Olive Oil Company has been bringing their unique favors to Old Town Manassas.  To celebrate their anniversary at their current location, 9406 Grant Ave, Manassas, they are offering 15% off any online order through July 15. Visit manassasoliveoil.com/ to learn more.
Over 50 Different Oils and Vinegars to Choose From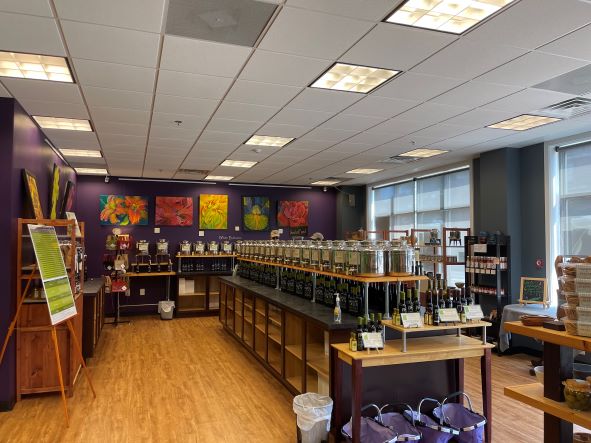 Manassas Olive Oil Company has a variety of oils and vinegars from around the world ranging from traditional balsamic to dark chocolate flavored vinegar.  Emily Thompson says, "We have over fifty oils and balsamic vinegars, so there is probably something here for anyone's taste buds."  Their unflavored extra virgin olive oils come from various countries such as Spain, Italy, and Australia.  These particular oils contain antioxidants and monounsaturated fats that help lower cholesterol and prevent cell damage.  Many of their olive oils are either fused or infused with various flavors.  For instance, their White Truffle Olive Oil is remarkably smooth and is great on mashed potatoes, rice, and pasta.  However, olive oil is not just limited to traditional foods.  The Bacon and White Truffle Olive Oils can be drizzled on popcorn for an extra kick.  For those who are lactose intolerant or vegan, the butter flavored olive oil is a great butter substitute for baking.
The dark balsamic vinegars get their color from the skin and the meat of the grapes.  Their white balsamic alternative has none of the grape particulate in them, just containing the juice and additional flavors. These balsamics can be used anytime of the year, however, certain flavors are more popular than others depending on the season.  For example, their Ripe Peach is a white balsamic that is great to use in the summertime because of its light and refreshing flavor.  Their Cranberry Pear balsamic, however, is crisp and is particularly popular at Christmas time.
Developing Your Palate
Manassas Olive Oil Company hopes to bring back their olive oil tasting class this fall for those curious about trying the olive oils.   Thompson said, "A lot of people don't really know a whole lot about olive oil.  It's a class that teaches people about how olive oil tastes and smells [as well as demonstrating]how our olive oil differs from what you might buy in the grocery store."  During the class, customers can participate in a blind taste tests, during which they can learn how to grade oil from popular brands and learn the history of the classic ingredients.
Pairing Vinegars and Oils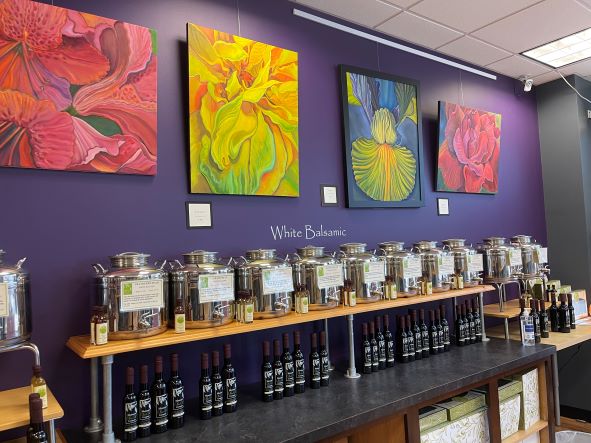 Thompson recommends trying their popular Tuscan Herb Olive Oil containing oregano, garlic, basil and rosemary.  She added, "It's flavorful and super versatile.  You can infuse it in any kind of dish, like a salad."
When it comes to balsamic, she recommends the Fig Balsamic Vinegar: "That's my favorite and a lot of customers love it too.  It has a sweetness and a savoriness to it that really complements a lot of different dishes."  This aged balsamic can be combined with chicken, lamb, beef, and salmon before cooking.
For the adventurous foodie, try the Black Cherry Dark Balsamic on vanilla ice cream.  It is a treat like no other.
Rachel Nohe is a senior Media Arts and Design major, concentrating in Creative Advertising, at James Madison University. She also volunteers for Prince William Food Rescue. In her free time, she enjoys game nights, spontaneous jam sessions, and restaurant hopping with her friends.