Provided by Masroor Mosque
On Sunday, Jan. 22, Masroor Mosque of Ahmadiyya Muslim Community organized a "Teachings of Peace-According to my Belief" event.   This event was organized to bring together religious leaders and their congregations, friends, and neighbors of the Masroor Mosque of the Ahmadiyya Muslim Community to share their thoughts on the important subject of peace considering the teachings of their respective faiths and perspectives.  The event was open to the public.  Community leaders and interfaith representatives attended the program and spoke at the occasion.
The program started with a recitation from the Holy Quran and its translation.  Mr. Tanveer Zafar, President of the Masroor Mosque SVA chapter, welcomed all guests.  He mentioned the need for peace at a time when many innocents continue to live in a state of fear and others are killed solely on account of their faith. 
Many distinguished guests spoke at the occasion, including:
Rabbi Lizz Goldstein – Ner Shalom,
Rob Warner – Saint Elizabeth Ann Seton Catholic Church,
John Steinbach – Former Chair Unity In the Community & Chair of PW NAACP Community Coordination Committee,
Darshan Singh – Sikh Center of Virginia,
Colonel Peter Newsham-The Chief of Police, Prince William County,
Clark Price – The Church of Jesus Christ of Latter-Day Saints, and
Imam Sulaiman Tarawallie – Masjid Jalil.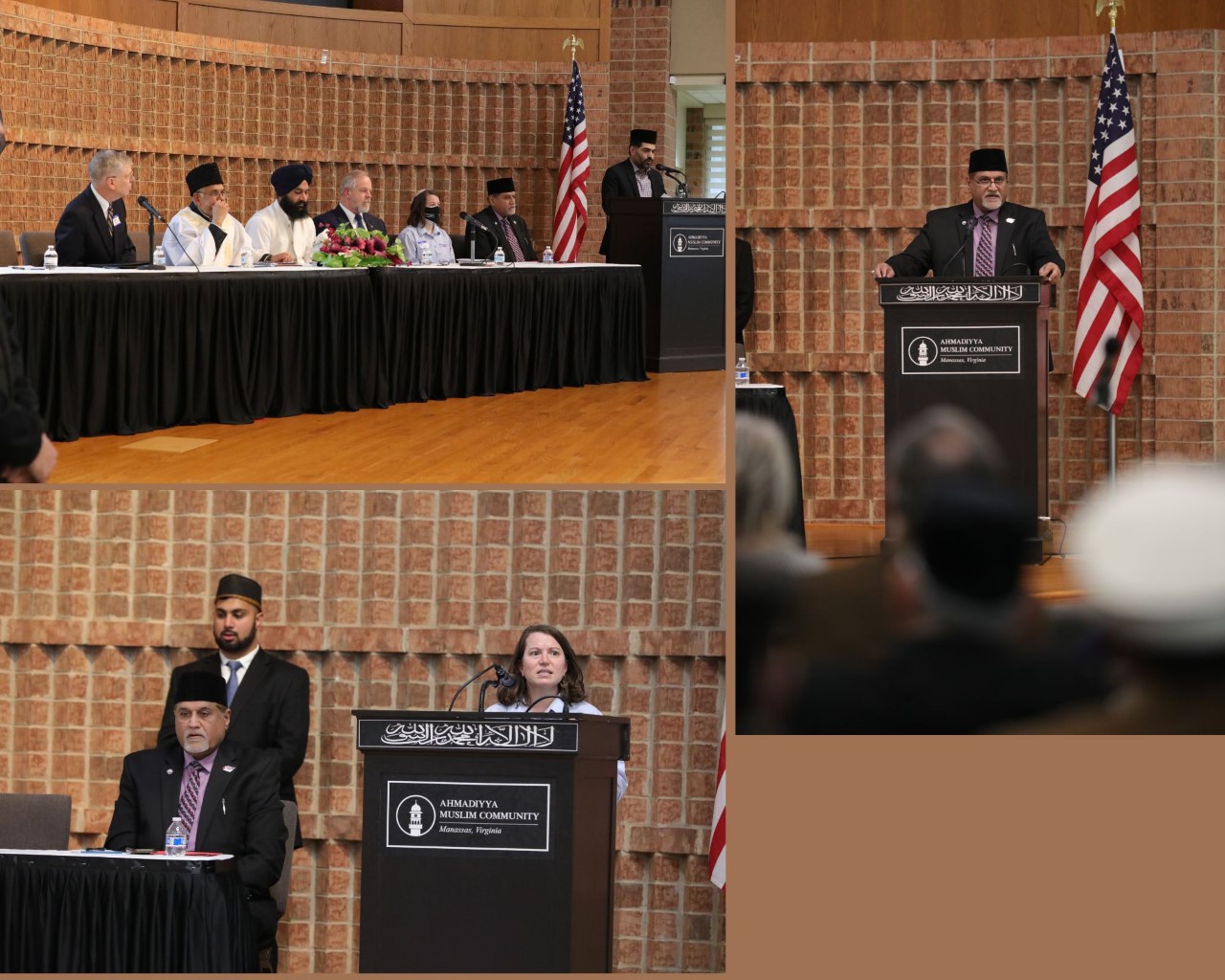 Keynote Address
Imam Shamshad A Nasir, Regional Missionary of Ahmadiyya Muslim Community at Masroor Mosque, delivered the Keynote address.  He explained the teachings of peace according to the Holy Quran. Elaborating on the greeting of peace prescribed in Islam, Imam Nasir shared that it's the reassurance and prayer that a Muslim offers to another person when he or she says "peace be on you" in a frequently used Islamic greeting.  The Prophet Muhammad (peace be on him) through his practice taught Muslims to offer prayer of peace to greet people wherever he went throughout the day.
Imam Nasir mentioned that the Holy Quran talks of peace at various levels. The Quran highlights that the first need is to be at peace with the creator through worship and prayer.  The Holy Quran states that one should not only obey God and his messenger but also those in authority.  He explained that Islam requires Muslims to be at peace with all prophets sent by God, not to differentiate between them and a Muslim should not focus on proving the superiority of one prophet over another. Imam Nasir mentioned that the Holy Quran requires Muslims to be law-abiding peaceful citizens of the country where they reside.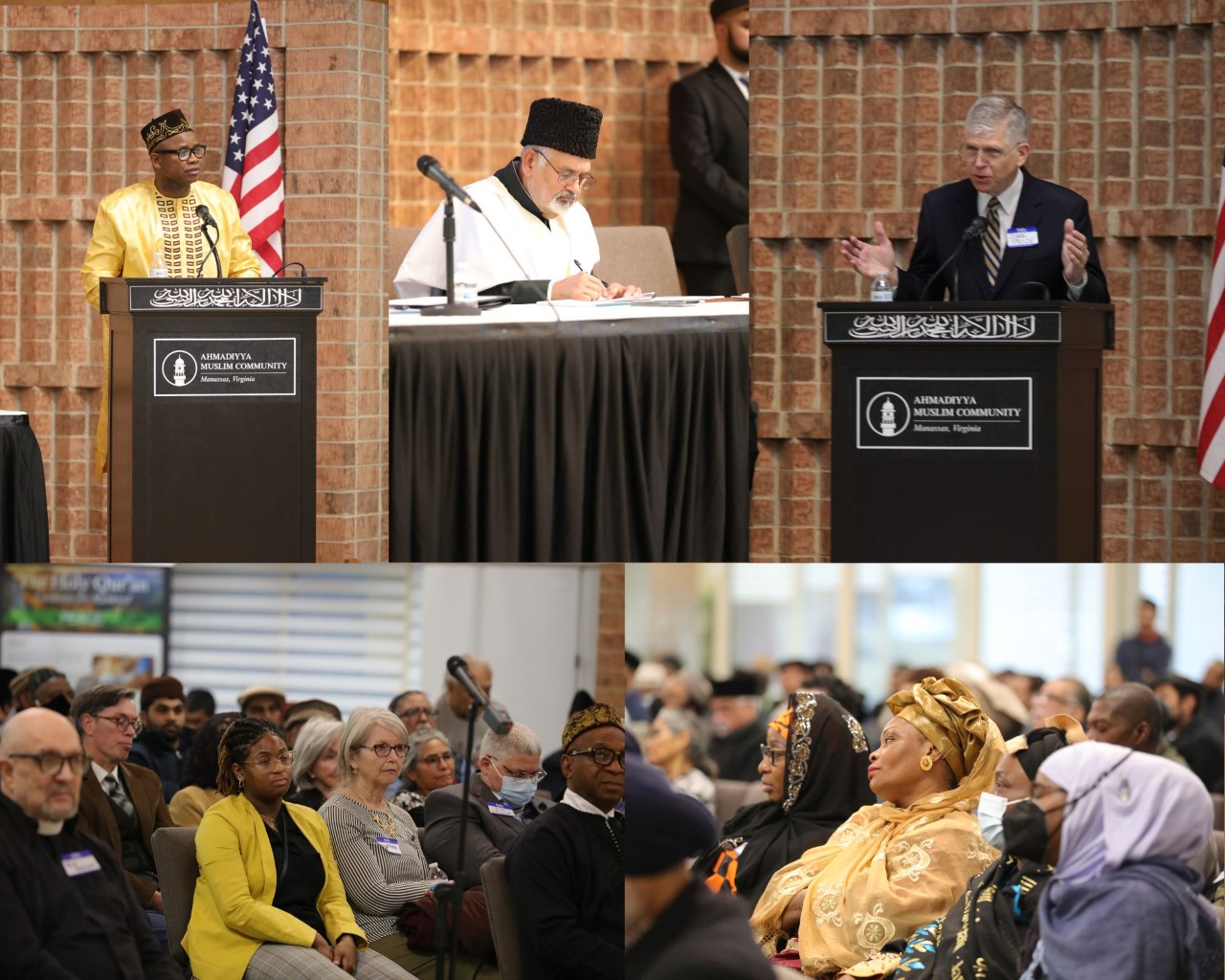 Special Guests
In the end, the audience was provided an opportunity to share their thoughts and ask questions. Many of the respected guests including Rev. Charlotte Lehmann, Bakhshees Singh of MD Gurdwara, Alhaj Sako, Mr Lamin Condey and Imam Tasleem from Sierra Leone Muslim Community and Jibrail Sesay president SLJ shared their thoughts.
Some of the guests shared their gratitude and appreciation for the schools and hospitals built by Ahmadiyya Muslim Community in their country-of-origin Sierra Leone and other countries of West Africa, which they thought have been an important step in promoting peace through providing opportunities to those in disadvantaged positions in the society. This has been a manifestation of members of Ahmadiyya Muslim Community as being always at peace with their fellow citizens regardless of any differences and embracing diversity.
The Path of Peaceful Disagreements
A questioner asked if Islam expects to obey the government in situations where laws are unjust.  Imam Shamshad Nasir explained that Islam teaches that the peace of the society should never be compromised. So, in situations where laws or governments are perceived as unjust, Islam recommends Muslims adopt the path of peaceful disagreements. Muslims are advised to resolve the matters through dialogue, and they should completely avoid anything which may cause unrest or a potential threat to the peace and stability of the country.
The event concluded with the announcement by Imam Nasir that the doors of the Mosque are open for all who want to talk about peace and not politics and who want to worship one God; Imam also led silent prayer. Dinner provided an opportunity to all the participants to socialize and get to know each other.
An exhibition of the Holy Quran and other books was organized on the occasion. Volunteers of Humanity First from Masroor Mosque had set up a display showcasing the work of the nonprofit at Masroor Mosque and around the world. Female guests also met with ladies from the mosque congregation, had dinner and socialized. Around 80 interfaith guests from different faiths and organizations attended the event.