Provided by Cakes by Happy Eatery
With the World Cup raging away every day and the US/England group play (0-0) game still in mind, Victoria Wu is thinking that British-style biscuits are the perfect sweet to watch the tournament with moving into the "knock out" round!
Biscuit is one of those common food names that mean totally different things around the world.   In the US, a biscuit is a crisp exterior bread with a flaky, soft, and light interior.  It is a comfort food enjoyed with a side of white gravy or a generous spread of butter and jam.  It can be a sweet Buttermilk/Sweet Potato or a savory Bacon & Cheese/Cheddar & Chives and such.  English Biscuits, on the other hand, are small crispy cookies, closer to a shortbread than a good soft chew chocolate chip cookie.  Biscuits can also be sweet or savory (cracker) – parmesan/herb/sesame.
Apple TV's "Ted Lasso" is a series is about an American football coach (Ted Lasso) hired to manage a British football/soccer team.  What he lacks in knowledge is made up with determination, optimism, and biscuits.  Instead of coffee with the boss, it is (English) biscuits with the boss.  Ted's boss loves the biscuits he brings to her, and Victoria showed the morning crew how Ted did it at DC's Fox 5 just last week.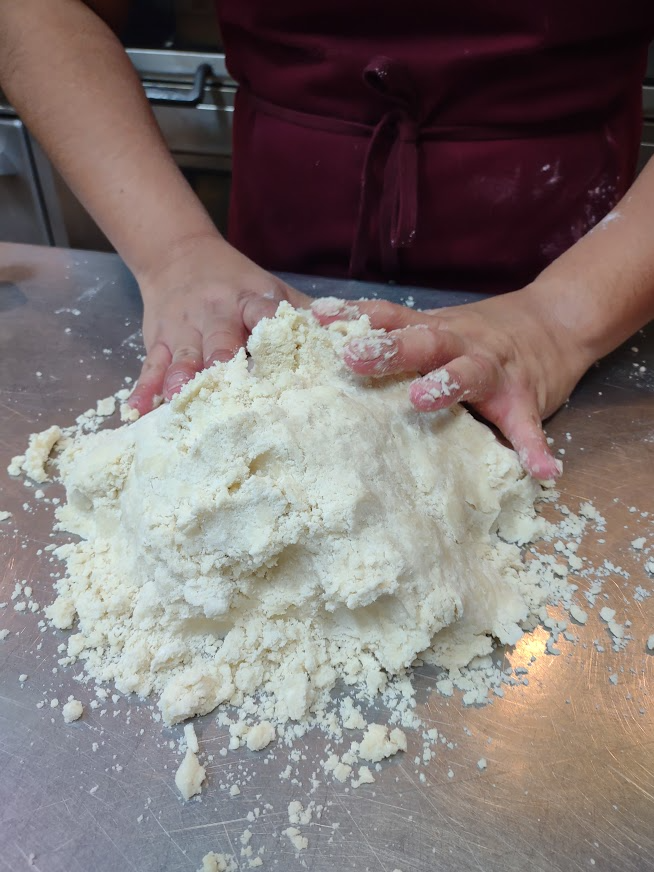 Apple TV's official recipe calls for four ingredients:
2 cups all-purpose flour
 ¼ tsp coarse salt
 1 cup (2 sticks) unsalted, room temperature

  ¾ cup confectioner's sugar
Cooking instructions:
Preheat oven to 300 F.
Sift flour and salt, mix into bowl and set aside.
Mix butter on high speed until fluffy (3 to 5 minutes).
Gradually add sugar slowly, continuing to mix until pale and fluffy.
Add flour all at once and mix until combined.
Butter a square pan.
Pat and roll shortbread into pan no more than ½ inch thick.
Refrigerate for at least 30 minutes.
Cut into squares.
Bake until golden and make sure the middle is firm, approximately bake 45 to 60 minutes.
Cool completely. Re-slice then, if necessary, and serve.
Source: today.com/food/here-s-official-ted-lasso-biscuit-recipe-t230627
Hints from the kitchen:
Use a paddle to incorporate/mix the butter and sugar.

The whisk tends to add air, which is good for cakes, but not for cookies/biscuits.

Add the flour/salt to the whipped butter/sugar and mix it to just blended – almost still crumbly.  Overworking the flour will create a dense biscuit.
 Are the other variations for a biscuit?
Baking is about variety.  The sweet dough can be made to a variety of flavors: Lemon Rosemary Butter, White Chocolate Lavender, Chocolate Espresso, Orange Cranberry, and more.