By Amy Taylor
Sponsored by Competitive Edge Athletic Performance Center
Shanel Evans, co-owner of Competitive Edge Athletic Performance Center in Woodbridge, knows firsthand the importance of building community partnerships. She has fostered relationships with many organizations in her community to mutually help one another's businesses and make the community a better place for people to live.
How to Find Your Perfect Partnerships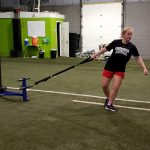 Evans suggests networking and being open to forging new relationships with unexpected businesses that will help you grow your reach and vice versa.
"Really nurture relationships and connections and know the power of reaching audiences outside your normal base," said Evans. "Get involved with different organizations, networking events, meet people and think outside the box."
She partnered her business with BrightCare Center, a day center for people with special needs, to bring a fitness program to their customers.
"With the special needs group idea, we were at a networking event meeting people and a light bulb just went off," Evans said.
This is the kind of out-of-the-box thinking Evans advises other businesses do to find their perfect partnerships.
"Be open to new ideas, be open to things that are a bit non-traditional from the normal business model. We specialize in sports and athletics. It doesn't always have to be in your line of business. Think of ways to work together that are beneficial to both organizations. Think about the relationship building and the community impact," Evans said.
Find the Need in Your Community and Partner With Someone Who Can Help
Evans serves her community through her business, but also with her partnerships. She works with several organizations to fill needs she saw in the community.
"Some of our partners are local faith-based organizations. We give them the opportunity to work on team-building and bring fitness awareness to their youth groups," Evans said.
Another new relationship Evans has formed with is Prince William County Community Foundation and Prince William County Public Schools, who help feed local children.
"We offer meals for the community and for our summer camp. This benefits athletes and families and impacts the community in being able to have free resources throughout the summer," Evans said.
Develop a Mutually Beneficial Relationship
Evans's partnership with the U.S. Air Force shows her commitment to business relationships that equally help one another.
"We are able to offer our athletes and students education opportunities," Evans said. "From their perspective, they're able to use our facility to train recruits and team-building. We are able to collaborate on community events. They have participated and sent volunteers for large sports events that we've hosted. We give them exposure as a resource for athletes and we give them a marketing opportunity."
When looking for business partnerships, Evans advises, "Be authentic with it and go out and look for organizations and businesses you can partner with."
Amy Taylor (Ataylor@princewilliamliving.com) is a freelance writer and editor. She earned her BLS in English from the University of Mary Washington in Fredericksburg, Virginia.