Provided by Nijamasmalls.com
A new digital space is helping black women heal emotional wounds, resolve their issues, and learn steps to live an emotionally healthy and fulfilling life. The Black Girls Guide to Healing Emotional Wounds is the first virtual space to foster emotional healing for women of color as it celebrates its launch during Black History month.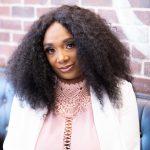 "Mental health has a nasty stigma that we must work actively to break down. The African-American community grapples greatly with mental health—not only because of the stigma surrounding it. The lack of resources for minority and other marginalized communities plays a big part," said Nijama Smalls, wellness coach, author and founder of The Black Girls Guide to Healing Emotional Wounds. "My website helps close that gap and supplies resources to young girls and women who need it most."
The digital space promotes a holistic approach to wellness and prioritizes healthy change and growth in all accepts of life. The website includes the "Healing for the Week" section which gives readers weekly tips and thought-provoking articles to learn ways to include emotional healing in their daily lives. The site also provides a database for users to locate licensed black therapists, and scriptures and bible verses aid in the healing process from a spiritual perspective.
"As we remove the stigma around professional counseling and therapeutic services within the black community, it is vital that we champion these services and assure that we are engaged in healthy therapeutic relationships," Smalls said. "It's difficult to open up about your mental health journey, but we're prepared to meet people wherever they are. We have a growing number of digital resources and a network of therapists across the country."
In addition, the emotional healing space also has the "For the Brothers" section that focuses on mental health for black men. For the Brothers provides carefully curated resources, conversations and articles, this is the place for men to gather and find safety.
To learn more about The Black Girls Guide To Healing Emotional Wounds, visit theblackgirlsguidetohealingemotionalwounds.com or join the private Facebook group. To learn more about wellness coach, author and founder Nijiama Smalls, visit nijiamasmalls.com,  Instagram or Twitter.