By Amy Taylor | Photos by Amanda Baity
Two organizations are working together to ensure the natural beauty of the Bull Run Mountains is preserved for generations to come. The Bull Run Mountains Conservancy and the Virginia Outdoors Foundation are cooperating to protect, maintain, and study the mountains while educating people about them.
Bull Run Mountains Conservancy
The Bull Run Mountains Conservancy is "a nonprofit 501(c) (3) with a mission to protect Bull Run Mountains through education, research and stewardship," said Michael Kieffer, executive director.
The mountains have a unique geology of metamorphic quartz sandstone, according to Kieffer. "This is one of the reasons it qualifies as a natural area. It's part of the Blue Ridge. This is actually the Eastern edge of that ancient mountain range," Kieffer said.
The Bull Run Mountains
There are many mammal species that inhabit the mountains, including black bears, coyotes, red fox, grey fox and bobcats, though you may not see them as they tend to stay away from people.
Kieffer said, "There are also deer and many different species of birds, which peak in late April and May when migrants arecoming up from the tropics."
The conservancy is able to do much of its research and provide education due to the access to the mountains provided by the Virginia Outdoors Foundation (VOF) and private landowners.
Last year, the conservancy conducted a study on the population of local damselflies, and researchers were able to access many parcels of private land due to the relationships the organization has built with local landowners.
"It helped increase the reach [of the study]because there are a lot of farm ponds that have been created on the mountain. We just try to cultivate relationships, and for the most part, it's been very successful," Kieffer said.
The conservancy's ongoing partnership with the Virginia Outdoors Foundation enables night access to the mountain once a year.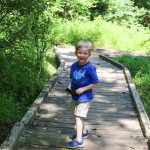 "The biggest partnership that we will have between VOF and ourselves is on October 19, 25 and 26 at night when we run night hikes for our Halloween Safari. It's an interpretive program where you register for a time slot. The first one is at 7 p.m. We have a one-man-band, face painting and camp snacks, and we gather you together. I introduce you to a trail leader who leads you on a night hike. You'll meet four different native animals, actors dressed up who portray what the animal is as far as how it survives and feeds," Kieffer said.
The conservancy runs with help from volunteers. The organization needs volunteers for its Halloween Safari, which requires about 50 to 60 volunteers over the span of three days. For more information about volunteering, email info@brmconservancy.org or call 703-753-2631.
Virginia Outdoors Foundation
"The Virginia Outdoors Foundation (VOF) aims to protect the quality of Virginia's outdoors and make its resources available to its people. More specifically, we are a public organization dedicated to land conservation throughout the state of Virginia," said Joe Villari, Preserve Manager.
"Conserving lands can be a complicated procedure, and there is no single, widely applicable panacea-like approach available. Faced with that reality, we utilize a wide variety of approaches, from working with landowners to create and steward conservation easements on their privately-held lands to creating
and caring for open-space reserves, like the Bull Run Mountains Natural Area Preserve (BRMNAP)," Villari said.
The Bull Run Mountains Natural Area Preserve, which VOF owns and operates, covers about 2,500 acres of the Bull Run Mountains in Prince William and Fauquier Counties. "Our South Section and public trailhead sit right next to the Chapman-Beverley Mill in Broad Run. This section holds six miles of trails that provide our visitors access to a variety of the preserve's natural and cultural treasures. We are conveniently located just off Route 66 and are open to the public Friday-Sunday, year-round," Villari said.
The Natural Area Preserve is permanently protected by the state designation and only allows activities like hiking and educational outings.
"…We are primarily focused on protecting the quality of the natural habitat and its native inhabitants. As such, most recreational activities are not permitted, but we are a great place for hikers who are interested in immersing themselves in a natural Virginia ecosystem and/or exploring a plethora of cultural history sites," Villari said. "I have found that most people do not know the significant history that the preserve
protects, and we are doing our best to address that."
"In addition to offering hiking, we perform and promote scientific research and offer a variety of informal educational experiences. We are currently developing a few opportunities for interested local citizen scientists to come assist with some exciting projects," he said.
The Bull Run Mountains Natural Area Preserve offers visitors a unique chance to unplug and be truly present in nature. "We are fortunate to live in a corridor of Northern Virginia that holds so many top-notch public lands and parks. That said, what sets VOF's Bull Run Mountains Preserve apart is three things: our regionally unique mountainous habitat, our diverse historical holdings and our preserve designation."
According to Villari, "Most of the nearby public lands are parks. As a preserve, we have a different focus and are, as a result, able to offer something different. Preserve visitors come to learn, explore or just be present and immersed in nature. We can offerfolks a brief wilderness experience, and that is a challenging thing to be able to offer this close to Washington, DC."
For the most current news and announcements about the organization's public trail system, visit its Facebook page at facebook.com/bullrunmountains. VOF Preserve staff hold monthly stewardship days and are always excited to welcome new volunteers to their roster.
Area scientists and educators who would like to perform work or hold programs on the preserve can contact Villari directly at jvillari@vofonline.org or 571-438-8957.
Amy Taylor (Ataylor@princewilliamliving.com) is a freelance writer and editor. She earned her BLS in English from the University of Mary Washington in Fredericksburg, Virginia.