By John Cowgill
The town of Middleburg, Virginia is located on U.S. Route 50. Its name comes from the fact that it was established at the halfway point between Winchester to the west and Alexandria to the east. (The road continues east as U.S. Route 50 until it turns off in Fairfax.  The road continues as Virginia Route 236 to Alexandria.)
The town has a few structures on the National Register of Historic Places, including a historic district.  One of those structures, the Red Fox Inn and Tavern, is the oldest continually operated inn in the United States.  The town had a few skirmishes during the Civil War, but the town's real claim to fame is that it was the center of foxhunting and steeplechase, making it the Horse and Hunt Capital of the United States.  (Steeplechase is a horse race that involves jumping obstacles.)
At the National Sporting Library and Museum, you won't see exhibits or books on Tom Brady, Alexander Ovechkin, or the New York Yankees or Boston Celtics or the Brazilian National Soccer Team.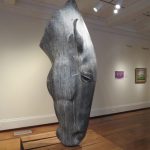 The museum dedicates itself to horse racing, fox hunting, fishing, and to other field sports. A large sculpture of a horse head greets visitors at the entrance. The rooms are filled with paintings and sculptures of horses in the field, on the hunt, or racing, along with paintings and sculptures of waterfowl and fish.  Visitors may find themselves on that fox hunt as they study each painting.
After visiting the museum, you will want to take a look at the library.  The library includes books on the same sports, including the history and expertise of the different sports. There's also an exhibit room to visit. The sports on display here may not be as popular as football or baseball or basketball, ice hockey or soccer, but after spending time here, you may find yourself being a fan of these sports.
The National Sporting Library and Museum is located at 102 The Plains Road in Middleburg. (It is at the intersection with U.S. Route 50).  It is open 10:00 a.m. to 5:00 p.m. Thursday to Sunday.  Admission is required for the museum, but the library is free.  Parking is on site, and the museum and library are wheelchair accessible.  You can learn more about the library and museum and their exhibits at nationalsporting.org/.
If you need a reason to visit Middleburg, let the National Sporting Library and Museum be that reason. Be advised: You might find yourself saddling up your horse… even if you do not own a horse.
John Cowgill is a contributing writer for Prince WIlliam Living.