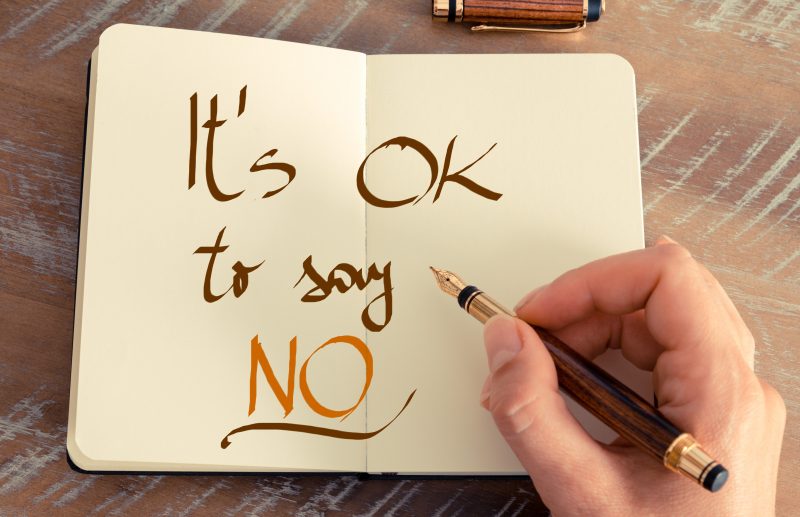 By Rebecca Barnes, Publisher, Prince William Living and Brides & Weddings
Saying "no" can often feel wrong. After all, many of us were raised to be "pleasers." How will you make people happy if you don't say "yes?"
So many of us just can't seem to say "no," even when it's really needed. Unfortunately, your inability to do so may be exactly what's holding you back. Saying "no" does not make you a bad person. In fact, saying "no" will open new doors, create better relationships and potentially even help you avoid disaster.
Why Do We Say "Yes?"
We all have our own reasons for saying "yes" when we really need to say "no," but here are some of the most common ones:
We want to help.
We fear rejection.
We respect others.
We fear confrontation.
We are carrying or fear we will carry guilt.
Why We Should Say "No"
All the reasons above may legitimately be a concern, but let's focus on all the reasons why we should say "no" — there are some really compelling ones.
You need to focus on oceans, not puddles, mountains, not molehills. Do the things that will make large impacts on your business and life, not small ones. Ask yourself, "Does this need to happen?" Do not limit your own ability to focus on what's most important.
You can't help others grow if you do all the work. It's impossible to build new leaders if you are always doing everything. Step back and let others shine. You can always coach/mentor versus doing all the footwork.
Visibility may mean giving away your power. Do not let the need to be seen everywhere and doing everything take over your life.
It creates time for self-care. Yes, everyone seems to be talking about self-care these days, but it's a truth to embrace, not a buzzword. You are NOT an unlimited resource. You need downtime to recoup and replenish.
People will stop taking you for granted.
Your goals matter. Ultimately you are here for you and what you feel is important. If the request doesn't line up with those things, it isn't right for you.
Take a page from Derek Sivers' book Anything You Want. Sivers argues there should be no "yes" in our vocabulary. It's either "HELL YEAH" or "No." If you're not gung-ho and ready to throw yourself into the endeavor, opt out. Sivers says, "When you say 'no' to most things, you leave room in your life to really throw
yourself completely into that rare thing that makes you say, 'HELL YEAH!'"
Become Better at Saying No
So, you now hear the logic and see the potential that saying "no" creates in your life, but how do you implement it? It certainly takes practice. Here are some tips to help you find your power to say "no."
now yourself. What are your limitations? How much can you do and maintain the quality you are known for? Is it within your priorities and goals?
Remember to value your time. Saying "no" allows you to do other things, opening other doors and creating those new opportunities you may be seeking.
If someone gets upset, then it wasn't a sincere relationship to begin with. People who truly care about you will respect your boundaries and trust that you know what's best for you.
Be generous, but don't let yourself be abused. If you are being used, negotiate the conditions or walk away.
If you aren't sure of your answer when you're asked, delay answering.
When you have to say "no," be polite but firm. Don't make excuses.
Ways to Decline
And if those tips aren't quite enough to help you get the word out, try one or two of these phrases.
To do that, I will need you to help me prioritize the other things you have asked me to do. What should we take off my plate?
I won't be able to do that, but thanks for asking.
You know who would be really great for this? ____________
Learning to use the power of "no" can bring about tremendous changes in your life. Survey all you have going on and determine what would be most helpful to cut out. Start practicing your power in that area and stop letting your "yes" block your success.
Award-winning publisher of Prince William Living, Rebecca Barnes (rbarnes@princewilliamliving.com) has been a business owner for more than 25 years in Prince William County. She served 12 years on the board of the Chamber of Commerce and was a founding task force member, first (co) Chair and a graduate of the first class of Leadership Prince William. Committed to the community, Rebecca is Director of the non-profit Give Back Prince William, as well as an active volunteer for the Occoquan Woodbridge Lorton Volunteer Fire
Department.