Provided by Manassas Bee Festival
Theresa Coates Ellis, Patron Manassas City Council Member, along with the Friends of the Manassas Bee Festival, announce the 3rd Annual Manassas Bee Festival to be held Saturday, June 24 from 10:00 a.m. to 2:00 p.m. at Liberia House and Grounds 8601 Portner Avenue, Manassas. The event is free to visitors. Sponsors (many levels), Vendors ($50), Volunteers, and Experts, are still being accepted on the website.
Ellis said, "Because of the Manassas Bee Festival, and with the support of the City of Manassas, residents, committees, leadership, staff, and community stakeholders, organic partnerships have formed increasing public awareness to the importance to save our pollinators. Without our pollinators, we will not thrive. We need each other to survive."
How it Got Started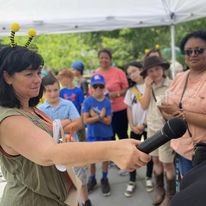 Ellis initiated the Bee City USA (Xerces Society) designation and a resolution for urban beekeeping as a Manassas City Council Member in early 2021. Approval was unanimous. Ellis was trained as a Prince William County Master Gardener years ago. She is a hobby beekeeper with her husband George Ellis. Both of them are members of the Prince William Regional Beekeepers Association, offering training and best practices. They set up a honey bee apiary and the Scouts donated and installed native bee boxes at Liberia House and Grounds, a Manassas City park with historic native gardens.
Bee City USA Designation
With the Bee City USA designation comes the responsibility to raise awareness to plant native and save declining pollinators, critical for a growing food source. The Manassas Bee Festival launched in 2021. Mayor Davis-Younger signed the National Wildlife Federation's Mayors' Monarch Pledge at the event. The festival continues annually during Pollinator Week, welcoming thousands of visitors from Northern Virginia and surrounding areas. Outreach continues year-round with interactive learning at the Liberia apiary. There are live honey bee demonstrations and visits to many groups to share best practices and understand the challenges to save pollinators such as reducing pesticide use, habitat destruction, and mites.
The June 24 Festival
UVA Health Prince William Medical Center is one of the top festival sponsors for the well-loved farm animals.  Every year children flock to learn and appreciate these adorable animals, including bunnies, pigs, horses, cows, and more. Manassas Garden Club, and GFWC Woman's Club of Manassas have provided early generous support as sponsors. They both are hands-on with beneficial projects and causes to make this community, including the parks, a better place. Liberia House and Grounds is a Manassas City park providing trails, open lawn spaces, and an abundance of shade from the historic trees of Liberia House, which will be open for a free public history tour.
Both Manassas Rotary and Bull Run Rotary members will be sponsoring and volunteering.  Rotary "bee headbands" will be available to wear to show support for the pollinators. Prince William Library Manassas City branch, Department of Social Services, Community Service, and Keep Manassas Beautiful will have beneficial resources to share.   Experts are available on planting native plants, responsible gardening, pollinators, live honey and native bee demonstrations, health and wellness, plus local artists, writers, and poets. Vendors, fun and educational activities, face painting, live local music including Wayne Fairfax and Friends bluegrass band, natural, hand-made products, plus honey-made presentations by Misty Mountain Meadworks and Heritage Brewing Co, plus food trucks are scheduled.
New for 2023
New this year: a nature-themed haiku contest, local celebrity spelling bee versus the children, a guided trail walk with Prince William County Mosquito and Forest Pest Management, Audubon Society of  Northern Virginia, and 4H Youth will be hosting activities, a drum circle, yoga on the lawn with Perpetual Wellness, and a gong (percussion) sound in nature experience with special guest MedHealers, and more.   The Manassas Bee Festival promises to be a fun, positive experience coupled with education to continue to bring positive and pro-active awareness to save pollinators.
Tractor hayrides and golf carts will be available for shuttles from the Public Works parking lot a short walk away from the event location. New this year is an extended shuttle stop available at the parking garage on Prince William Street in Historic Manassas.
More Information
Mark Olsen, Chairman, Historic Manassas Inc., said, "I am pleased that the Manassas Bee Festival is adding a continuous tractor hayride loop to and from the festival location at historic Liberia House and Grounds to our Historic Downtown Manassas (farmer's market, businesses and residential community) connecting two gems together in our charmed City.
Visitors are encouraged to dress like a pollinator or with a nature theme for the costume parade and waggle dance. If you need a costume, Manassas Ballet Theatre will be there with plenty of tulle to help you make a costume to join the fun. Ellis said, "We are excited that our Liberia House and Grounds apiary, installed during the pandemic with bee hive boxes creatively painted by our residents, has produced extra local honey to taste. The samples will be available for the public while supplies last. There are vendors scheduled to attend with local fresh honey available as well."  Visit ManassasBeeFestival.com to be a sponsor, vendor, volunteer, expert, or to just visit!