By Amy Falkofske

Whether it's a Christmas Eve candlelight carol service at your church or caroling in your neighborhood, music is undeniably a large part of the Christmas season. Many people look forward to this time of year when it's finally deemed okay to bring out the Bing Crosby and get into the Christmas spirit. And some radio stations have already started playing Christmas music around the clock.
The Christmas carol was born in 1223 when St. Francis of Assisi introduced carols as a part of the Christmas mass and nativity play. The invention of the radio in the 1900s made it possible for secular Christmas music to rise in popularity, according to lovetoknow.com. Today, if you attend a holiday music event, you will probably hear a mixture of both the sacred and the secular.
If you're looking for a way to enjoy a concert of Christmas music with your friends or family, there are plenty of opportunities in our area.
The Woodbridge Community Choir (WCC) will present "Hope of Christmas—Celebrating the Child" on Saturday, Dec. 1 at 8 p.m. and Sunday, Dec. 2 at 3 p.m. at the Dr. A.J. Ferlazzo Building Auditorium. Admission is free, but donations will be taken at the end of the concert.
"We have a selection of both sacred and secular music," said Lee Irwin Culbreth, resident musical director. "Most of [the concert] is very contemporary arrangements even though it incorporates a lot of traditional hymns."
A few of the songs WCC will be singing are "Angels We Have Heard on High," "Jingle Bells" and "Celebrate the Child."
The Prince William Community Band (PWCB) performs two Christmas concerts every year, usually on the first weekend in December. This year PWCB will perform at Osbourn Park High School in Manassas on Sunday, Dec. 2 at 3 p.m. and at Westminster at Lake Ridge on Monday, Dec. 3 at 7:30 p.m. Check the website for more information: pwcb.org.
"The Christmas concerts are ones that we always look forward to. Usually people will bake cookies to give to the audience. We usually have a free raffle for poinsettias," according to Jack Tilbury, tuba player, associate conductor and announcer for the band.
The band will perform a mixture of some recognizable Christmas songs and some you might not recognize. "We try to do a mixture of the classics and standards plus modern arrangements or contemporary arrangements of either newer treatments of old songs or just newer pieces in general," said Bob Thurston, percussionist and conductor of the band since 2016.
The concerts are free. "Everything we do is free, but we love to take donations," Thurston said.
The Manassas Chorale will perform its silver anniversary Christmas concert, Silver Noel, on Saturday, Dec. 1 at 7:30 p.m. at the Hylton Center. Tickets are $18 and $20 depending on where you want to sit in the auditorium. Students get in free with a paying adult.
"The theme is Silver Noel because it's our silver season, noel is obviously a word we associate with Christmas, and we're doing some special things for the concerts held during our 25th year. For example, we are having handbells play with us," said Becky Verner, artistic director of the group. There will about 60 handbell ringers from all over the area playing on several of the 16 varied musical selections. The choir will sing sacred songs like "God Rest Ye Merry, Gentlemen," "In the Bleak Midwinter," "The First Noel" and "O Little Town of Bethlehem" as well as secular songs like "Jingle Bells" and "Deck the Hall."
The 100-voice Manassas Chorale is also invited to perform in Williamsburg every year, so if you can't make the concert on Dec. 1, you can catch it on Thursday, Dec. 13 at 8 p.m. at Bruton Parish Church in Williamsburg. That concert is free with a freewill offering collected.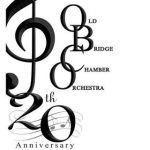 If you love the sound of string instruments along with wind, brass and percussion instruments, you'll want to make plans to attend one of the Old Bridge Chamber Orchestra's (OBCO) 7th annual Messiah sing-alongs. One concert will take place on Friday, Dec. 21 at First Baptist Church in Woodbridge. The other one is on Saturday, Dec. 22 at Manassas Baptist Church. Admission is free.
"We always do what's considered the Christmas portion of the Messiah, and then we'll also sprinkle in a holiday work or two because we've found that the crowd really loves to hear them. They like to hear "Sleigh Ride" and collaborations of different Christmas music," said Sheyna Burt, concertmistress and president of the board of directors.
The sing-along portion of OBCO's Christmas concerts will be accompanied by a "ringer" chorus composed of  different choral ensembles in the area. There will also be professional singers from the United States Army band performing the solo arias and recitatives of the Messiah.
"It's a good time and a very family-friendly event, probably best for kids who can sit still for a good hour," said Burt. "Last year Santa Claus stopped by, and I'm told that he might stop by again this year."
Finally, if you want to go to a Christmas concert and also support a good cause, then you'll want to attend the Woodbridge Flute Choir's (WFC) performance on Sunday, Dec. 2 at 3 p.m. at Greenwich Presbyterian Church. Admission is free, but donations will be taken to benefit Farthest Corners, the church's missionary project in Burma headed by long-time church member Austin House.
The WFC has been holding this benefit concert since 2007. The funds raised at this year's concert will go towards building an education facility in Burma, according to artistic director Debbie Gilbert. And your donations are tax deductible as the WFC is a 501(c)(3) tax-exempt organization.
If you're looking for a way to celebrate the Christmas season this year, you're bound to find a musical event you'll like right here in Prince William.
Amy Falkofske (afalkofske@princewilliamliving.com) is a freelance writer and photographer who lives in Bristow with her husband, two sons and two Beagle dogs. She has a Master of Arts degree in Film-TV from Regent University.