By Judy Colbert
Because of the novel coronavirus and the encouraged decrease in travel, you can now see many of the world's art, treasures, scientific discoveries and historic attractions without buying a ticket, being an early bird, having a current passport, waiting in line or being rushed along.
Many museum doors may be shuttered, but you can tour at your leisure, and in your jammies, if you wish. You can also linger as long as you like and forget any worries about crowds blocking your view. It's a win-win-win. And as a bonus, you can take the money you saved and go on a shopping or donating spree.
Here's a selection of the best and most unusual museums available via your nearest smartphone, laptop, TV or tablet.
Solomon R. Guggenheim Museum and Foundation, New York, New York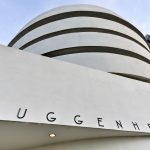 Guggenheim.org/new-york
The Guggenheim is known for its vast collection of impressionist, post-impressionist, early modern and contemporary art. The special exhibits are extensive and unlike shows almost anywhere else. Part of the fun is viewing the building designed by Frank Lloyd Wright that's a long unbroken spiral reminiscent of an elongated nautilus shell that allows pieces of almost infinite size.
It's unlike older museums that have rooms dictated by walls and restrict what can be shown. Then, it's topped by a huge skylight. Start at the home page and explore various pieces, read the history, take a virtual guided tour or just explore it on your own.
Philadelphia Museum of Art, Philadelphia, Pennsylvania
philamuseum.org/collection
Lace up your running shoes, virtually Rocky-run up the 72 steps and cheer victoriously at your accomplishment. (The larger-than-life Rocky statue is on display at the north side at the base
of the stairs for when you actually visit.) Then, head inside the Greek temple structure that holds more than 240,000 objects covering European, American and Asian art. You'll experience armor, decorative arts, drawings, paintings, photographs, prints and sculptures. Click on the Collections button and explore the
works of Marcel Duchamp, Thomas Eakins, Mary Cassatt, Paul Cezanne, Charles Eames, Frank Gehry and more.
The Vatican, Vatican City, Italy
museivaticani.va/content/museivaticani/en/collezioni/musei/tour-virtuali-elenco.html
Even if Italy and Vatican City were open to the public for the rest of the year, it might take a lifetime to explore everything that's worth seeing at the Vatican. Sign into their virtual tour section and explore, in 360-degree fashion, Michaelangelo's Sistine Chapel (It's nice exploring the ceiling without getting a crick in your neck, but you can hold your computer above you if you want to sort of replicate the feeling.), the New Wing, Raphael's Rooms, Profane Museum, Pio Clementino Museum, Chiaramonti Museum, Niccoline Chapel, Room of the Chiaroscuri, archaeological areas, departments of various art periods, restorations and scientific services, masterpieces and so much more. The list of virtual tours seems endless. No, you can't touch exquisite marble statues, but, in truth, you can't do that in person, either.
Musee de Louvre, Paris, France
louvre.fr
The Louvre is THE most visited museum in the world, with an average of 15,000 people a day during regular operations. And, the three-hour lines in the summertime to see the Mona Lisa, Winged Victory and Venus de Milo require some serious dedication. Now, there are virtual tours of artworks, exhibit rooms and
a virtual reality film about the Mona Lisa where you can discover "Mona Lisa Beyond the Glass: the myth from the truth." You may even find this method more fulfilling than attempting to peer at the painting from a distance amidst a crowd.
Jewish Museum of Florida, Miami Beach, Florida
my.matterport.com/show/?m=dd6YDwzgWGn&brand=0
At the Jewish Museum of Florida, you can virtually hob and nob with Madonna, Katy Perry, Sarah Jessica Parker, Blake Lively, Greta Garbo, Barbara Walters, Mamie Eisenhower and other A-listers who have owned handbags, belts, pillboxes and glasses by the late Holocaust survivor-turned mega handbag designer, Judith Leiber. The exhibit has some of her gorgeous, ornately beaded handbags, photographs and biographical information.
Click on the dollhouse representation and then enter to explore the details of her exquisite masterpieces. The main building is a 1936 synagogue designed in an Art Deco style and has a copper dome and 80 stained glass windows.
Museo Subacuatico de Arte, Cancun, Mexico
musamexico.org
At the Cancun Underwater Museum of Art in the Mexican Caribbean, you'll find more than 500 sculptures, by Jason deCaires Taylor and other Mexican sculptors, displayed in three galleries. Each gallery is between three and six meters deep. That's shallow enough that you can see them via glass-bottom boat when attending in person. The statues are constructed with pH-neutral cement, so coral, seaweed and algae can grow and attract sea life. In other words, this tourist attraction helps nature instead of destroying it. Check out the virtual exhibit to view the statues and learn historical background information about some of the
favorites.
Judy Colbert is the author of Virginia Off the Beaten Path, Discover Your Fun (12th edition) and a frequent traveler when traveling is allowed.