Provided by PWC BOCS Chair Ann Wheeler's Office
The Department of Parks and Recreation has selected INFORM Studios from Northville, Michigan for the planning, design, and engineering services for the Powell's Creek Crossing project. The BOCS approved funding for the design work at its Sept.12, 2023, meeting.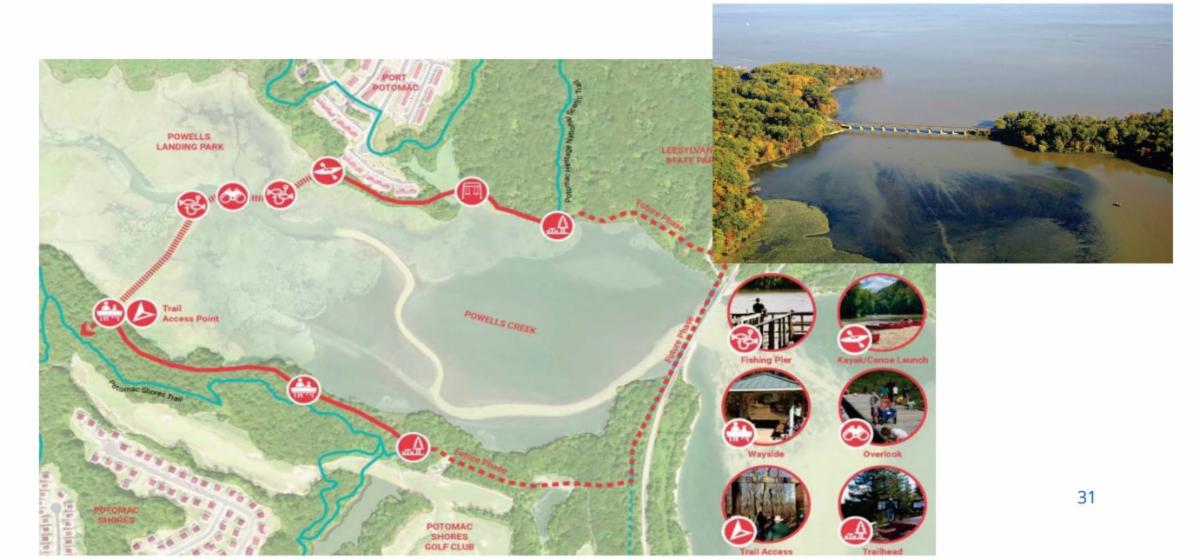 From Department of Parks and Recreation presentation at the Sept. 19 BOCS work session showing possible amenities, which include a fishing pier, kayak/canoe landing, wayside, overlook, trail access, and trailhead.
From Greater Prince William Trails Coalition September newsletter providing a high-level view of the project.
About the Project
The Powell's Creek Crossing will create a connection between Leesylvania State Park and Potomac Shores. Voters approved the $9.5 million for the project in the 2019 bond issue.
The crossing will close one gap in the 40 miles of the Potomac Heritage National Scenic Trail in PWC, an 800-mile network of locally managed trails along the Potomac River from the mouth of the Chesapeake Bay to the upper Ohio River basin in Pennsylvania. The trail system was designated by Congress in 1983 with the goal of linking trail users to the history, culture and natural beauty of the Potomac River.