By Helena Tavares Kennedy
A European-style coffee shop and wine bar hit the scene in the summer of 2015, bringing a unique vibe and delectable pastries, coffees and diverse wine options. You may have heard of Trummer's On Main which opened 10 years ago in Clifton, but Trummer's Coffee and Wine Bar in Gainesville offers a new, different experience for customers. Both Trummer's restaurants are owned by the same owners, Victoria and Stefan Trummer.
"We wanted to bring a European style coffee shop to this area as it didn't exist yet," said Victoria Trummer. "My husband, Stefan, is Austrian and we love the coffee houses in Austria. We thought why not bring that concept here to where we live!"
One of the things Victoria Trummer loves about the Austrian coffeehouses is that "they make their own food, have real wine, table service and offer a nice, leisurely experience." And that's just what they set out to do with Trummer's Coffee and Wine Bar.
The coffeehouse vibe is strong when you first walk in with the smell of freshly brewed coffee and slightly sweet scent of pastries if you visit during the day, yet it has a modern wine bar atmosphere that comes out more in the evenings.
"You can make Trummer's Coffee and Wine Bar whatever you want it to be," said Victoria Trummer. "It could be happy hour for you one day with our wine bar, breakfast another day with our house-made pastries, lunch another day with some fresh paninis, and a leisurely afternoon coffee another day."
Unlike most chain coffee shops in town, you can sit down and have table service thanks to their knowledgeable baristas and servers that can take your order and deliver your food for you, making it the ultimate relaxing coffeehouse. If you are in a rush, however, then you can order your food and drinks at the counter to speed things up and get on your way.
Fresh Food and Unique Coffee
Everything you find to eat in Trummer's is made in-house. A baker who is knowledgeable in European and more specifically Austrian pastries is there in the morning to make the day's goodies. A chef cooks throughout the day making fresh paninis, small plates and sandwiches.
Most pastries are Austrian like their well-liked Linzer tart, some are Italian like Tiramisu, or French Louisiana style like their hugely popular Beignets. "One of the most popular food items we serve is the Weiner Schnitzel, which is made with chicken, breaded and fried, served with arugula salad and lingonberry
jam – often referred to as Austria's ketchup – just like it's done in Austria," said Victoria Trummer.
They also have gluten free muffins and chocolate tarts for those with gluten allergies. If you have another dietary restriction or allergy, they can almost always accommodate, according to Victoria Trummer.
Either way, many customers love to have fresh coffee with their house-made pastries. And their coffees can be a delicious treat in and of themselves.
Trummer's serves Lavazza coffee, an Italian coffee found in almost any Austrian café, according to Victoria Trummer. "We make it just like the Austrian cafés do!"
And while you might see a coffee chain pour a shot of flavored syrup for your hazelnut coffee, Trummer's goes one step further and makes all their syrups in-house. From raspberry syrup to Mexican chocolate and new coffee of the month creations, their creative crew and baristas comes up with new creations often.
"We hire people based on passion and energy," said Victoria Trummer. "Come here and meet our staff and get to know our team. They are super creative and like family."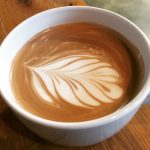 Latte art is one of their biggest requests as their baristas love to get creative and make beautiful frothy art on customer coffees. Ariel Cooper has been a barista with Trummer's for about three and a half years and loves "that we are family here. Like brothers and sisters, we all get along even outside work." For Cooper, latte art competitions that are sometimes held in the region help "blossom baristas from a simple job into something they have their own take on."
Sure, they have the standards like lattes, espressos, and more, but it's fun to try new flavors and combinations or to see what interesting latte art you might get. One of Trummer's signature coffees is the Smore's latte, which is made from their homemade marshmallow syrup mixed with chocolate syrup and topped with marshmallows and graham crackers and then bruleed on top to crisp it up.
One of their bestselling coffees is the Kaiser Melange, roughly translated to the Emperor's Coffee, which is known for being the perfect hangover cure. "It starts with honey and coffee warmed up, an egg yolk, cognac and topped with whipped cream that we steam and warm up," said Victoria Trummer. "The egg makes
it richer, but you don't taste it and we can make it without the cognac too."
Because of Trummer's leisurely atmosphere, you can sit, relax, and savor your cup of coffee.
Chillin' at the Wine Bar
Speaking of relaxing, the wine bar offers many options to unwind after a full day at work or to hang out with friends and family or have a celebration. The wine bar, like their coffee and pastries, is focused on European and Austrian wines to stick with the concept.
They offer an Austrian wine flight as well as local Virginia wines, Belgium and German beers, Portuguese port wines, and a wide variety of other drink options.
Their most popular white wines are the Austrian Gruner Vetlier wines which are similar to chardonnay and sauvignon blanc. "It's a great summer wine," said Victoria Trummer.
Trummer's signature cocktail that sells more than all other cocktails combined is The Titanic. "Many people come here just for that," said Victoria Trummer. It combines Vodka, green grapes, elderflower elixir, and champagne sorbet. The sorbet melts as you drink it – thus the sinking Titanic reference and name.
Want more information about Trummer's? Visit them at 14013 Promenade Commons St. in Gainesville, call them at (703) 754-0135 or check out their menu and more information online at trummerscoffeewinebar.com.
Helena Tavares Kennedy ([email protected]), a longtime Prince William County resident is a freelance writer, editor, and communications consultant.