Provided by Prince William County Schools (PWCS)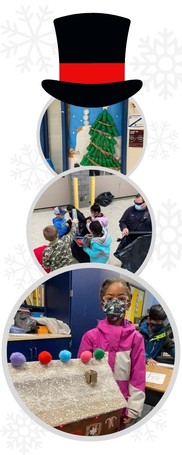 Inspired by Jan Brett's book "Gingerbread Baby," students at Alvey Elementary School created an original village and their own book characters. Using Ozobots, the students led their characters through the village, trying to bring them home before the baker caught them.
At Ashland Elementary and Gar-Field High Schools, students are leading efforts to collect toys for children in the community through the Marine Toys for Tots campaign. Ashland Elementary students exceeded their goal of 500 toys, while the Marine Corps Junior Reserve Officers' Training Corps students at Gar-Field High collected more than 650 toys for those in need.
The Forest Park High School A Street Bruins were dreaming of a "green" holiday during a recent project which repurposed recycled materials into a beautiful holiday tree complete with all the trimmings.
A challenge to create cardboard gingerbread homes had King Elementary School families enjoying some creative time together. The finished products were on display in the library where students and staff voted on their favorite.
Students' sewing skills were on display at Marsteller Middle School as they created their own winter and holiday-themed ornaments.
… All the students were stirring — staff and administrators too!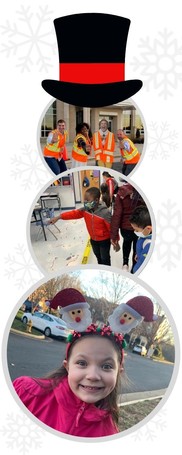 A visiting gingerbread man went missing at Marumsco Hills Elementary, leaving a mess of a crime scene in his wake. Mrs. Sadare's second graders followed clues to clear suspects, including Principal Julie Cuocci.
Over at Occoquan Elementary School, you might have heard Principal Buddy Lint channeling Buddy the Elf inside a display case "singing loud for all to hear."
Parkside Middle School students brought holiday cheer to Dulles International Airport, decorating one of the trees on display with their handmade decorations and ornaments.
The Rippon Middle School chorus shared sounds of the season during their performance at the "Rocking Around the Boardwalk" event at the Neabsco Creek Boardwalk Park.
Buddy the Elf joined staff greeting students and families in the car rider line at The Nokesville School this week. Students and staff were excited to see where Buddy would show up each day.
Can we get a Holi-Yay? At Tyler Elementary School, a seasonal spirit week made for a fun and frosty countdown to winter break.