By Marianne Weaver
Sponsored by Semper K9 Assistance Dogs
Semper K9 Assistance Dogs rescues dogs from shelters and trains them as service dogs at no cost for disabled service members.
Founded in November 2014 by Marine combat veteran Christopher Baity and his wife, Amanda, Semper K9 has placed 42 dogs to date.
For his efforts, in 2016 Baity was awarded the American Heroes Channel's Red Bandanna Hero and was named a Washingtonian of the Year for 2017 by Washingtonian Magazine. Last year, Mike Rowe's "Returning the Favor" surprised the couple by showing up and building the beginnings of Semper K9's training facility.
But that building is just the beginning. Semper K9 purchased 33 acres adjacent to Marine Corps Base where they plan to build a retreat-style facility for out-of-area veterans and their families to come and train with their service dogs.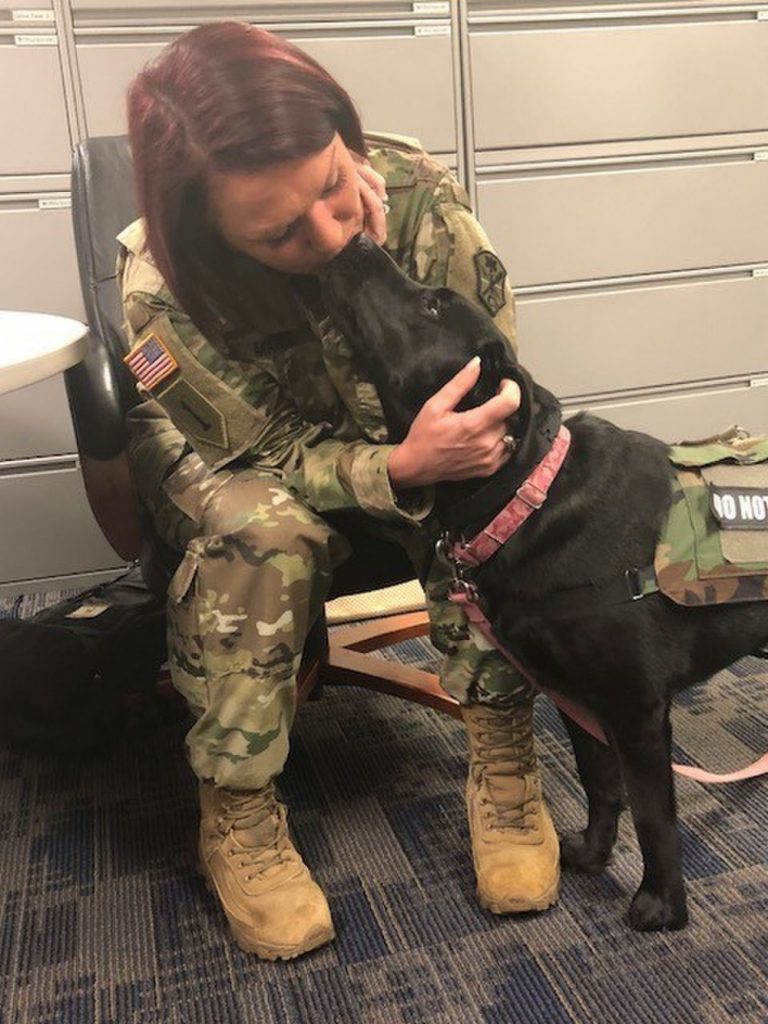 "The goal this year is to get the facility built," said Chris Baity. "The five-year goal will be to graduate 48 dog teams per year—that's 48 dogs completely trained, saved from the shelter and possible euthanasia, along with 48 families of wounded veterans now having independence and ability to move on with their new normal."
All accolades aside, the Baitys realize the success of Semper K9 is dependent upon community involvement.
Community Support
Baity said businesses nationwide have signed up to support Semper K9.
"This is great on multiple levels," he said. "It allows businesses and their staffs to get behind a mission that is worthy, while removing the financial burden and planning a fundraising event for our team. The bigger part of a benefit event (no matter how big or small) is that someone who needs our assistance may find out about our mission through the event."
He said many of the veterans who they work with found out about Semper K9 after attending an event hosted by a spouse, parent or friend's employer.
If the event is local, he said they try to send an ambassador with a dog. Events can be as small or as big as the organizer wants. For example, the Gainesville Haymarket Rotary Foundation is sponsoring "Flags for Heroes" flag day weekend (June 14-17). Supporters can purchase a flag to honor a veteran, firefighter, police officer, teacher or other hero and the proceeds will be donated to Semper K9.
Another option for honoring the fallen, he said, is to create a custom memorial page and request donations directed to Semper K9.
"We have a Gold Star mother in Michigan who hosts a golf tournament for us each year," he said. "We named a dog after her son Yates."
Part of the Team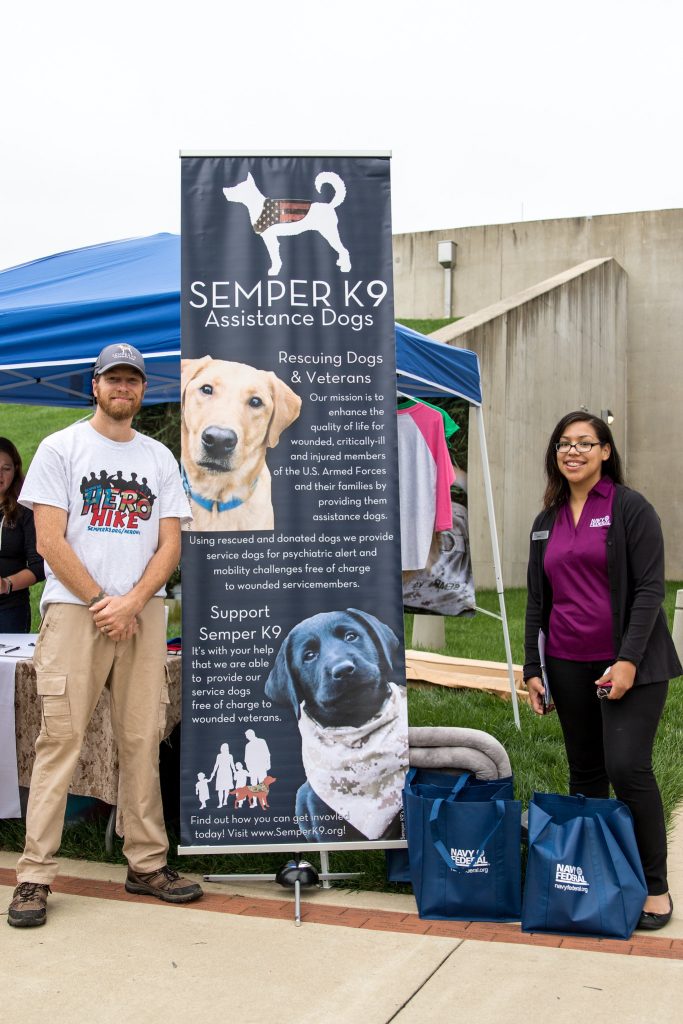 Semper K9 has developed some of its own fundraising efforts. They will host the second annual Hero Hike Saturday, May 18 at Semper Fidelis Memorial Park at the National Museum of the Marine Corps. Hikers can walk/run as they take in the monuments and memorials throughout the museum grounds along the 5K or 1-mile course.
Adult registration—ages 13 and older—costs $35, and includes a T-shirt. Kids under 12 are free, and T-shirt is available for $15.
This is more than the usual hike. Local registered hikers can continue to fundraise in their hero's name. The top three fundraisers will have a Brick of Honor placed at Camp Semper K9 for their hero and receive a replica brick. People living outside of the region can register as virtual hikers. All fundraising options are outlined here.
Hike-day registration begins at 8:30 a. m. Opening remarks begin at  8:50 a. m. At that time, the names of those heroes being honored will be read and colors will be presented.
Baity will attempt to set a world record for the fastest mile in a K9 Bite Suit, then close out the mile by "catching a dog."
"We need community partners to help us get our facility built at no cost or low cost," he said. "We need to ensure all funds raised from our events and donations from the public do not go to the property development."
Additional fundraising ideas can be found on their website's event page and their facebook page.
"We have had people host lemonade stand fundraisers for us, motorcycle poker runs, golf tournaments," he said. "We have a toolkit with ideas and tips that can be found here on our website."
Getting Personal
Baity said that although the organization is in need of funding, they also need volunteers to donate their time and talents.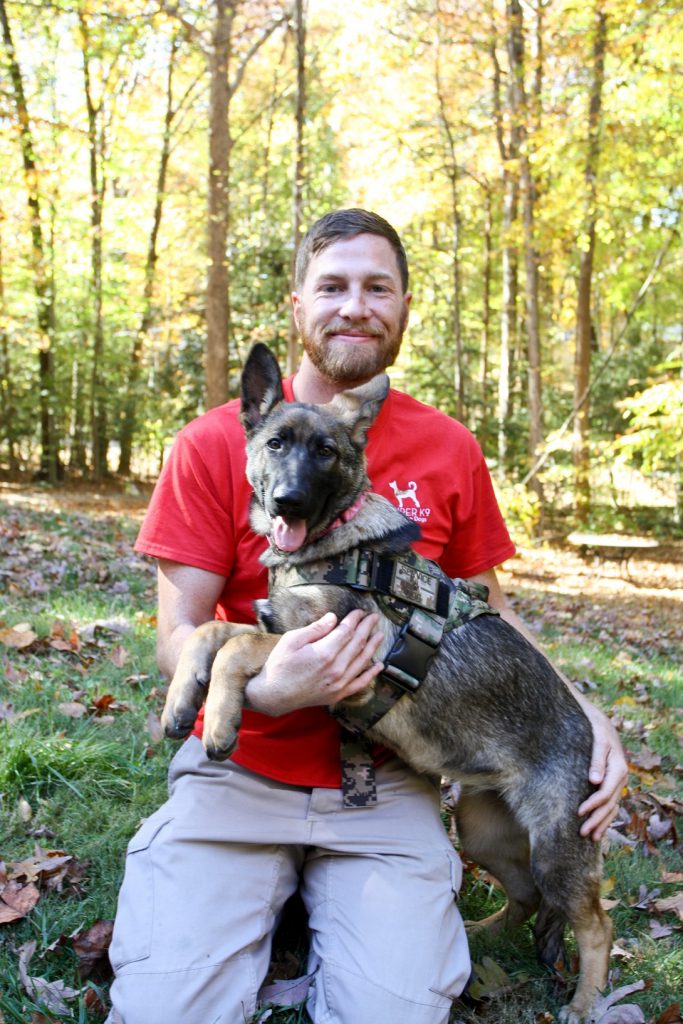 "We need volunteers to help us 'foster' our dogs in training, puppy sitters and K9 coaches, who will allow us to be able to rescue more dogs and start working with veterans on our waitlist," said Chris. "We need ambassadors who go to local community events or when a business is hosting a third-party fundraiser. We also will have opportunities out at the facility once complete like sponsoring meals for the families who stay onsite, keeping the garden, maintenance, puppy playdates and more."
To learn more about volunteering with Semper K9, check out their volunteer page here. If you want to make a donation, visit their donation page here.