Like this article? Support us by subscribing here. Your donation will help us continue to provide quality of life news and make local impact possible.
By Dawn Klavon
Vacations can be life-changing — just ask Manassas-based artist Robin Croft. As a child back in the 1960s, he and his family visited the Outer Banks, off the coast of North Carolina, almost every summer. The area is known as the "Graveyard of the Atlantic," earning the nickname for the numerous shipwrecks there, caused by the coast's shifting sands nd inlets. "They always fascinated me," Croft said, adding that he actually saw shipwrecks on the beaches, "so that was an image that stuck in my mind."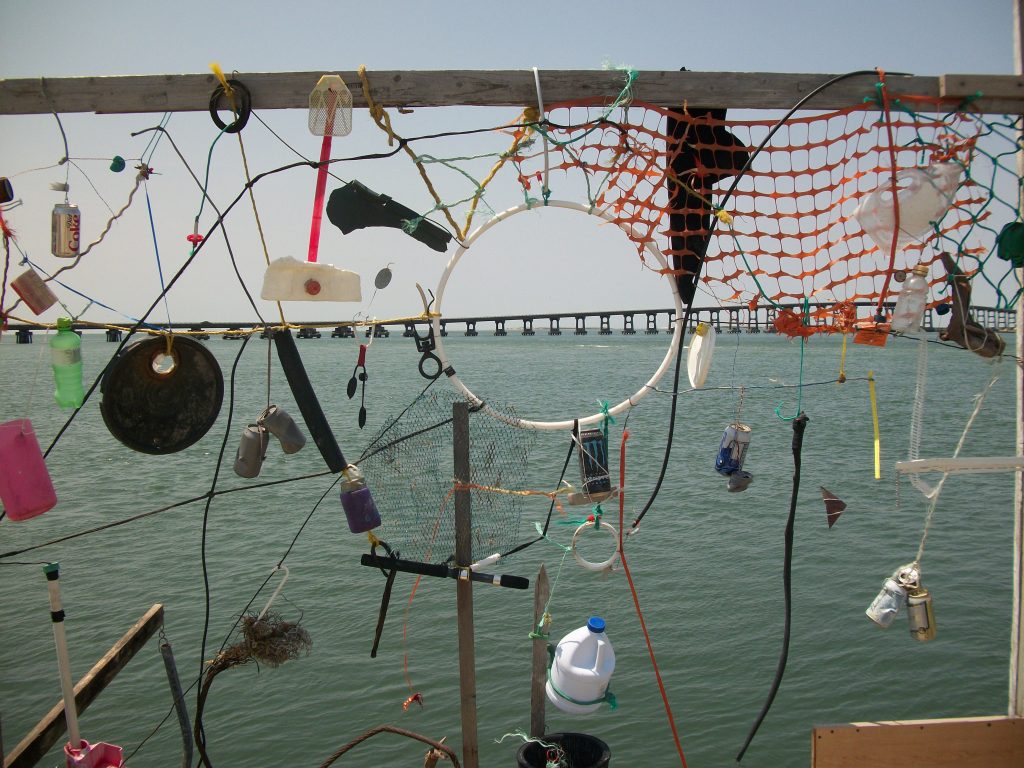 In the many ephemeral outdoor sculptures he has made for 21 years, Croft said the image he has created the most is shipwrecks. On four consecutive annual visits to the Oregon Inlet area, Croft and artist collaborator Mike Anthony spent several days collecting driftwood, driftwood lumber, and manmade debris
collected from a quarter mile stretch of beach. Two of these visits resulted in shipwreck images.
"We would stack the lumber as if it was an old ship uncovered from the sand dune," he said of the 30- to 40-foot-long art. His creations, though, were temporary. "They literally probably washed away within days of being completed — I have to expect that."
Croft's Creations
Consider just a few of the pieces he has masterminded (available to view on his Instagram account, @shipwreckartist). He collects old driftwood, brush, and discarded items to create breathtaking art — on beaches, near dams, in forests, and wherever he is hired. His commissioned art can be found at places like the 18-acre Robinson Nature Center in Columbia, Maryland. Some of his art, he admitted, deteriorates with erosion, weather, and time, but Croft continues to imagine beauty that has never existed before.
"I'm an artist; I love to draw, and it's an outdoor drawing — very large scale," he said. "I can never do anything that large in my studio…but this is just a way to express a bunch of different images that mean something to me."
The construction of the massive displays has become more complex over the years. "It's really not anything that has a big secret to it," Croft said of his building methods, which include weaving branches and forest brush into intricate patterns. "The hardest thing about it is that it's physical labor."
The sculptures designed to look like shipwrecks are compelling. For example, "Shipwreck '08" was created on the beach just south of the Herbert C. Bonner Bridge at Oregon Inlet, North Carolina. Croft's shipwreck was made entirely of carefully stacked driftwood lumber using only a few reused nails for stability. "Most of my work is done for myself with collaborator artist friends," he said.
Closer to Home
More recently, apart from the shipwreck theme, Croft created "Snare" just 5 miles from his home. It's an experimental, partially functional sculpture intended to trap driftwood when the river rises. He told his social media followers in a post it is another attempt to test the erosion control potential of wattle construction. The art is located in Manassas at the Lake Jackson dam, off Route 234, and features 8-foot-tall walls that spread more than 50 feet long. The entire sculpture is built from gathered driftwood, and the cleared interior is roughly 600-square-feet of space. Croft has created many sculptures, imagined in his mind, with the outdoors as his canvas.
"The public — they always seem to be very happy to see them and discover them," Croft said. "It's kind of a fun little thing to discover this big object that wasn't there before."
Studio Art
Croft also creates art in a studio, in addition to his outdoor works — on top of holding a day job. He worked in assisted living facilities as a building maintenance supervisor, and some of his studio art was impacted by his daily experiences. Croft is transparent about his encounters, saying exposure to the havoc of aging, dementia, and corporate senior care was reflected in much of his work
"I was just really, really drained every day," he said. "I was seeing some awful, really depressing stories, but on the other hand, encouraging things when I got to meet some of the people that were my residents."
Croft's Instagram page displays his studio art pieces, some of which detail his encounters with seniors struggling with memory loss. He wrestled with expressing himself, he wrote, "in a way that was not just drawing, attempting a jarring appearance to approximate the experience of these encounters, or at least
a metaphorical attempt to represent the tragic loss of brain function."
Croft's eclectic studio art collection includes pieces that are an homage to friends from the senior center and represent a thoughtful commentary on each subject. His art is sometimes provocative, often complicated, but always compelling. There is an air of authenticity that captivates his audience, coming from one man's honest attempt to process the realities of dementia and aging.
Looking Forward
Today, Croft works full-time in building maintenance in Fairfax County but continues to dream of new artistic endeavors, utilizing his many talents. He searches for more opportunities for commissioned pieces and envisions large-scale creations to express his unique artistic voice. This shipwreck artist's inspiration, awakened decades ago on a sunny North Carolina beach, continues to drive him today to bring to life beauty, on scales large and small.
Dawn Klavon is a journalist, author, media director and recent transplant to NOVA. She thrives on juggling multiple projects, discovering local hot spots, consuming blue crab and conquering sudoku puzzles. Dawn can be reached at dklavon@princewilliamliving.com