Like this article? Support us by subscribing here. Your donation will help us continue to provide quality-of-life news and make local impact possible.
By Dawn Klavon
Spring has sprung in Prince William, which means it's time to transform your backyard from ho-hum to happening. You can make 2022 your return to social gatherings with a fabulous yard, gorgeous features, and an unforgettable party, thanks to a few suggestions from Prince William Living.
Spruce It Up
Consider a focal point in your yard, whether it be a fountain, statue, or koi pond. Bristow resident Audrey Mascarenhas created a breathtaking Zen garden in her yard, complete with five koi in a lovely pond. An avid gardener, Mascarenhas has even traveled to Kyoto, Japan, to study classic Zen gardens in order to refine her own creation.
"For me, it's almost like a living art piece," she said.
Mascarenhas noted that, along with her husband Ajay and two children, she enjoys entertaining friends in their visually stunning yard. Another stand-out element in her backyard is a deck with no railing around it.
"I wanted the uninterrupted kind of visual flow from my family room into the yard without railings," she said, noting she and her husband came up with a creative solution that was approved by the county.
No matter if your yard is a dirt lot or plush with mature shrubs and perennials, statues, ponds, and fountains can add intrigue and become a conversation starter. Why not check out Merrifield Garden Center in Gainesville? (6895 Wellington Road, Gainesville) They offer a wide variety of garden statues, fountains, and other intriguing features to add style and interest to any backyard.
Planning Considerations
"I think the biggest thing people are wanting to do," said Shane Heath, owner of Battlefield Custom Decks and Patios (571-207-6846) in Gainesville, "is to be able to go outside, enjoy the fresh air and to have it be just as warm and inviting outside as the inside of their house."
Heath's company creates picturesque yards with comfortable patios, decks, outdoor kitchens, and more. He advises clients in two important areas when they begin their backyard planning. "I talk about, 'What does your dream outdoors look like?' and then I talk about understanding the budget," Heath said, adding that often homeowners have a vision of an elaborate deck, patio, outdoor kitchen, firepit, and more but don't realize the price tag. Also, plan well in advance, Heath noted, since supply chain issues can extend the length of time needed for creating your perfect space.
Host Outdoor Events & Be the Envy of the Neighborhood
Your yard doesn't need to look like the gardens of Versailles to draw a crowd. Consider thinking outside the box, beyond the typical BBQ or dinner party. Tracy Toth with Main Event Caterers (703-820-2028) serving
Northern Virginia, Metro D.C., and Maryland, suggests hosting an outdoor movie night, trivia night, or tea party.
"Plan your own English garden party, with long linen table runners, tiny vases of fresh flowers dotting the center of the table, and an enticing array of finger sandwiches," Toth said. "It will be absolutely beautiful."
Pay attention to planning details, she noted, like adding tiki torches for evening parties, not only to illuminate the event but to deal with bugs.
"Also, repurpose Christmas lights and string them from a tree to a fence in your backyard," Toth said. "It will create a celestial look and add some soft lighting."
Nothing Brings People Together Like Good Food
The centerpieces of any gathering are the foods and beverages. Add pizazz and fun by creating memorable menu options, wining and dining your guests in style. Why not invite local food trucks to provide food for your next occasion? That way, you can focus on the decor and activities and leave the cooking to someone else.
"Guests are always very excited when a food truck is there," said Rob Pendleton, owner of Stay Cheesy food truck, from Dale City. "A lot of times the people who are throwing the parties tell us that they told their guests there was going to be a food truck so people are really excited when we show up."
Create Fresh and Easy Recipes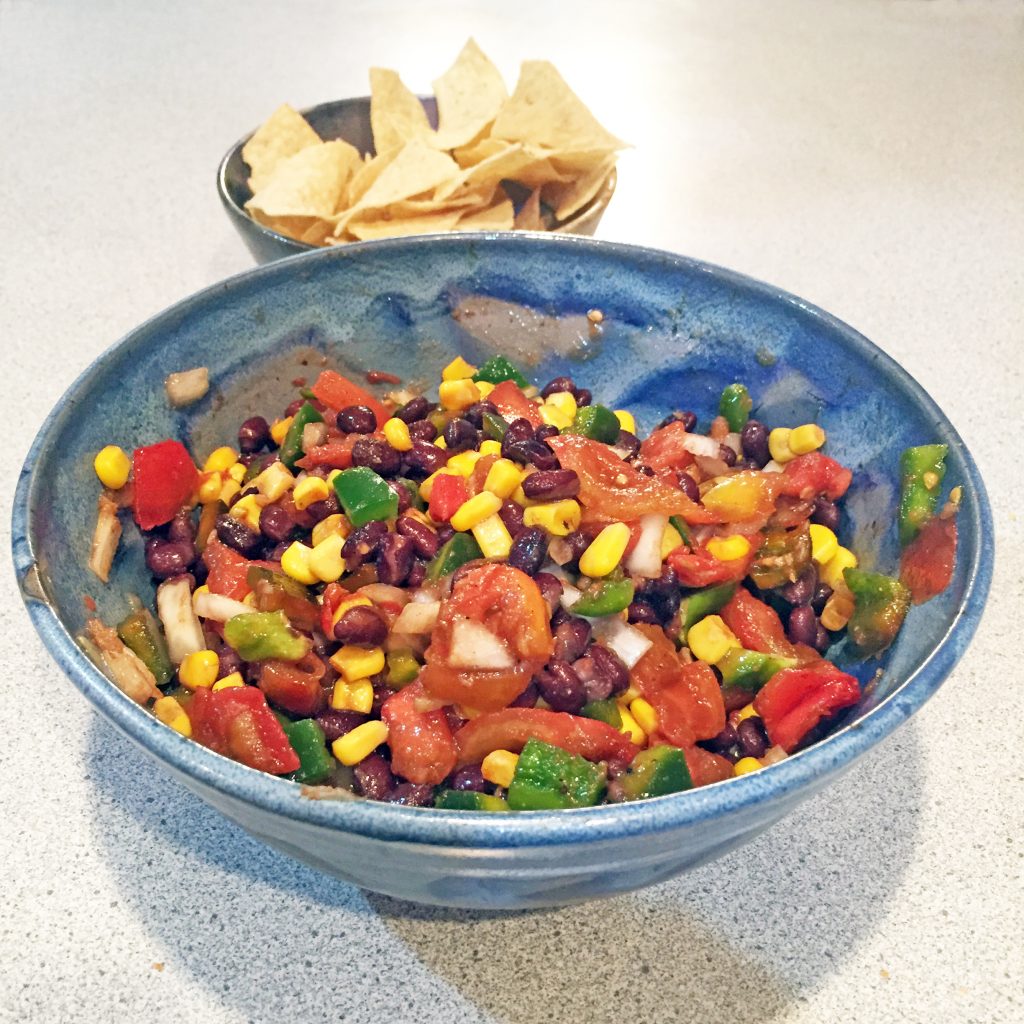 If you're up for cooking yourself, consider some compelling cuisine. Try a fast and simple recipe to add color, flavor, and nutrition to your party menu. Thinking about a party with a south-of-the-border theme? Manassas Olive Oil Company (9406 Grant Avenue, Manassas, 703-543-9206) suggests this quick, flavorful recipe that lends itself to multiple uses and variations. With Southwestern inspiration, you can use it as a
base for your creativity. Add jalapeno peppers for heat, use it as a thick chunky salsa, or substitute a hot olive oil (baklouti, chipotle, or harissa) to really spice it up.
• 1 can black beans, drained & rinsed
• 1 cup cooked kernel corn
• 1 small onion, diced
• 1 bell pepper, seeds removed, diced
• 1 cup tomatoes, diced
• 2 cloves garlic, finely minced
• 4 tablespoons Cilantro & Roasted Onion Olive Oil
• 2 tablespoons Red Apple Dark Balsamic
• 1 teaspoon ground cumin
• Sea salt
• Freshly ground pepper
DIRECTIONS: Combine beans, corn, onion, bell pepper, tomatoes, and garlic in a large bowl. Drizzle with olive oil and balsamic, and season with cumin, salt, and pepper. Toss to combine. Allow to sit at room temperature for 20 minutes or refrigerate several hours before serving.
Rubs and Marinades Add Zip to Your Meats & Salads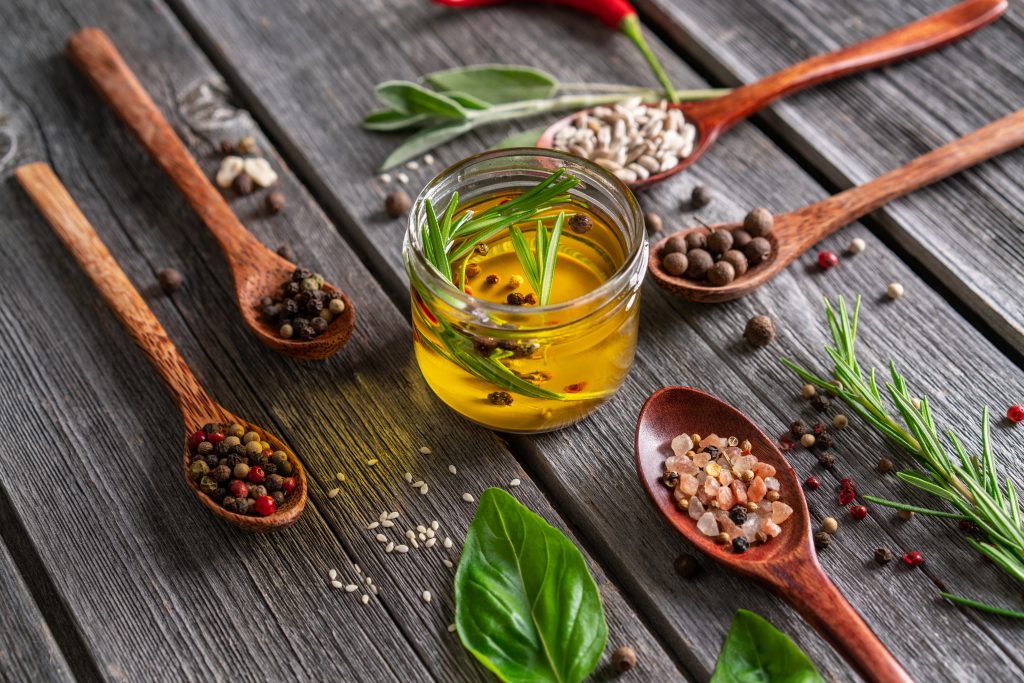 To continue the southwestern theme, try a blackening seasoning to spice up chicken or beef, advises Emily Thomson, manager of Manassas Olive Oil Company. The products can be tossed with the aforementioned salad as well for bold flavor. Thomson also recommends their Dizzy Dust BBQ blend to bring recipes alive.
"It's a traditional barbeque (spice) that is really good for meats," Thomson said. "It would be great for that barbeque summer flavor."
Cheers!
Now to the beverage portion of the menu. On the non-alcoholic side, the sky's the limit with flavorful options, chock full of fresh fruit, to bring your mocktails to life.
Bev Rage (301-233-3161) is a DMV company that offers dynamic drinks for home events, catered affairs, or hotel functions. Guests can enjoy inviting options like milkshake bars, frothy cappuccinos, and dessert drinks.
"People really like drinks with a theme, whether flavor, topping, garnish, or even a color," Bev Rage owner Seranush Ozkan said. "We did a breakfast festival and had a French toast latte theme everyone was crazy about, made with some maple syrup."
And speaking of warm beverages, Ozkan added that guests enjoy hot drinks merging flavors — like s'mores flavored toasted marshmallow or lavender honey oat milk lattes.
Entertainers don't have to look far for refreshing drink ideas to add some zip to their non-alcoholic offerings. Whether it's a colorful smoothie station, fully stocked hot chocolate bar, or herb garnished fruit juices, the liquid portion of the menu may be your guests' flavor-ite part.
Did Someone Say Alcohol?
Prince William has no shortage of wineries, craft breweries, and distilleries to visit and enjoy. Any entertainer knows nearly every menu includes some variant of vines, steins, or moonshine to round out an unforgettable event. Supplying parties with boring reds, dull whites, and uninspired beer is often the norm, so, why not have a few tricks up your sleeve? Offering beverages from local producers is a great way to support local businesses while letting guests sample their unique offerings.
In the Washington, D.C./Maryland/Northern Virginia market alone, a full-blown brewing renaissance is taking place. Hundreds of new beers are being crafted by breweries from NOVA to Silver Spring to D.C. proper. Add to that the burgeoning wine industry of Prince William, and top it off by noting the dozens
of distilleries within two hours of the Capital.
"Recently I created a local liquor package for a client's party," said Main Event Caterers' Toth. "Our selection of locally crafted spirits and brews were wildly popular! The bartender could hardly keep up!"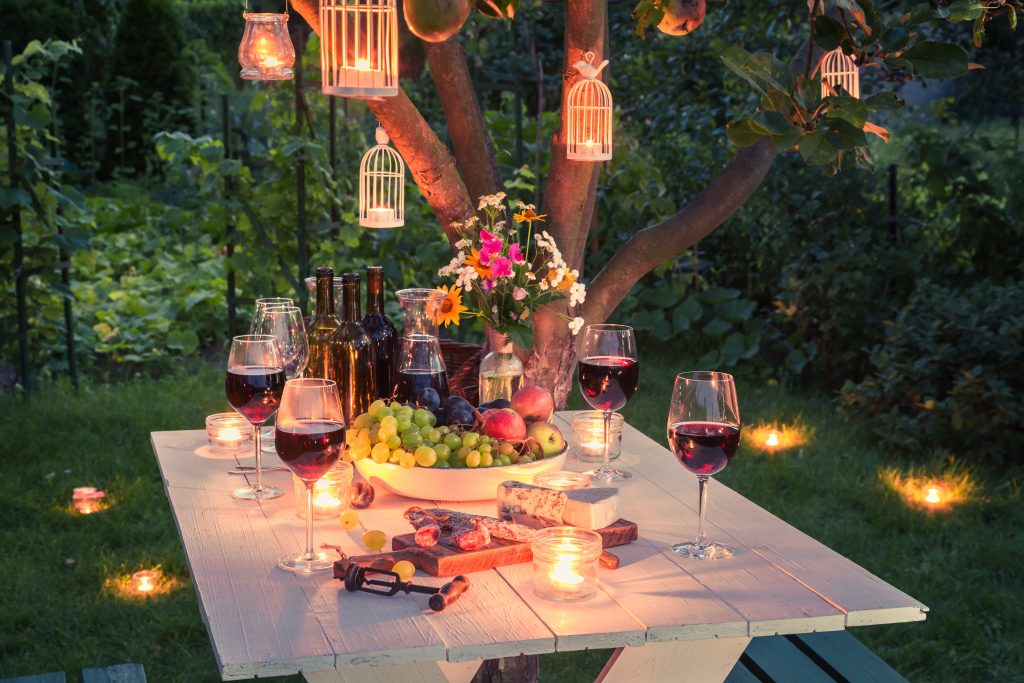 Check out the distinct wines from The Winery at Sunshine Ridge Farm in Gainesville (15850 Sunshine Ridge Lane, Gainesville). The winery just celebrated their first year in business. The family-owned company offers dynamic options for your next party or event. Winery staff supplied plenty of helpful beverage suggestions for your next gathering.
"If it's a nice day out, I would say our Pinot Gris is one of the nicer ones we have," said Cody Inbs, manager of the Winery at Sunshine Ridge Farm. "It's a nice crisp and dry wine for a hot day."
As far as reds, Inbs recommends his label's Meritage, an artfully crafted Bordeaux style blend. Whether you're hosting a small get together for a few friends or a massive backyard bash, consider local craft beers, wines, and spirits for your bar. Today's discerning event goers welcome compelling menu items, whether
for eating or drinking, that are grown/brewed/distilled locally. Partygoers want to indulge in local beverages — it's far more appealing than average grocery store/liquor store fare.
Fun and Games
So, what do you have planned for activities for your backyard event? Dick's Sporting Goods in Manassas (Bull Run Plaza, 10800 Sudley Manor Drive, Manassas) offers a wide variety of corn hole, badminton, frisbee, and backyard soft dart sets. Think about the age range, mobility, and number of your guests when considering fun options. Guests will enjoy a spirited corn hole tournament for sure!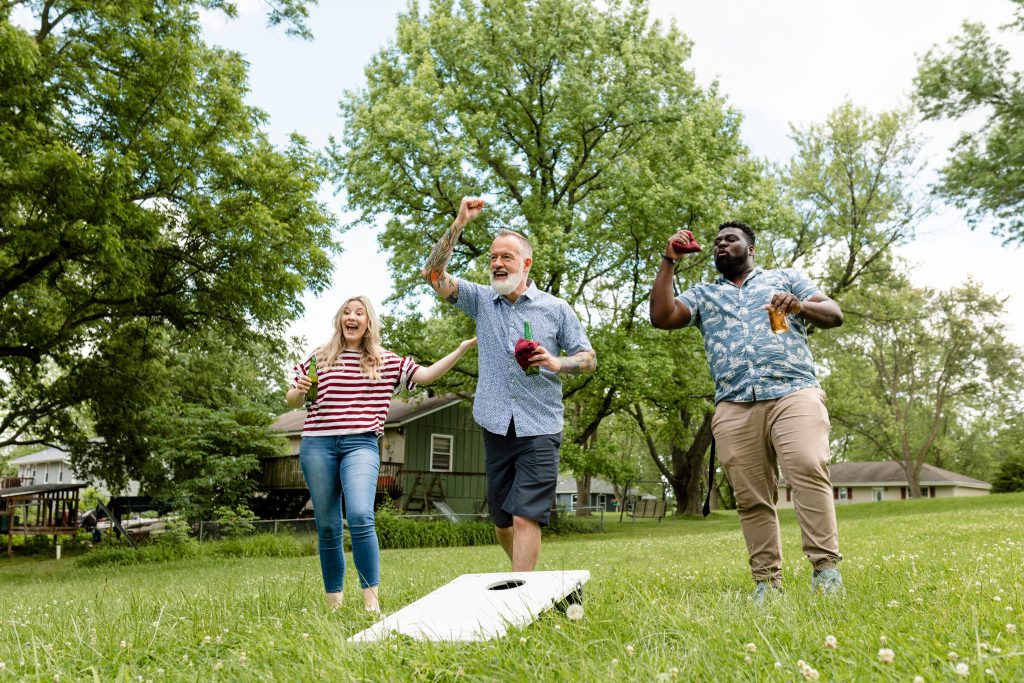 The Bottom Line
Whether you're new to backyard entertaining or have been doing it for years, consider changing up your plans this spring to include a few surprises for guests to enjoy, from visually appealing yard features to exciting locally produced food and beverages. Think about the style of gathering guests would enjoy and pay attention to the small details. Shopping local to provide dynamic menus with compelling produce and meats, seasonings and curated cocktails and mocktails may help take your party from good to great, keeping guests talking about it for years to come.
Dawn Klavon is a journalist, author, media director and recent transplant to NOVA. She thrives on juggling multiple projects, discovering local hot spots, consuming blue crab and conquering sudoku puzzles. Dawn can be reached at dklavon@princewilliamliving.com.