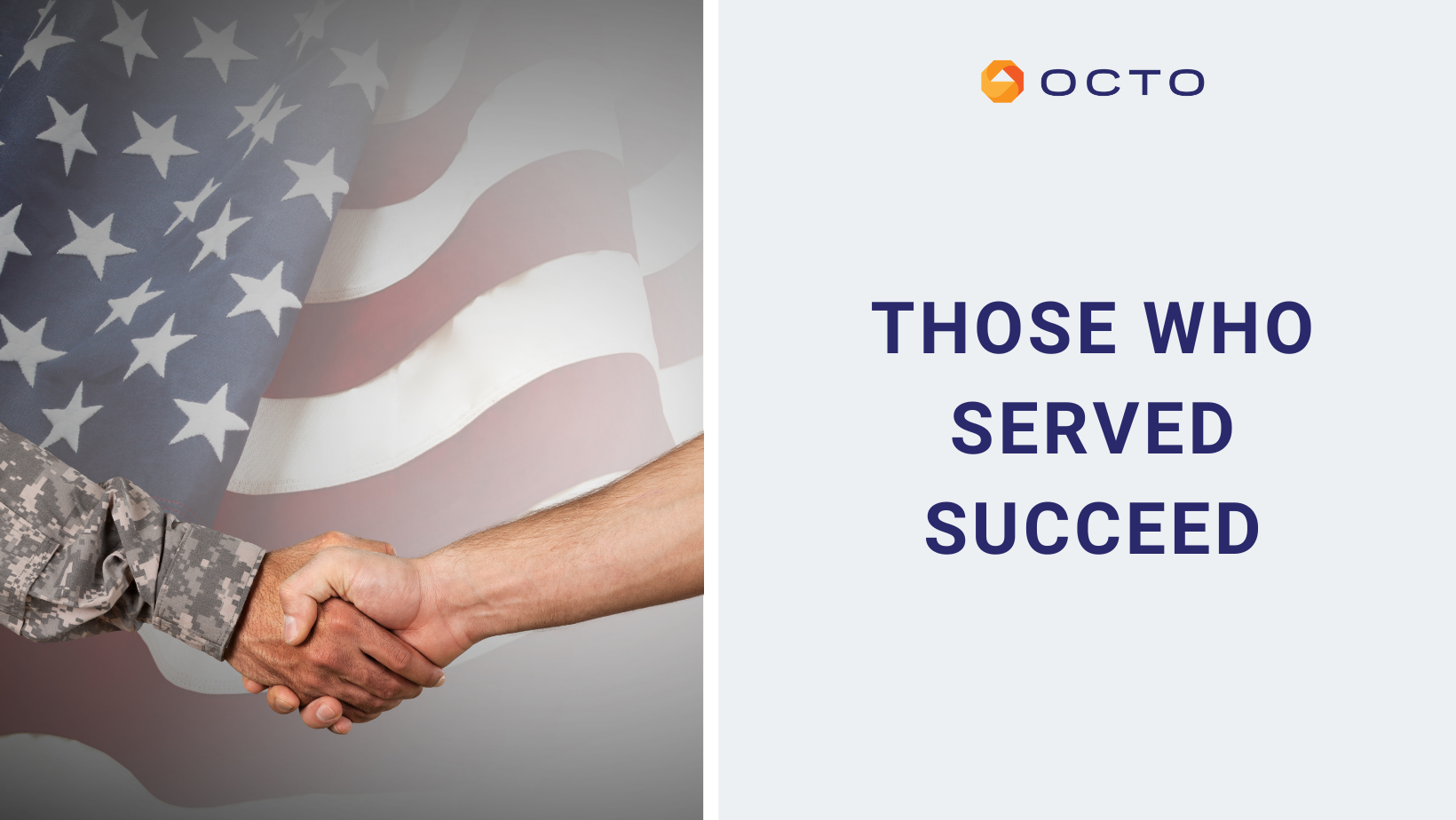 By Haley Huchler
Sponsored by Octo
Many American holidays honor our veterans and the sacrifices they make for our country, but not a lot of attention is given to the struggles they face after they return from service. One of the major struggles veterans face is employment. Finding a job in the civilian sector after years of military service can be challenging, and whether ending a service period of four years or retiring after more than 20 years of service, veterans are making this transition every day. While this experience can feel overwhelming, veterans should know support is available. In this Q&A, Mahlon Braden, Senior Software Engineer at Octo and U.S. Navy Chief Petty Officer (Ret.), offers answers to questions veterans might have as they begin the transition from a military career to the civilian workforce and speaks about his experience as a veteran employee at Octo.
Q: What kinds of military skills transfer to a civilian career?
A: All military careers include versatile skills that can transfer to the civilian sector, such as:
Learning and practicing leadership and management
Teaching, training, and mentoring others
Communicating internally and externally, formally and informally
Documenting, reporting, and writing
Emergency response, crisis management, and strategic planning
Problem solving using cutting edge technologies in aerospace, intelligence, information technology, weapons, and/or engineering
All these skills are applicable to any number of jobs you enter post-military, but perhaps more important are the critical thinking skills, mindset, discipline, and values you carry with you into the next phase of your career.
Q: How can veterans prepare for entering the civilian workforce?
A:   The value of mentors in the military is often unappreciated; using established networks to reach out to seniors who have gone into a similar job market can be very helpful. Aside from that, the military's Transition Assistance Program (TAP) classes are structured to cover all the bases. Getting into the classes as early as possible is best, since there are many things to prepare for, such as resume building, Veterans Affairs medical benefits, job hunting, and applications.
Q: How can veterans create a compelling resume for the civilian sector?
A: First, compile everything into a master resume. Leave nothing out; it doesn't matter how long it is. Then, work on getting the resume ready for the job world. Have a mentor review it. Minimize the use of military terms and try to substitute industry specific terms. The key is that you will need more than one resume. Each resume should be tailored to match or exceed what each position and company is looking for. The bottom line is to prepare to be flexible, and the more preparation on your resume, the easier applying for jobs will be.
Q: How do veterans translate military skills into a civilian career?
A: Resources provided through the Veteran and Military Transition Center, as well as online tools like the Military Occupation Code to Civilian Translator, can help veterans with research, resume writing, interviewing, and other important aspects of job transitioning.
Q: Why did you choose Octo as the place to grow your post-military career?
A: Octo has a solid reputation among veteran communities. When veterans come on board as employees at Octo, they join teams who invest in them and their future. During my time at Octo, I have felt both valuable and valued. I quickly discovered that veterans are an integral part of our team, and I have been able to apply my skills in operations, training, technology, and intelligence.
 Q: What do veterans bring to the table at Octo?
A: Many of us bring skillsets like information technology, cyber defense, and intelligence, coupled with the experience and education gained during military service. Because of this, Octo encourages input from veterans, who in some cases may have been end-users on applications and technologies that are being further developed in our workspaces. Veterans' technical expertise is critical to the success of our teams and our company.
Q: How does Octo support veteran employees?
A: Octo affords veterans access to education benefits and on-the-job training. We also advocate for personal and professional growth by bolstering education through our internal Octo University, while encouraging employees to seek education externally as well. Octo gives veterans the support to succeed in an organization where our knowledge and expertise are not only appreciated but sought and utilized.
Q: How does Octo give back to the veteran community outside of the office?
A: Octo encourages volunteerism and is active in the community. We collaborate with veterans' groups while constantly looking for ways to give back to our veteran community through recruiting, supporting military transition offices, sending holiday care packages to troops, and honoring veterans whenever possible.
Q: How do Octo's values align with the values of veterans?
A: One of Octo's corporate values is "seva," which means "selfless service." This underlying current of service first makes the culture at Octo feel familiar to veterans. Serving the public in a variety of capacities is what military life is all about, and it's the same at Octo. We also value collaboration and teamwork – values practiced in the military.
Q: What makes Octo a good fit for veterans?
A: Octo's efforts to give back to the veteran community coupled with familiar core values make joining a high performing team at Octo the perfect fit for veterans. Working in an environment with those who hold similar values and invest in more than just business success is a win-win!
Q: What advice do you have for veterans making the adjustment back to civilian work and life?
A: Take advantage of the opportunities to prepare yourself. If you served, don't let go of the good habits you learned in the service. Keep up with your resume to make transitioning jobs or changing companies down the road easier. Own the work-life balance, which includes making time for family and your health. Ask new employers how their company invests in your future. Whether it is education or a gym plan, those opportunities for growth are just as important as how much vacation time you get each year. Ultimately, my advice is to prioritize your desires and make a plan to support your transition.
At Octo, we hire heroes. If you're a veteran looking for a supportive and exciting place to work, check out opportunities with Octo today. 
Current Openings – Innovative solutions for the Federal Government's most complex IT challenges (octoconsulting.com)
"Corporate Meets Community" is a column highlighting Octo's corporate culture and opportunities. Based in Reston, Virginia, Octo solves the Federal Government's most complex challenges by providing Artificial Intelligence, Blockchain, Agile DevSecOps, Cloud Engineering, Open Source, Cybersecurity, and Data Science solutions. We continually develop ways to transform IT, producing results vital to national security, intelligence, health care, and more. Our approach is collaborative, and our outcomes are superior. Join our team of innovators. Explore careers with Octo.