Provided by Virginia National Ballet
Virginia National Ballet is finishing the 2021-22 Season, its ninth Season, with the revival of the very popular ballet SNOW WHITE, which was originally premiered by VNB in 2017 at the Hylton Performing Arts Center.
Snow White, choreographed by VNB's Artistic Director Rafik Hegab, was so popular with audiences in 2017, it demanded a revival presentation! VNB was scheduled to present Snow White in early 2020 both at the Historic Palace Theater in Cape Charles, Virginia, and the Hylton Performing Arts Center, but both productions had to be canceled due to the pandemic. VNB is finally able to present Snow White this spring!
Additionally, this will be the farewell performance for Virginia National Ballet's beautiful Principal Dancer of six years, Saaya Pikula Mason, as her husband has accepted a job in out of state, and she will be joining him there at the end of this season. Whether you are a fan of Saaya Pikula Mason or haven't yet had the opportunity to see her dance, this is the last chance to see her perform here in Virginia.
Snow White at the Hylton Center
Northern Virginia audiences can catch Snow White at HPAC on Saturday, March 26 at 2:00 and 6:30 p.m. Tickets are available through the Hylton Box Office or online at hylton.calendar.gmu.edu/virginia-national-ballet-snow-white/.
This ballet is perfect for families and delights both adults and young children. The two-act ballet tells the famous fairy tale of Snow White with an orchestral score highlighting familiar melodies made popular by the Disney movie.
The Dancers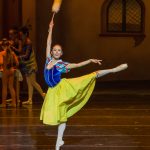 The title role of Snow White will be danced by VNB Principal Dancer Saaya Pikula Mason, partnered by Owdrim Kaew as the Prince. Pikula Mason and Kaew also partnered each other in VNB's Nutcracker, and the recent production of Three World Premieres (Tango Nights, The Beatles, & For Those We Lost) at the Hylton Performing arts Center. Rounding out the cast is Virginia National Ballet's roster of 12 professional dancers from the USA, Brazil, and China. Additionally, VNB's outstanding Junior Company will be dancing supporting roles, as well as students from Virginia National Ballet School.
Pikula Mason danced numerous world premieres and title roles for Virginia National Ballet including the title roles in Cinderella, Snow White, Aida, and Carmen, Principal Roles in La Boheme, Aladdin, Carmina Burana, Bohemian Rhapsody, Bolero, Life in the Fast Lane, The Beatles, Tango Nights, and For Those We Lost.
About the Artistic Director
Artistic Director Rafik Hegab is the 2019 Winner of the Seefeldt Award for Outstanding Individual Artist. He has also received great reviews for his choreography in Broadwayworld.com, DC Metro Theatre Arts, Inside NOVA, Bull Run Observer, and more. Each year he creates new world premieres for Virginia National Ballet, including brand new works never performed anywhere else, and remakes of classics. In the 2019-20 Season, he created his own version of Cinderella.
After a one-year hiatus due to the pandemic, he created Three World Premieres in 2021-22: Tango Nights, The Beatles, and For Those We Lost. Other past premieres include Aladdin, Aida, La Boheme, Bohemian Rhapsody, Bolero, Carmen, Carmina Burana, Collection, Life in the Fast Lane, and many short contemporary and neoclassical works. He was also a guest choreographer for The Circle of Life: The Music of Time Rice, a production by Young Artists of America at the Music Center at Strathmore, which was televised on PBS. This production won a Regional Emmy Award. Hegab is a former Principal Dancer with the Cairo Opera and Ballet in Egypt and toured across the globe performing principal roles with the company.
About the Managing Director
Managing Director Elysabeth Muscat Hegab founded VNB in 2013 after spending twelve years as Managing Director of Baltimore Ballet. She is also a former professional opera singer who sang leading roles in major European Opera Houses and taught for 15 years at the Peabody Institute of Johns Hopkins University, where she was Chair of the Voice Department in the Preparatory Division.
Sponsors
VNB is very grateful for its sponsors: Prince William County, Micron, Mr. Delbert Parks, Hollins & Fur Associates, NOVEC, United Bank, The Virginia Commission for the Arts, The National Endowment for the Arts, The Prince William County Arts Council, The Hylton Performing Arts Center, and many individual donors.
VNB is housed at a beautiful facility in Manassas/Bristow with three large studios, and VNB's School offers classes six days a week. For more information, please visit virginianationalballet.org or call 703-753-5005.