By Jennifer Halter
As summer is coming to a close, you may be looking for new ways to add a little more fun for your family before starting new routines next month. Here are some wacky holidays with activity ideas to try!
Ice Cream Sandwich Day – Aug. 2
Who doesn't love an ice cream treat on a hot summer's day? Traditional ice cream sandwiches are made
with vanilla ice cream between two chocolate wafers. However, the ice cream sandwich has evolved to include a variety of ice cream flavors and outer layers, including cookies, brownies and waffles! You can even make a cake for your entire family to enjoy! Give this cake a try:
Ice Cream Sandwich Cake
• 24 ice cream sandwiches (for a 9 x 13 dish)
• 1 container of whipped topping, thawed
• Your choice of toppings, such as chocolate syrup, candy sprinkles, nuts, fruit, etc.
Place 12 ice cream sandwiches in the dish. You may have to cut a few of the sandwiches in order to make
them fit and create a flat layer. Next, spread half of the thawed whipped topping over the layer of ice cream
sandwiches. You can also add your choice of toppings to this layer. Use the remaining sandwiches to create
another layer as you did with the first and cover with remaining whipped topping. You can use additional
toppings to decorate the cake. Cover and put in freezer for it to firm up before slicing and serving.
Book Lovers Day – Aug. 9
It's always a good time to curl up with a good book! One way to observe this day is to have a family read
along! Everyone can choose their favorite book, find a fun spot in the house or yard, and share stories.
National S'mores Day – Aug. 10
Everyone loves this campfire treat, but you don't need a campfire to enjoy the flavor of this sweet snack!
Traditional s'mores are made by placing a chocolate bar between two graham crackers and adding a toasted marshmallow to create melted, gooey goodness.
However, there is a quick alternative for you to enjoy the flavor of s'mores on the go.
You will need:
• Graham cracker cereal
• Mini marshmallows
• Chocolate chips
• Plastic sandwich bags (one for each person)
There's no wrong way to make this snack mix. Scoop the desired amount of each ingredient into plastic bags, shake and enjoy!
Tell A Joke Day – Aug. 16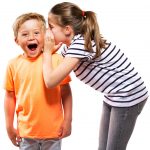 Dads aren't the only ones with jokes. Get ready to hear all of the best (and worst!) jokes and enjoy all of the giggles! You can host a family talent show where everyone can share jokes or tell funny stories they've found in books or online. Make it more fun by creating your own jokes.
National Potato Day – Aug. 19
Potatoes are a versatile food that is a staple in many households. They can be mashed, boiled, baked, fried
and can even be eaten raw. A fun family meal for this day is to have a make-your-own-baked-potato bar. Bake potatoes in the oven or on the grill. Set up stations with a variety of toppings for everyone to create their own potato masterpiece. Some toppings you can use include cheese, sour cream, salsa, bacon, broccoli, tomatoes, ham, onions and everyone's favorite, butter!
Eat Outside Day – Aug. 31
Whether it's breakfast, lunch or dinner, Eat Outside Day is an easy one to celebrate. You can do this on your
own outdoor table, at the park or at a restaurant with outdoor seating. No table? No problem! Spread out a
blanket on the lawn and enjoy!
Many people mourn the last days of summer. With these celebrations, you and your family can squeeze every last drop of sunshine and fun out of your summer.
Jennifer Halter is publisher of Macaroni Kid Woodbridge and Macaroni Kid Gainesville/Manassas