Provided by Prince William Soil and Water Conservation District (PWSWCD)
Trash in Waterways Impacts Human Lives and the Ecosystem
The call for social distancing due to the COVID-19 pandemic is a challenge. It's a special challenge for Prince William County residents who promote water quality awareness through water quality monitoring and streams cleanup events.
Last spring, the big Annual Occoquan River cleanup and other water quality events were cancelled due to the pandemic. But this has not stopped volunteers' willingness to impact local streams. They were still be seen working as individuals and families to make a difference.
Special thanks to all the families and individuals who have put on their social distancing hats to engage on private stream cleanup events and water quality monitoring. They affirm how much vitality is gained interacting with the nature environment!
Are you thinking of making a difference on your nearby pond(s) or waterway this fall while maintaining social distance? Join Prince William Trials and Streams Coalition (PWTSC) this September, Friends Of the Occoquan (FOTO) in October and other Water Quality Awareness Partners under the District to keep the Occoquan River clean. The Occoquan River is a drinking water source for most part of Prince William and Fairfax Counties.
These cleanup efforts are not limited only around the Occoquan River. Join the District in promoting water quality awareness anywhere in Prince William County. Other ideas:
Clean any nearby stream or pond(s) this fall

Get an Adopt-a-Stream/Pond sign at any chosen site

Maintain social distance while working

Contact the District for support if needed

Share your data and pictures with the District:

[email protected]
Thank You Volunteers!
Water Quality Monitoring
Jess McCaulley and team – Bull Run
Diane Bahm and team – Cannon Branch
Adopt- A-Stream Program
Sea Troop 100 and families – Rocky Branch
Eric VanNortwick – Neabsco Creek
A big shout out to the Adams Family for adopting a portion of the Catharpin Creek under the District's Adopt-A-Stream program!
Thanks to the Coordinators of the newly adopted sites: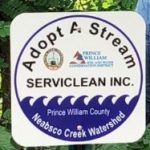 Serviclean Inc -Neabsco Watershed
Friends of Leesylvania State Park -Potomac River
Patriot Scuba – Occoquan Watershed
Garfield High School Green Club – Neabsco Watershed
Fox Family – Occoquan Watershed
Please inform the District about your private water quality events. Contact the District for supplies, support and trash haul if needed. For more on the District's Water Quality programs, visit pwswcd.org/water-quality. Email [email protected].
Upcoming Events