By Jennifer Halter
We're in the midst of the dog days of summer, and many of us are looking for creative ways to keep the kids cool and entertained. Here are our best tips for beating the summer heat while sharing in some family fun!
Water Play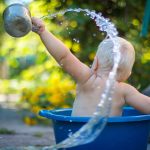 Not everyone has easy access to a pool, but that doesn't mean that you can't create your own water fun in your own backyard. You can set up kiddie pools (or even the larger inflatable pools with enough room for grown-ups, too!). Try a sprinkler for the kids to run through (and give your grass a drink). Grab buckets or plastic storage totes, fill with water and allow kids to splash and play with plastic toys, funnels and measuring cups. Don't forget the water balloons; they are always a hit!
Go Early or Late
Temperatures are cooler in the morning and evening, so plan your outdoor adventures during those times. Save the air conditioning for that strong midday heat. Start your day with a visit to the playground or free play in the backyard. In the evening, try a dinner picnic at the park or take a stroll around your neighborhood.
Backyard Camping
Going away on a camping trip is awesome, but there's no need to wait when you can go on your own backyard adventure any time! Set up a tent, grab the sleeping bags and snacks, and settle in for a night of outdoor fun. No tent? No problem! You can still do nighttime camping activities outside and head indoors when it's time to hit the hay.
Ice Rescue
This is a fun activity for all ages, because it puts those creative thinking skills to work. First you will need a plastic container(s) with a lid. The size is up to you, but the larger the better. Fill with water leaving about ½ inch at the top of the container to allow for expansion when freezing. Place various items in the water. Include small, plastic figures such as army men or mini animals, plastic blocks, bouncy balls — anything that won't get damaged by water that will be fun for the kiddos to "rescue." Put the lid on your container and place in the freezer. Make sure the container is on a level surface so everything freezes evenly. For best results, let freeze overnight. Remove the frozen ice block from the container and allow the kids to use various tools (utensils, small hand tools, such as a mini hammer or screwdriver, water) to release the frozen items.
Shopping Scavenger Hunt
When the days are really scorching hot, you may be looking for a way to have fun indoors, but somewhere other than your home. Head to a local mall or grocery store and have a scavenger hunt while you shop. At the mall, look for items by color, such as a blue shirt or a red pair of sneakers (which also helps our littlest ones with color recognition). At the grocery store, have the kids help with your shopping list. For either option, sit down as a family and create your lists ahead of time. To alleviate the risk of arguments, form teams that will work together instead of competing to find items first.
Visit the Library
There's always something good happening at the library! While some events remain virtual, you can still go browse and check out books, movies and even grab craft kits to go. While you're there, check in with the information desk to inquire about summer reading programs and rewards. There may also be special events taking place that you can join on-site or from home.
Sweet Treats Play Date
Cool off with friends and family by hosting a sweet treats play date. Guests can bring their favorite popsicles, pudding, gelatin or any other chilled or frozen snack to share. You can even set up a "make your own ice cream sundae" area or a milkshake bar and have each guest bring a different topping to share. This is a perfect activity for outdoors, so you don't have to worry about cleaning up any messes and spills that can happen.
Remember, safety first for whichever activities you choose. Be sure to wear sunscreen, bug repellant and provide adult supervision with any of the water activities. Stay cool!
Jennifer Halter is the Publisher of Macaroni Kid Woodbridge and Macaroni Kid Gainesville/Manassas, free online calendars and resources to help you find your family fun all year round.