By Amy Taylor
Sponsored by Simply Desserts
Dessert is undeniably the best part of holiday meals. If you're looking for a great dessert pairing for your holiday meal, we've got your guide right here. From traditional to unexpected, we've got inspiration for your desserts. And if you don't feel like baking, we've got an option for you.
Dessert Pairings by Main Course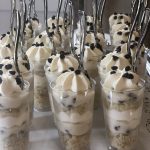 Not sure what to serve with your holiday dinner? Here are some pairings your guests will adore!
Turkey – If your main dish is this Thanksgiving staple, you have many options that can round out this email. You can go with a classic option like apple, sweet potato or pumpkin pie. If you're too full for a heavy dessert, you can go with a small sweet treat like a dessert shooter. These can be created in many flavors like strawberry shortcake or decadent chocolate mousse.
Ham – When you serve ham for your main course, you also have many options for dessert. If you want something light and fluffy, you could opt for macarons. If you're craving a creamy dessert, serve up some mini cheesecakes.
Fish – With a lighter main course like fish, you can go with a richer dessert option. Top off this meal with a delicious cake. You can choose classic flavors like vanilla or chocolate or go with something unexpected like lemon champagne with raspberry swiss buttercream. You can keep it as simple or make it as fancy as you like.
Beef – With a heavier main course like beef, you may want to opt for a lighter dessert. Fruit-based desserts pair well with this meal. Mini fruit tarts, apple pie or strawberry shortcake dessert shooters would be the perfect end to a meal that starts with a beef roast or steaks.
Vegetarian – If your main course is vegetarian you can end your meal with a creamy, rich dessert. Some good options are lemon blueberry or dulce de leche mini cheesecakes. Another fun, bite-sized dessert option are cake pops. We recommend vanilla, chocolate or red velvet.
Get Delicious Desserts Delivered for your Holiday Feast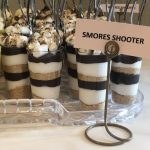 We often associate the holidays with baking. It's great to get that family time while you create sweet treats to go with your holiday meals, but what if you just don't have time? Leave the baking to the pros and dial up a delicious ending to your holiday feast.
Simply Desserts has been making holiday meals sweeter for the past twelve years. To order some of their delicious options, you can call the store, email info@simplydessertsoline.com or call 703-754-2257.
"We offer gluten-free as well as vegan options," said Kimberly McDonald, owner of Simply Desserts.
They will take custom dessert requests if you don't see exactly what you want on their menu. To place a custom order, contact them 10 to 14 days before your event. You can pick up your delicious dessert from their store or have it delivered in the Northern Virginia area.
For more information visit them online at simplydessertsonline.com.
Amy Taylor (Ataylor@princewilliamliving.com) is a freelance writer and editor. She earned her BLS in English from the University of Mary Washington in Fredericksburg, Virginia.