By Jennifer Halter
Finding time for staying active can be difficult with busy schedules and with wanting to stay cozy and warm when temperatures are cold outside. However, the benefits of daily movement are so important to
overall physical and mental health for us as adults and for our children. Here are a few ways to incorporate
more fitness activities into your family's routine and have fun while doing them.
Go Sledding
Although the slide down a hill doesn't take much physical effort, the trudging through the snow and up
the hill is a great way to increase your heart rate and strengthen leg muscles. Doing this multiple times in a
snow play session is a fun way to have the kids work out without them realizing that they are. Plus, the giggles and smiles as they slide downhill are an awesome bonus!
Build a Snow Fort or Have a Snowball Fight
Want to get the family moving for a few hours? Work together to build snow forts and have an epic snowball fight. Both activities are great total-body workouts as you work to lift and push snow to build your fort. During the snowball fight, you can run, squat, lunge and leap to dodge incoming balls from your opponent.
Walk or Run Outdoors
Getting fresh air and sunshine is especially important during this time of year when most of us are staying
indoors. Bundle up and take a stroll around your neighborhood or plan an afternoon walk at one of our
local parks. You can add a little more fun by turning your outdoor adventure into a nature scavenger hunt.
Look for things such as leaves, rocks, insects or animals. Another idea is to do a "Stop and …" challenge, where periodically you stop and do an exercise. For example, you can say, "Stop and do 10 jumping jacks." Give each family member a turn at being the leader who assigns the activity.
Indoor and Outdoor Chores
Household chores are the perfect way to incorporate movement into your day without taking much extra time (since they have to get done anyway!). Outdoor chores can include shoveling driveways, walkways and steps following snow, or picking up litter. If you don't have a set list of indoor chores for each family member, you can create a chore jar. You will need a jar or container and slips of paper or craft sticks. Write one chore on each slip of paper or stick and put it into the jar. Each person will then select a chore from the jar to complete. If you have younger children, you can make a separate jar and include age-appropriate chore options.
Daily Fitness Challenge
This activity is structured similarly to the chore jar. Instead of listing chores on each slip of paper or craft
stick, you will write the name of an exercise move. Include burpees, pushups, sit ups, planks, jumping jacks
and running in place, to name a few. You can write the number of each move each person will complete or you can roll dice and use whatever number comes up as the number of reps to perform.
Move Your Body Break
It's easy to get sucked into watching your favorite shows on TV or spending hours watching movies when
the weather makes it difficult to get outdoors. Include movement into this activity by committing to doing an exercise during each commercial break. You can use the suggestions mentioned above or create your own moves based on characters or themes of the show you are watching.
If you want to move your body during a movie, choose a word, action or item in advance and every time you hear or see during the movie, you do an exercise. For example, if your word is "birthday," any time a
character in the movie says that word, you complete the movement. You can also do this for actions, such as when someone jumps in the movie, you jump. Or, if someone is dancing, you dance.
Animal Dance Party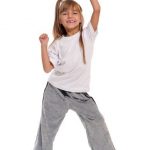 This is a great activity for younger family members, although grown-ups will have fun with this too! Choose an animal (or several) and have a dance party while pretending to be that animal. Hop like a kangaroo, swing your imaginary trunk back and forth like an elephant or slither on the ground like a snake. You'll get a
total-body workout and share lots of laughs with your silly animal moves! With any activity you choose, be sure to remember safety first, especially when doing outdoor activities with cold temperatures. And, most importantly, enjoy your time as a family and making fitness fun!
Jennifer Halter is publisher of Macaroni Kid Woodbridge and Macaroni Kid Gainesville/Manassas.