Provided by Town of Occoquan
The Town of Occoquan will participate in the fifth annual WinterFest event on Saturday, Dec. 14 from 2:00 to 7:00 p.m. in Historic Occoquan.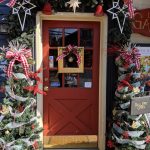 WinterFest in Occoquan is fun for the whole family! Visitors will enjoy heart-warming fire pits with marshmallow roasting, sing holiday carols with the Woodbridge Community Choir, sample free hot chocolate, and so much more! Santa Claus arrives via boat at Mamie Davis Park at 2:00 p.m. He'll be escorted to Town Hall where he will sit for photos until 4:00 p.m. when the other WinterFest festivities begin. Visitors are invited to browse the town's unique shops, boutiques, galleries, restaurants, and cafes to experience all that Occoquan has to offer. Many businesses will be open late for visitors to complete their holiday shopping!
What should be on your WinterFest Checklist? LOTS!
Visit Santa!
Warm yourself and toast marshmallows over a fire pit.
Enjoy the Dunbar Saxophone Quartet's performance at Town Hall.
Sing along with the Woodbridge Community Choir as they carol throughout town.
Sample some roasted chestnuts at Gift & Gather.
Warm up with some hot chocolate at Tastefully Yours.
Find your favorite children's activities throughout town.
Pick up gourmet s'more fixings at the Ballywhack Shack.
Puzzles on the Porch at Puzzle Palooza, Etc.
Snag a caramel apple or cookie at The Pretentious Gourmet
Attend the book signing of a local celebrity at Hitchcock Paper Co.
Try some hot cider at Patriot Scuba.

View the entries to the Occoquan Gingerbread Contest at Town Hall!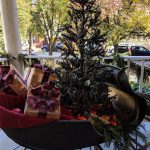 WinterFest is a daylong family-friendly celebration of the winter season. It highlights multiple destinations with entertainment, food, and activities for all ages in the Lorton-Occoquan-Lake Ridge region. WinterFest begins with Santa's Lake Ridge Parade on Harbor Drive in Lake Ridge at 11:00 a.m., followed by a holiday arts market at Tackett's Mill until 2:00 p.m., Occoquan's holiday activities from 4:00 to 7:00 p.m., and the Workhouse Arts Center's Second Saturday Art Walk from 6:00 to 9:00 p.m.
The Town of Occoquan offers free, off-site shuttle service between the VDOT lot at 123 and Occoquan between 2:00 and 7:00 p.m.
For more information, visit occoquanva.gov or contact Julie Little, Events and Community Development Director, at (703) 491-2168 or jlittle@occoquanva.gov.