Provided by Write by the Rails
Write by the Rails (WbtR), the Prince William Chapter of the Virginia Writers Club, has released its anthology of Twitter-friendly writings entitled #BackOnTrackNow: A Write by the Rails Anthology and Social Media Initiative. The works of 22 authors were chosen for inclusion in the unique book, the result of a three-month campaign designed to bring creativity to social media.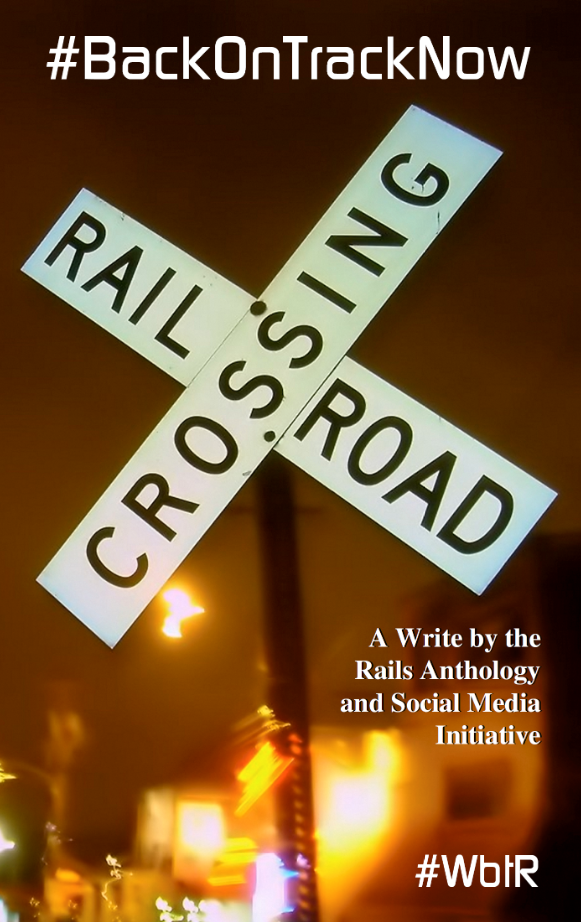 Members and non-members, mostly from the east coast, were encouraged to submit their work, publish it through their own social profiles and have it shared through WbtR's social media channels and networks. The initiative elicited hundreds of short poems, lines of fiction, anecdotes and words of wisdom, many of which can be found on Facebook and Twitter under the campaign hashtags #WbtR #BackOnTrackNow.
Dedicated in memory of writer and Northern Virginia Community College professor Robert Bausch, long-time member and contributor of Write by the Rails, the anthology showcases pieces that were selected based on their ability to represent the spirit of the campaign and the Write by the Rails membership and community.
Vice president and immediate past president of Write by the Rails Jan Rayl says in the book's foreword, "#BackOnTrackNow is the brainchild of Katherine Gotthardt, our president. At the time she thought the project up, she was Vice President of Write by The Rails and had twice been nominated for Poet Laureate of Prince William County. As part of the nomination, Katherine had to develop a project to promote poetry writing in Prince William County. When a different project was chosen, Katherine brought this idea to WbtR as a way for writers and literary enthusiasts to exercise their writing muscles, take back social media and rejuvenate our writers' group."
Gotthardt says, "What I love about this book is its reflection of our times. Social media has become a larger-than-life force that often feels like it will swallow us whole, if only by the sheer amount of information that passes through it each second every day. Couple that with negativity, polarization and the tendency for people to be less kind when they can hide behind a screen, and we have a powder keg. #BackOnTrackNow was a way to give social media back to the creatives, dedicating a space for them to exercise their craft, get noticed and change the tone of social media discourse."
Gotthardt says she is also pleased that the campaign took root locally and grew organically. "It's all well and good to want to change the world at a macro level, but when it comes down to it, we have to start in our own back yards – or in this case, on our own Facebook timelines."
#BackOnTrackNow is available on Amazon in print and digital formats. For more information on Write by the Rails, visit www.WbtR.org.
Write by the Rails (WbtR), the Prince William Chapter of the Virginia Writers Club, aims to raise the profile of the local literary community and explore ways to nurture, cultivate and help that community grow. WbtR also strives to be an integral part of the larger arts community and to enhance the quality of life for area residents by providing them with the opportunity to participate in events and activities that promote literacy and self-expression. Writers (published or unpublished) affiliated with Manassas, Manassas Park or Prince William County are encouraged to join.