By Erin Pittman
Sponsored by Old Bridge Chamber Orchestra
Youth Orchestras of Prince William was already geared up to modify their 2020 season due to COVID-19. What they didn't expect was a wonderful opportunity for students to attend free of charge.
"We have a donor who has generously offered to cover the annual tuition for 50 students this year," said Board President Sheyna Burt.
The annual tuition will be waived for those applying for the remainder of open seats available this year.
"Students will need their own instrument, but the $600 tuition will be covered by our donor," said Burt.
About Youth Orchestras of Prince William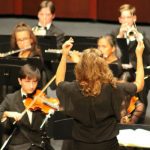 Youth Orchestras of Prince William is run by a volunteer board but employs four paid professional music directors.
The orchestra offers a philharmonic orchestra and a repertory orchestra. Youth Philharmonic is open to intermediate-level string, wind, brass and percussion students. These young musicians learn to navigate, often for the first time, the joys and responsibilities of the symphonic ensemble experience. String students who read music and demonstrate confidence and proficiency with their instruments perform as part of Repertory Orchestra. This ensemble is appropriate for string students with at least two years of playing experience in either a school or private setting, and/or that perform music that is VBODA grade 2-3.
The 2020-2021 Season
In light of the pandemic, leadership decided to adjust the season for Youth Orchestras of Prince William. This year, the first half of the year will be academic and individualized playing.
"This academic portion will help students with soft skills, such as auditioning and following a conductor. They will receive an intro to these topics and music theory, as well. The more you learn about music theory, the better you are when you play," said Burt.
Students are currently meeting on Monday evenings via Zoom. They are divided into groups and study topics based upon their focus. Each student receives assignments to work on on their own.
The second semester plan is to learn and grow through ensembles.
Orchestra Benefits for Kids
Music education has long been touted for the myriad benefits it provides to growing minds. Many studies show that children who study art and music have increased success academically and later in life.
"In 2020 specifically, the biggest benefit may be that it's just such a great stress reliever. It's really a lot of pressure for students to manage the pandemic and their academic lives in this manner. YOPW becomes a way of releasing that stress," said Burt.
Whether students intend to pursue music professionally or as a vocation, there are things they should know or be able to do.
"Many of these things are not intuitive," said Burt. "Involvement in the orchestra is going to help them catch up to some of their peers who may already have access to private teachers or the luxury of studying beyond what they can learn in school."
Are you interested in learning more or taking advantage of this fall's scholarship program? Read more about auditions on their website, and email sheyna@yopw.org with questions or to schedule an audition for your child.